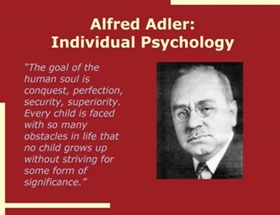 Alfred Adler (1870-1937), was a philosopher and psychiatrist who believed that humans have two basic needs: to belong and to feel significant. In the early 1900's he started addressing the issue of quality parenting and the importance of parent education. If you are reading this blog and realize that we focus on empowering parents, we want you to know that Adler did this over 100 years ago.
Adler developed a theory that was very holistic at its core. He believed that when we are encouraged, we feel capable and appreciated. This contributes to a feeling of connectedness and we are more likely to be cooperative. When we are discouraged, we withdraw, give up and feel depressed.
Adler's theory was very much relevant to parenting because he believed that our lifelong coping strategies depend on how connected we were to our parents and how significant we felt in our family. Based on Adler's theory, every person is an individual who was created in early childhood, by his or her early life experiences, which are made up of his or her relationships within the family. Adler thought that a misbehaving child is a discouraged child. Instead of trying to put pressure on the child to change their undesired behavior, you should help them feel valued, competent and special.
Read Parenting: The Adler Method »