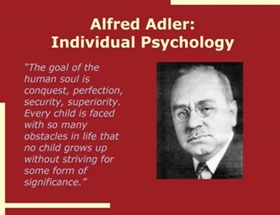 Alfred Adler (1870-1937), was a philosopher and psychiatrist who believed that humans have two basic needs: to belong and to feel significant. In the early 1900's, he started addressing the issue of quality parenting and the importance of parent education. If you are reading this blog and realize that it aims to empower parents, know that Adler did this over 100 years ago.
Adler developed a theory that was holistic at its core. He believed that when we are encouraged, we feel capable and appreciated. This contributes to a feeling of connectedness and we are more likely to be cooperative. When we are discouraged, we withdraw, give up and feel depressed.
Belonging, significance and Parenting
Adler's theory was very relevant to parenting because he believed that our lifelong coping strategies depended on how connected we were to our parents and how significant we felt in our family. Based on Adler's theory, every person is an individual who was created in early childhood, by his or her early life experiences, which are made up of his or her relationships within the family. Adler thought that a misbehaving child is a discouraged child. Instead of trying to put pressure on the child to change their undesired behavior, you should help them feel valued, competent and special.
According to Adler, all kids are born feeling inferior. They spend their whole lives trying to compensate for this inferiority complex. They will do everything within their power to get over this feeling of inferiority in order to meet two basic needs: to feel connected and significant. If they do not get what they need in order to overcome their "inferiority" they will start "misbehaving" in one of four ways:
Seeking attention through demands and bad behavior.
Power struggles through arguments, resistance and conflict.
Revenge in an attempt to hurt the parents physically or verbally (or through a proxy – e.g. brother, sister).
Despair that can lead to apathy, depression and in extreme cases, self harm and attempted suicide.
If we want to help kids learn to behave, we have to examine their patterns of seeking significance and connection to others and help change them.
Adlerian Psychology has some basic principles.
Holistic approach to individualism
Behavior cannot be separated from the individual life and circumstances. We are holistic beings and our thoughts, feelings, emotions, and behaviors are a reflection of the same person. The answer to the question "Why do people do what they do?" or "Why do kids behave the way they behave?" is not absolute. There is no true answer. Each child needs to be examined in the context of their life.
Goal orientation
Humans generally move forward towards growth and evolvement. We all strive towards significance, superiority and success. We call it mental disorder when the person over compensates for their inferiority by searching for "over" significance or superiority over others.
Self-determination and uniqueness
Humans strive for self determination and uniqueness despite the fact that they are not fully aware of the influences of their genetic dispositions, cultural circumstances and life circumstances. In therapy, Adlerian psychology would help children and grownups realize that they are unique without needing to do anything.
Understanding the social context
We are all individuals searching for uniqueness in whatever group we are in. The first group is our family. As we grow we need to define ourselves within the groups in our social environment: our class, school, community, neighborhood, city, state, country or planet. The way we define ourselves within the family will determine the way we later respond to social interactions.
Community evolution
Our aim is to fit, but also to improve our society. Sometimes we refuse to conform and follow the herd because we see value in innovation and evolution. Some kids' rebellious behavior is driven by this understanding. These kids are called "leaders" in childhood, and they grow up to be labeled "entrepreneurs" as adults.
Help myself and others
When we are fully connected and secure in our self determination and significance, we are able to contribute to others' well being. We gain our superiority by giving to others rather than putting them down. When we reach this state of being, we shift from being self centered (inferior) to helping and supporting others (superior).
Treatment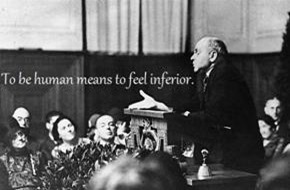 The basic Adlerian therapy focuses on eliminating insecurities, encouraging the clients/child to feel connected to their family and their social environment, and to achieve significance in socially accepted ways. Clients are encouraged to correct mistaken assumptions, attitudes, behaviors, and feelings about themselves and the world.
The objective of therapy is to replace exaggerated self-protection, self-enhancement, and self-indulgence with courageous social contribution.
The Adler method is a very famous and practical way of helping parents deal with their kids behavior and set them up for a happy and successful life.
Try to examine the principals and connect the dots to come up with a parenting style that allows your child to connect with you and find significance within your family.
Happy parenting,
Ronit