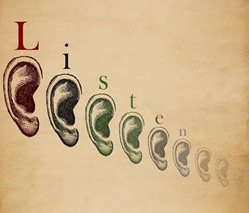 Listening is an essential part of every relationship. But not everybody listens in the same way. In this chapter of the Art of Listening, I want to introduce you to the different types of listening.
In the previous chapter, I covered 10 situations that make it hard for people to keep listening. In this chapter, I will explain the four listening types: the kind listener, the empathic listener, the critical and the solution focused listener.
The kind listener is very supportive, encouraging and always on your side. They are best friends and always manage to interpret whatever you say in a positive light. They won't challenge you because their aim is to make you feel good, valued and cared for.
Kind listeners are easy to be around. They are generally loyal and trustworthy and are very good conversation companions. Their relationships are usually better and last longer. Empathic listening is an important tool for being good parents.