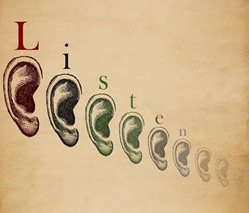 Listening is an essential part of every relationship. But not everybody listens in the same way. In this part of the Art of Listening, I want to introduce you to the different types of listening.
In the previous post, I covered 10 situations that make it hard for people to keep listening. In this post, I will explain the four listening types: the kind listener, the empathic listener, the critical and the solution focused listener.
The kind listener
The kind listener is very supportive, encouraging and always on your side. They are best friends and always manage to interpret whatever you say in a positive light. They won't challenge you because their aim is to make you feel good, valued and cared for.
Kind listeners are easy to be around. They are generally loyal and trustworthy and are very good conversation companions. Their relationships are usually better and last longer. Empathic listening is an important tool for being good parents.
The emphatic listener
The emphatic listener wants to understand your emotional state in order to help you express your feelings and thoughts. They are the best councilors and psychologists. They encourage others to open up and are good at building relationships through trust. They are accepting and share their own feeling honestly. When you are around them, you feel acknowledged and understood.
The empathic listener is easy to be around because they constantly validate your feelings and make it easier to express yourself. Empathic parents help their kids release emotional baggage.
The critical listener
The critical listener searches for mistakes and faults, they question the speaker, challenge and judge. They tend to be very logical and constantly search for contradictions in the conversation. Critical listeners dislike small talk; they prefer to focus on facts rather than going around and around on a topic.
Critical listeners can be hard to be around because they appear cold and impatient. Some of them believe you have to be "cruel to be kind". Parents who are critical may find their kids stop sharing with them to avoid critical conversations.
The solution focused listener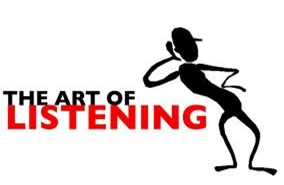 The solution focused listener searches for problems to solve. They care less about what happened or what the speaker is feeling and more about solving the problem. They are action oriented and can be perceived as unempathic. They are very handy during a crisis because they can keep cool under pressure. Their suggestions are not always applicable but they think that if they have spoken, the listener should follow.
The solution focused listeners are not always easy to be with. They appear impatient because they bypass discussion about problems and feelings to focus on solutions. They may also be offended if you do not take their advice. Solution focused parents can be very resourceful but may make kids feel frustrated.
Every one of us listens in a different way. Which type of listener are you?
Join me next time for an explanation on how to listen.
Happy week,
Ronit
The Art of Listening: Listening Types