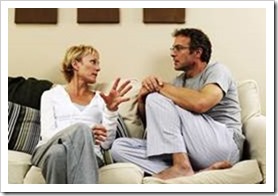 Your ability to talk with your partner determines the level of the connection you have with each other. To save your marriage, you should be able to have a civilized dialogue.
When Gal and I were a young couple, we said we knew we would grow old together because we could talk for hours. We could talk about anything or nothing for hours and we loved every minute of it.
If you have been with the same partner for many years, you might think you know everything about them, but you probably don't.
Why? Because people change. We change our thoughts and behaviors, and as hard as it is to believe, we even change the way we perceive our past.
Here are some rules that can strengthen and deepen your relationship and save your marriage:
Do not try to rush through all the topics. Take the time to learn about the other person. It may take a month and even more to complete this sort of a dialogue. Do not rush it.
Limit the time you spend on conversations. Particularly for sensitive issues between you. If you want to dedicate an hour a day, an hour a week or a whole evening a week, that is fine, but make sure you know when it starts and when it ends. It cannot be endless otherwise it becomes exhausting.
Take turns. If one partner is constantly speaking and the other is constantly listening, this will become an obstacle in your relationship eventually. You can decide to ask each other the same question one after the other, or that one evening is dedicated to one and the other evening is dedicated to the other. Either way, make sure you take turns.
Keep your answers short and limit their length. Some of my clients get very frustrated when it takes their partner 1 to 2 hours and sometimes a whole evening to answer a question. It builds resentment and not connection.
Remember that a conversation is partly an opportunity for self expression. Ask your question and let the other person talk without interfering or judging.
Start with non-sensitive topics. The idea is to connect or re-connect. It is not an opportunity to get "revenge" as soon as it is your turn to talk.
Start with positive things. When you do get to the sensitive issues and painful topics, keep your answers short. Remembering is like going back in time and experiencing a painful event all over again. The longer you engage with it, the stronger the memory will be and the stronger the pain will be. Remember, when you talking about painful topics, keep it short!
Be honest but do not consider it an opportunity to say everything that is going through your mind. The belief that you can say whatever you want because you are in a loving relationship is one of the main reasons marriages struggles. There are some words you cannot take back.
Be aware that there is nothing right or wrong about a memory. Whether it is a memory or a perception of a memory, whether it "really" happened or the thought was created, try not to blame or justify yourself. And do not blame your partner either. This will only strengthen the conflict. Respect their memories and notice their point of view.
Aim to find commonalities in your answers. When couples experience conflict, they are very aware of the differences between them. They are not in the mood to create rapport with each other. Focus on the things about which you think the same.
Join me next time for a list of dialogue topics to ask your partner so you can save your marriage.
Happy marriage!
Ronit
10 Rules for Civilized Dialogue