In "Save your marriage (part 6) – How to get things wrong", I explained how negative self-talk becomes an obstacle in a marriage.
Although the story about the Jack was about a man, self-talk is typical for men and women alike. In this post, I give you two examples of such imaginary scenarios that can lead to relationship breakdown. I hope that you will be able to recognize yourself in them, learn to "catch yourself in the act", and switch to positive self-talk and open communication with your partner.
Going Out for a Romantic Dinner
Allan called home from work and invited Sally to a restaurant for dinner. They had discussed this some time before and had both agreed they needed some time out, to refresh and renew the romance between them. Allan invited the babysitter, booked the restaurant and there was nothing Sally had to do but dress for the occasion.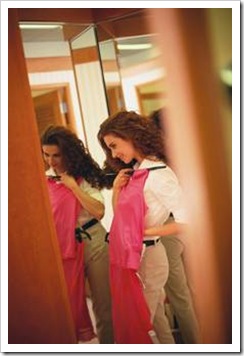 Sally stood in front of her closet searching for a dress.
"Maybe this one", she said to herself and picked up a blue dress, "No, it's a bit cold with this one. What if we sit outside on the veranda? I'd better pick something that would fit outside … pants … maybe a shirt with long sleeves and my white pants … No, I look fat in these pants. If I eat something, the button may pop … Maybe something black. Black is slimming … I need to lose 10 more kilos … But I'm hungry. I haven't eaten all day. I could eat a horse … No, it'll make me fat. I'll order a salad … Hmm, Allan doesn't like it when we go to a restaurant and I order salad … Well, he can't expect me to lose weight and order steak … Come to think of it, why did he have to book a steak restaurant while I'm on diet? He's so inconsiderate … Anyway, I hate this dress".
Sally put the black dress back. "I'll wear something big so he won't see my belly", she said and took a big dress out of the closet.
In the background, she heard Allan calling, "Honey, are we ready?"
"I hate to be rushed", she thought, "He always does this, doesn't he?"
"5 minutes", she called back to him.
"He only thinks about himself – the restaurant, now the clothes… How romantic can a dinner be if I can't eat steak and I have to rush to get dressed? … I hate this dress too", she thought angrily, took a red dress from her closet and put it on.
Allan appeared at her door, smelling great and looking happy. "Alright", he said in a cheerful voice, "Let's go have some fun!"
Sally turned to him with tears in her eyes…
And I let you guess the exact words she chose to tell Allan where to shove the jack.
Join me next week for a view of Allan's mind when he wanted to hang out with the guys.
Happy self-talking,
Ronit