Having a relationship is like playing a game of "hot-cold". We used to play it when we were kids. In this game, someone searched for a hidden object and we gave them clues by saying "hot" when they got close to it and "cold" when they moved away. I remember we used to say "steaming" when the person was very close and "freezing" when they were really far.
Relationships are exactly the same. If both partners are closer to fulfilling each other's need, they have a hot relationship. If they are far from fulfilling each other's needs, the relationship is cold.
The attractiveness scales
When two people come together, each one is different from the other. They have a different history, different needs, different expectations, different styles of communication, different skills and talents. Yet, they find something in the other person that makes them attractive to them.
Think of attractive as "hot", very attractive as "steaming", unattractive as "cold", and very unattractive as "freezing". The scale from "freezing" to "steaming" can predict the quality of the relationship depending on where people sit on the scale.
I work with many couples who come for coaching to save their marriage or long-term relationship. Too many of them say that there is no warmth in their relationship. They have a freezing feeling which makes it hard for them to sustain the relationship.
Happiness in a relationship is a feeling of satisfaction from being together. Sharing your feelings of satisfaction helps to make the relationship even hotter. Sharing only your feelings of dissatisfaction makes the relationship colder.
You can tell if the relationship will survive if you are on the hotter side of that scale. If you spend most of your time together on the freezing cold side, your relationship will not survive.
If you spend most of your time on the steaming hot side, you'll have a "hot relationship". Wouldn't you want that?
Relationship is like sex
Another way to understand the hot-cold relationship model is to think of sex.
If in the middle of sex, you express your satisfaction with "yes, yes", your partner knows that they are on the right track and will probably keep doing what they were doing. "Yes, yes" is positive feedback that tells the other person that you are satisfied with what they are doing. It is a way of saying "this is absolutely hot, and I love it, so keep doing it".
If, on the other hand, you express your dissatisfaction in the middle of sex with "no, no", your partner knows that they're not doing the right thing. That's like saying "This is absolutely cold, and I don't like it at all, so stop".
As you can imagine, your partner will hesitate next time and have doubts, which will cool your relationship. Doubt is discouraging and if people hear "no, no, that doesn't do it to me, stop" too many times, they doubt their choice to be with that person who does not like so many things they do.
If you express more satisfaction in your relationship, it will be hot and if you express more dissatisfaction in your relationship, it will be cold

Ronit Baras
If you are experiencing a relationship breakdown, it is important to assess if you are using more "hot" statements (expressing your satisfaction) or more "cold" statements (expressing your dissatisfaction) in your interactions with your partner.
Just how hot is your relationship?
So, here is an activity for you to discover what you can do to warm the relationship.
First, go over every day and every interaction with your partner and give it a temperature rating from 1-10. 1 is freezing and 10 is steaming. Do this for a week.
It is important to pay attention to what you do and not what your partner does.
Why?
Because you can't control your partner, only yourself, and you probably both relate to each other on the cold side (otherwise you wouldn't have a relationship breakdown).
At the end of the week, add up all the numbers and divide them by the number of incidents to find out the average. This is what your brain does when you think of the relationship. It tries to find a general temperature that you communicate on.
Many times, people feel so cold that they can't say "hot" even when they feel good. This is usually a sign they have used all their temperature "reserves" from good memories, hopes and dreams and they have run out of warmth towards their partner.
To help you assess your reactions, attitude, words, thoughts and feelings, I have gathered a list of things that sit on the hot side and things on the cold side. There are, in fact, hundreds of items, but I am sure you'll get the hang of it.
The simplest way to explain it is: If you express more satisfaction in your relationship, it will be hot, and if you express more dissatisfaction, it will be cold.
Freezing relationship
Disappointment
Complaints
Blame
Criticism
Negative judgment
Threats
Aggression (yelling, shouting, physically violence)
Abuse of power
Rejection
Nagging
Trying to change the partner
Punishments
Bribing for control
Mocking
Talking about the differences between you
Sarcasm
Expressing shame in your partner
Belittling
Jealousy and comparing between you and your partner
Fear of the partner
Putting conditions on intimacy
"No, no" during sex
Steaming relationship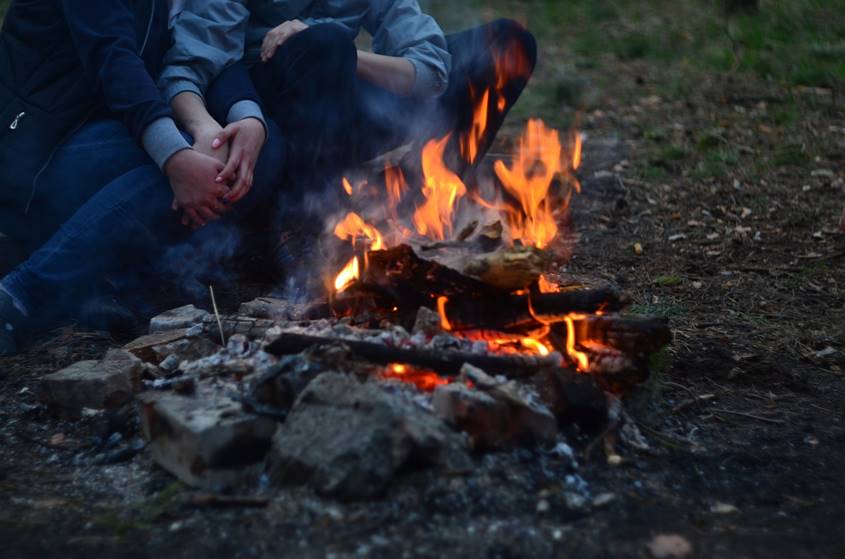 Compliments
Supporting, being your partner's fan and being happy for their success
Accepting
Saying "thank you" and expressing gratitude in general
Listening
Talking about the commonalities between you
Asking questions to show genuine interest
Showing appreciation
Lending a helping hand
Joy to be associated with partner
Pride in mutual achievements
Respect for other's space
Smiles
Desire to be close to the other person
Kind physical touch
Service for the other
Kindness
Expressing happiness with partner
Comforting
Initiating time together
Expressing desire to be intimate
"Yes, yes" during sex
How do you affect the temperature of your relationship?
Since you can only change yourself, take a look at the lists above and ask yourself about each item, "What specific things do I do in this category?" For example, when (and how) do you threaten or judge your partner, when (and how) do you express your desire for intimacy, and so on.
The more your write, the better, so aim to have 100 items on each list. You may hit a block after listing some frequent and obvious things. Keep writing items, no matter how small, until you get to 100.
Doing this should reveal to you some areas for improvement and give you some perspective on your partner's behaviors. Each week, pick a few items from your "hot list" and use them in the relationship. Each week, pick a few items from your "cold list" and work towards eliminating them from the relationship.
Don't be tempted to write these lists about your partner. Only write them about yourself. And you don't need to share them with your partner. Relationships are made from interactions, so when you improve the way you interact, your own feeling will also improve, as if by magic.
Closing the loop
While searching for the object in the hot-cold game, the "cold" statements give lots of information and help the person check the space. However, in a relationship, the "search space" is so big you can freeze for a long time until you feel warmth. This is why it is a good idea to talk about expectations and share with each other your hot spots.
To make it happen, make a list of 100 things your partner can do to make you feel "hot" and swap the lists. Do this only after doing the previous activity for a few weeks.
Why 100?
Because it is not likely that your partner feels comfortable with everything you want. We learn the "hot-cold" game from our parents and rate things differently. If you write 100 ideas, your partner should easily find 10 things they can use to warm up the relationship. In time, they may explore more.
If you want this to work even more, rate each item before giving it to your partner, with 1 being warm and 10 being steaming hot. This way, each of you will have an idea of how quickly things can warm up with each action.
Every day for a few weeks, focus on bringing some warmth to your relationship and you'll see how quickly your relationship heats up. Make sure to count your actions and not your partners' actions, because that will cool things down by comparing yourselves to the other.
Please note: if you've been together for a long time, you will likely need more work to regenerate warmth, because relationships cool naturally over time and need some awakening. But without this new heat, it might cool forever.
Wishing you a hot relationship,
Ronit
How to Have a Hot Relationship