This week, I went to my young daughter's school with a group of other mothers to celebrate the teacher's wedding. On the card from all the families in the class, I wrote "Happy wedding day", but I did not think it was the right blessing.
You see, my wedding day was not a happy day at all (too much family politics), but it did not change the fact that Gal and I have been together for over 27 years and are still very much in love. In my head, a happy wedding day is no guarantee for a happy marriage and I am sad for it. I would certainly like it to be a sign for the years to come, but it is not.
Relationships require work. Having a loving relationship requires the couple to fall in love with each other again every day! Anniversaries are celebrations of this love, only without the big crowd. It is amazing that the world marriage statistics show that only rare couples reach their 30th wedding anniversary. I think it is about time we changed this (and I suggest we start right away).
Expecting that the excitement, joy and fun will last forever may lead us to disappointment. Perhaps I should have written on the teacher's card, "Have a happy 30th anniversary".
Let's put this in perspective. Many people wait for this day and hope the effort they put into this day (some people take a whole year and a lot of money to prepare for it) will last for a long time. Remember, the real work begins when you get into a routine and the magic and excitement start to fade.
If you are a newly wed couple and you want to celebrate your 30th anniversary (with the same partner), take a look at the list of tips below to save you from heartache and pain.
Love is like…
Love, much like a car, needs regular refuelling. The preparations for the wedding are so exciting it seems they will last forever. To have a happy and loving marriage that lasts for a long time, remember to fuel your love life with romantic dates, surprises, small gifts, romantic dinners and seductive suggestions years after the wedding day.
Love is a choice you make from moment to moment

Barbara De Angelis
To have a happy marriage, eliminate sarcastic jokes about marriage from your repertoire. They are not funny at all. It is amazing that most people believe that jokes are "just jokes", but they still believe that "women like shopping" and "men only care about sports and cars".
One of my clients had a problem in his relationship with his wife. He kept saying to me, "but all women are…", which made me reply in most cases, "In that case, I'm not a woman".
When he stopped thinking in stereotypes and started seeing his wife as an individual, there was a major breakthrough in their relationship.
Unfortunately, things that we hear repeatedly (three times is enough), we believe to be true. Avoid sarcasm about marriage, relationships and stereotypes of men and women. Your Conscious may think you are telling a joke but your Subconscious has no sense of humour.
Love is like fire. It can keep your heart warm or burn it

Ronit Baras
Love can be sweet or toxic
There are wonderful things to say about love. Love can be pure honey or pure poison with a fine line between them. Every couple needs to notice when the happy love is changing to an unhappy and unhealthy love. The fine line between them may be peculiar to each couple but it is good to be aware to it.
If you keep your eyes (actually, your heart) open and notice when you shift from sweet to toxic, it will help you align the relationship and direct it back to the happy side.
Love and personal development
Love is healthy when you realise that you must develop yourself first. It becomes unhealthy and toxic when you try to develop your partner. Development is a personal journey, so take care of yours.
Love and growth
Love is healthy when the relationship offers room for growth. It keeps growing when you are happy for your partner to grow in a different way. The relationship is toxic when you believe that your partner "must" think the same as you to avoid insecurity, loneliness and fear. Accept each other's individuality and try to avoid changing each other to fit your image of what the other needs to be.
Love is expressive
Love is healthy when you both express love freely and it is toxic when one or both people need constant proof of love.
Love is being true to who you are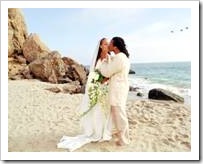 Love is healthy and can keep growing when you both can have separate interests, like different friends and maintain other relationship. It becomes toxic when you feel you "must" have the same interests, when you have a limited social life outside your marriage and when you neglect your separate friends and hobbies.
Remember, at one stage the situation is going to blow up. As much as it is a nice to think about it that way, a couple is not one person. You are different people sharing the road towards the same destination. Stay true to who you are.
Love embraces change
The relationships in marriage are healthy when you encourage each other to grow and feel secure about your own worth. It becomes toxic when you are preoccupied with each other's behaviour and are afraid of your partner's changes or afraid of changes within yourself.
When you live with someone, you both constantly change. Your task is to take the mixture of what you have brought from your respective families and fit them with your desires and needs. Life will never again be like your old home. Change is inevitable. Embrace it.
Love is trust
Marriage can last for a long time if there is trust between the couple. You need to trust that your partner is doing the best they can and that you love each other and want to stay together for a long time.
Love becomes toxic when you have feelings of jealousy, when you feel possessive, when you feel you are competing with your partner or when you feel defensive. If this is the case, go back to the top and work on your personal development first.
Love is balanced compromise
You can predict how far as couple can go in their relationships if you can see them compromising and taking turns leading. When two people try to be the captains, they will face conflicts and disagreements. It is going to turn bad if they play control games.
Marriage is a balanced series of compromises, in which both people do their share. If one person constantly compromises, this person will eventually feel they are not significant enough and will look for a way out of the relationship. Share in the compromising so you do not have to compromise on your choice of partner later on.
Love is solving problems together
In good relationships, the couple sort out their problems together. The relationships are at risk when pressure makes them blame each other or use passive or aggressive manipulation towards each other.
In every relationship, there are ups and downs. Ups take care of themselves but we need to take care of the downs. When you look for solutions, remember the previous rule and compromise. If you both compromise even a little, it will be easier to move forward.
Even if the problems seem to be only one person's, they ultimately become a problem to both. Help each other and come up with something that solves the problem for both of you, rather than throwing it all on one of you.
Love is awareness
Marriage can be a blessing when the couple deal with what is happening and are aware of their thoughts, feelings and actions. It becomes toxic when they ignore the unpleasant things or avoid dealing with difficulties. Such relationships create holes in the trust towards each other.
Love is happy sex
In any good relationship, sex is a free and happy choice that each person makes. It becomes a problem when there is pressure around sex from either demands, insecurity or fear. Sex needs to be a fair trade of giving and receiving.
Love is enjoying he me moments
In every relationship, there are times when we need to be by ourselves. If we learn to enjoy these moments, it will improve the time we spend together, but if we avoid these moments at all cost, the relationship will become toxic and clingy.
In every marriage, there will be times when the couple will not be together. Try to make the best out of these moments afterwards, when you meet again, and have an exciting and wonderful reunion.
I love you not only for what you are but for what I am when I am with you

Roy Croft
Love is for me, love is for you
Love can keep growing when each of you takes care of your own feelings and you support each other emotionally. It becomes demanding and stressful when there are expectations that one partner will fix the other's feelings.
First skill of emotional intelligence: recognise my own feelings.
Second skill of emotional intelligence: manage my own feelings.
Third skill of emotional intelligence: recognise others' feelings.
Fourth skill of emotional intelligence: help and support others with their feelings.
In marriage, you need all four skills. Master them!
Next time I write something on someone's wedding card, I do not think I will make it that long. I think weddings are a happy memory that can begin a great new relationship of marriage full of love. So I think I will write:
Happy wedding

Happy marriage and

Happy and sweet love!

Happiness is still a choice.

Choose wisely!
I wish you (and myself – I have two and a half years to go) a happy, joyous 30th anniversary!
Post a comment below and tell us what you would write on a wedding card.
Be happy,
Ronit