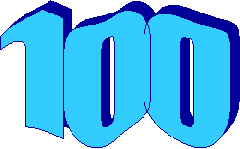 One day, I took my daughter Eden, who was 16 years old at the time, to a workshop I ran with a group of women about life skills and relationships. When we reached the positive thinking and happiness part of the workshop, I asked everyone to go home and think of a 100 things that would make them happy.
On our way home, Eden told me I had been very cruel to those women, because finding 100 things is too hard. "Why do you always say 100 when you ask people to make a list?" she asked and I thought it was a valid question. In all my life coaching programs for kids, parents, couples or just people who want to be happy, my clients make many lists. Why 100 things?
Why 100?
I guess the reason I say 100 is because 100 is a lot. The 100 things technique was something I learned during my special education studies. To get the kids' creative juices flowing, we asked them to find uses for a blank sheet of paper or a shoe lace, to build something from 100 parts, and the list was huge.
Although it seemed to most people that thinking of 100 things is easy, I guess you need to actually do it to realize that the first 10 come easily, the next 10 are a bit harder, items 20 to 40 are even harder still and for anything beyond 50, you need to dig deep into your brain and be really creative to complete the list.
The kids who were naturally more open than grownups (and less experienced) had many quiet moments, as if going to places in their brain they did not use much. Those were the places where creativity resides.
So one reason we use 100 is because we want to get to those places, where we do not go often.
Another reason we use 100 is because it is like a competition with ourselves.
My explanations did not help my daughter. Four years later, she still thinks I use 100 just because it is a nice number…
100 Life Skills Lists
Personal development is the science of improving ourselves towards happiness, contentment and living with purpose. If we want to reach a peak state, we must know what it is. If someone wants to be happy, they first need to find out what makes them happy. If someone wants to be kind, they first need to know what their definition of kindness is… You get the idea, right?
If you have just figured out why you do not get what you want in life, well done! If you do not know exactly what you want in life, you will never get it, because even if you did, you would not know it.
In the next year, I will elaborate on the 100 list that appears on the Be happy in LIFE life coaching program. I will take each list and provide ideas and tips to complete each of the lists here at the bottom.

The 10 rules of list making
(I didn't think you would survive 100 rules and 10 is a nice number too…)
Do not fight over memory space in your brain. Write the list down!
Use a numbered page to avoid counting over and over again (download the Be Happy in LIFE "100 things list" – it's free).
Keep the list in a place you can easily find to add items to it
Pick the list that will be most meaningful to you (see below) and avoid making multiple lists at the same time
Tell others you are making this list – it is not a secret and talking about your list will trigger many ideas
Ask other people for ideas – the more minds, the more ideas
Write a note next to the list of how many items you listed each time. The more items you add in one go, the deeper you go into your subconscious
It is OK to repeat yourself. You will have time to go over your list again and add more items later
Most lists need to be revised from time to time. Examine your lists every year and do some cleaning. Over time, you change your thoughts, desires, attitudes, feelings and beliefs and your lists need to change with them
When you write a list of things you want to have, be or do, write the actions required to reach them, so you can start achieving right away
List of a 100 lists
Below is a list of 100 list ideas you can choose from.
Note that most things on the list have a positive focus. I have added only some self-awareness lists like "things I am afraid of", because they can help you move forward. Keep in mind the Be Happy in LIFE philosophy – looking forward to a happy and positive future should always be the main focus.
To use the 100 list technique with kids, choose positive and character-building lists, like "ways to be kind" or "examples of success" and make the list shorter (start with 10 for very young kids and add as your kids grow older.
Making lists together with your kids is a great idea. Make your own list while your kids are making theirs. Talking about it can help everyone understand one another.
100 things I would say about myself if I had to present myself to an unknown person
100 people I consider my friends
100 things I want to do in my lifetime (also known as "the bucket list")
100 things I am happy about
100 good memories from my childhood
100 ways to say "I love you"
100 things I'm grateful for
100 things I like about myself
100 Things I'm good at
100 things that make me happy
100 things I want for my birthday
100 things I can do to improve my life
100 things I am proud of myself for
100 things I would like to tell my dad
100 things I would like to tell my mom
100 beliefs I have about money
100 beliefs I have about relationships
100 beliefs I have about work
100 feelings I would like to feel
100 things I would do if I had all the time in the world
100 beliefs I have about kids
100 reasons to be healthy
100 ways to stay healthy
100 reasons to be rich
100 ways to be rich
100 reasons to stay married
100 good things I can say about myself
100 good things I can say about my kids
100 good things I can say about my partner
100 good things I can say about my childhood
100 good things I can say about my parents
100 things I would like people to say about me
100 beliefs I had when I was a kid
100 beliefs I would like my kids to have
100 ways to be kind
100 ways to save the environment
100 songs I loved listening to
100 books I loved reading
100 TV shows I love watching
100 games I love playing
100 places I loved being at
100 movies I loved watching
100 events that shaped my life
100 ways to make money
100 ways to make a difference in the world
100 things I absolutely sure are true
100 things I would save if my house went on fire
100 expectations I have from myself
100 expectations I have from my partner
100 expectations I have from my kids
100 expectations I have from my family (parents, siblings…)
100 expectations I have from my work
100 expectations I have from my friends
100 expectations I have from the government
100 things I share with my partner
100 good qualities I have as a parent
100 things that are important to me
100 places I would like to visit in my life time
100 ways I can help others
100 things I am excited about
100 decisions I have made that changed my life
100 people that inspired me
100 professions I would like to have (jobs, careers)
100 rules I follow
100 ways to be more productive
100 things I can do when I am by myself
100 mistakes I have made (and what did I learn from them?)
100 things I want my kids to know about me
100 things I want my kids to know
100 things I possess
100 ways to be creative
100 things I would never do
100 people I would like to meet and why (the people can be from history, your past, books, movies…)
100 things I would do if I just found out I won 1 million dollar
100 secrets I had or have
100 excuses people give for not living the life they want
100 things I would do if I knew I had one year to live.
100 things I could carry if I had a Mary Poppins bag
100 things my parents used to say to me
100 things I can donate
100 things that are funny
100 principles I live by
100 people I admire (from history, family, teachers, friends, coaches…)
100 things I do not regret
100 things I care about
100 character traits of a successful person
100 things I wished for that were fulfilled
100 things I would invent (if I could)
100 things I would do differently if I could live my life all over again
100 ways to use my time more efficiently
100 examples of good friendship
100 things I would do if I could do magic
100 sacrifices I was happy to make
100 things I want to give my kids (hopefully, you will need a few sets of this list…)
100 organizations I support
100 things you would like people to say about me after I die
100 examples of excellence
100 thoughts and beliefs I should let go of.
100 ideas I can adopt that will make my life better.
100 lessons I have learned in life
As you can see from the list above, some of the lists will take you to the past and examine your perception of what has happened to you. Some lists will take you to your inner-self, where honesty and self-assessment is required, but most will take you to the place you want to be, the person you want to be. And there, where desires and action combine, lies your true potential.
Join me in two week for the benefits of making each of the lists above, together with tips and suggestions.
And if you think like my daughter that 100 is too much, remember that in personal development, sometimes you have to be cruel to be kind.
Happy list making,
Ronit