Our story takes place somewhere in China in 1999. Ronit is in our hotel room, taking a nap, and I am walking around the yard with Eden (10) and Tsoof (4). We explore the pool and the various entertainment areas and we talk about philosophy.
"Dad, the Thai people are Buddhist, right? So what are the Chinese?" Eden asks.
"Well, now China has no official religion, because it's communist. In the past, some of the Chinese people were also Buddhist, but from a certain period onwards, they were either Confucian or Taoist", I said.
"What's the difference?" Eden asked.
Now, this may seem to be too high level for a 10-year-old child, but by that time, Eden had lived in 4 countries, had traveled in several others and was very mature for her age, with keen emotional and social senses. So I decided to go for it.
"There's a nice story about Buddha, Confucius and Lao Tzu (the founder of Taoism) sampling pickles out of a barrel.
Buddha tasted a pickle and cried, because the strong sour taste made him think of the suffering in the world and how eating pickles increases suffering.
Confucius then tasted a pickle and frowned, saying 'Pickles should not taste like this. Food should be sweet and mild and easy on the palate'. It made him think the pickles are a violation of the rules of food.
Finally, Lao Tzu tasted a pickle and laughed, because he had learned a lesson from his experience. He had learned that pickles were sour and sharp to the taste", I said.
I was making faces and sound effects as I told the story and Eden laughed. Then she asked, "Which one is the best philosophy?"
"Well, a life philosophy is a matter of personal choice, so what I'm about to tell you is only my opinion. When the time comes, you will need to choose the philosophy that suits you best, which may be one of these three philosophies or some personal combination of them and others that will work for you", I said, "Also, remember that they all evolved and changed over time and I'm just giving you the main ideas, OK?"
"OK".
"Let's start with Confucius. He was asked to create a social structure for the empire of China. He lived at a time when China was ruled by an emperor who had advisors and ministers, and by nobles who controlled parts of the country under the emperor.
So Confucius outlines the roles of different people, their jobs in society, and described what they had to do and what they deserved in return. Every person in China could then know their 'proper place', responsibilities and ruling relationships by their position in society – farmer, soldier, minister, emperor, etc – or in the family – husband, wife, son, daughter and so on.
The main thing people worried about in their daily life was their duties. Living in a Confucian society made everything predictable, reliable and smooth for society, but took away everyone's personal freedom.
That is why the pickle makes Confucius think of what's 'right' even in food. The role of food is to please and satisfy and if it's too sour, Confucians consider it 'wrong'.
Personally, I don't believe in absolute 'right' and 'wrong'. I think they are personal choices. I believe that most of the people in Confucius' time were forced to live by rules that didn't suit them and suffered greatly to serve some nonexistent 'greater good', which was really the emperor's benefit. I think Confucianism leads to external motivation, perfectionism and guilt feelings.
Buddha was the complete opposite. He viewed life as a series of passing moments, in which nobody really exists, because who you are now is not who you are … now. Every breath changes us, every bite of food and even every emotion, so there is no point to even talk about 'I' or 'You' or 'Them". If the air we breathe or the food we eat become part of us, and if our sweat or falling hair become part of 'the rest of the world', it's better to see ourselves as part of a huge, ever-changing universe.
When we view ourselves as separate from the world, we suffer, because we want to protect our 'self' from the world, feed it and nurture it, and when we can't do that – we don't have enough money or strength or beauty or friends – our expectations aren't met and we feel bad. Buddha said that desire is the root of all suffering and suggested that we stop wanting things.
That is why the sour taste of the pickle reminded Buddha of suffering. People expect life to be sweet and suffer when it isn't.
I've seen many happy Thai people and they were all Buddhists, but they mix Buddha's teachings with other things. Buddhist monks, who live as Buddha taught, need other people's support to live and the Thai society is built around supporting them. They also have no desire for kids, which means that if everyone was Buddhist monks, there would be nobody in the next generation.
Lao Tzu lived around the same time as Confucius, but he was mostly inspired by nature. He noticed the change of the seasons, the flow of the rivers, the pattern of the winds and the growth, death and reproduction of plants and animals. He realized that nature was much stronger than anything people can do and that its powers must be viewed as facts of life and rather than trying to resist them, it is better to take advantage of them.
So he said that the highest virtue is balance and that people should be strong and flexible, hard and soft, happy and sad, angry and forgiving depending on what's called for. No matter what happens, we should respond in the most appropriate way to keep our balance.
He suggested that in life, as in nature, there are natural forces – economic, emotional, social and others. Like an ocean swimmer trying to get to shore, it is best to keep our balance and ride the waves of life to our destination. If we keep our focus and remain open, our life will be easy and productive, because we will move forward with ease.
I like this philosophy best, because it allows us to be special. We don't need to be a working bee like the Confucians and we don't need to be a nobody like the Buddhists. We can accept ourselves, warts and all, and do the most we can with our life. We can also be open and accepting to others and to our environment, because we only look for existing forces, we don't try to change them", I said.
"I like Taoism too", Eden said.
"You're a great Taoist already", I said, "You can walk into a room full of strange kids and be part of them within 5 minutes, because you can read the social currents so quickly and know how to fit it. You've already lived in a few very different places and managed very well in all of them by quickly learning the rules and adapting".
She smiled proudly.
Since then, Ronit and I learned about life coaching. Life coaching is a very Taoist art, in which the coach helps the client identify the forces inside and around them and then use these forces to achieve their goals. Life coaching is different for different people and accepts clients' individuality as a matter of course, while teaching clients to accept themselves, the other people in their life and their environment.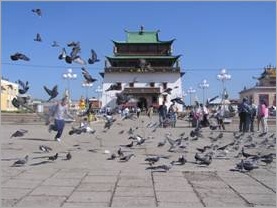 Unlike the other philosophies, life coaching clients are not bound by duties to others and are free to choose their path in life, but they are also not outside of society and their goals are generally within "real life". Life coaching clients are encouraged to choose a purpose – a huge, never-ending goal that gives their life direction and meaning – and keep moving towards their purpose by setting and achieving goals and by continually developing their mind and growing.
Like Taoism, life coaching views every experience as a learning opportunity and its ultimate aim is personal happiness.
I thought I would share this story with you because while I was telling these things to Eden in China, I learned a lot myself too. It made me feel good about choices that had previously been unconscious. I was also happy to get Eden thinking about the way she wanted to live, because most of my life had been handed down to me and I had lived it by habit and not by choice.
So pick a time when you and your kids are ready and talk to them about how they want to live. They may only get a bit of it at first, but over time, these talks will help them live their life with power and determination, because they will live it by choice.
Happy parenting,
Gal