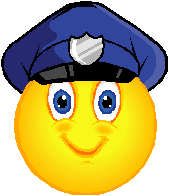 Being the home TV police officer is not a fun at all and nobody can survive being one for long. At some stage, you will need to make sure your kids have enough understanding and awareness to regulate their own TV consumption.
I remember realizing this when my daughter Eden was 4. She was sensitive to dairy food and I was a very good dairy police officer (I had no guilt feelings, because eating dairy food meant she would get pneumonia). Eden went to kindergarten and I knew that although I wrote on the admission forms "No dairy food", she would take food from other kids. This is when I knew I needed to teach her to be aware and understand why she needed to restrict herself.
The TV diet works the same way. Your kids will be exposed to TV more than you think and certainly more than you can control. All my kids have come home at times with details about TV shows I have never allowed them to watch. This is the reason raising aware kids is better than fighting this on your own.
The younger the kids are, the easier it is to develop this awareness, so start as early as you can!
Reality or fiction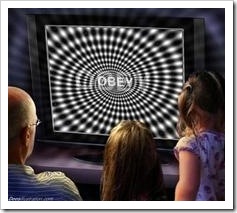 One major problem with watching TV is that kids do not fully understand the difference between what is real and what is made up. When watching a superhero movie, they do not always understand that normal people do not have such abilities. I remember stories in the papers when the first Superman movie came out of kids trying to fly out the window and hurting themselves badly.
Talking about these things with your kids can help them develop filters for watching things that are not real.
Here are some examples of things that are good to talk about:
In real life, people cannot fly (without a flying device, anyway), eat food that make them super strong or jump to the moon and back in a split second.
In real life, when you get up in the morning, you do not look immediately like a super model. Normal people need to brush their teeth and comb their hair and even then…
In real life, money does not appear just like that. Someone needs to earn it, not to mention work for it.
In real life, every gun has a limited number of bullets and most people do not own guns and certainly do not walk around with guns in their pockets.
In real life, there are different kinds of people. Not all women are the same and not all men are the same. I particularly do not like gender stereotyping movies, in which all women care about is shopping and make up and diets and all men care about is sports and cars and sex. Be careful of raising kids with such perception on life.
In real life, there are nice people and people who are not so nice, but not all the nice people are pretty and not all the unpleasant people are ugly. Talk to your kids about external beauty vs. character and about makeup, lighting, camera tricks and plastic surgery.
In real life, success does not happen overnight. It takes courage, determination, intelligence, talent, humor, creativity and/or social skills. More often than not, luck has nothing to do with success. This discussion will help your kids overcome idol worship too.
Help your kids notice how music is used in movies and commercials to stir emotions in them – fear, tension, fun, etc.
Talk to your kids about how long does it takes to make a TV show that runs for an hour. In real life, many things take a lot longer and that is OK.
What is the difference between acting and real life? Actors play according to a script. They do not really feel or think like their characters. Real people have no script and are likely to respond differently.
Are "reality TV" shows real? It is amazing how many grownups think "reality TV" is real, which is why it is so successful. I read once about contestants from a version of The Biggest Loser show who revealed what had happened behind the scenes and I was shocked. I am a grown-up with developed critical thinking and awareness and I was surprised at how things were being manipulated. How would kids feel discovering this? My life coaching instructor, Johnnie Cass, had been on Big Brother, but was a very different person in real life from the one presented on television. I liked the real person much better!
Tell your kids about the process of making a TV show (cutting, editing, shooting scenes 726 times).
Talk to your kids about special visual effects, such as fires, floods, using models, adding animation over the scenes and so on.
Spot the stunt work. I am always shocked to discover that in movies or shows in which nothing seems dangerous, there are many stunts. It is good to talk about stuntmen having experience, using special safety equipment and taking risks. No, real people cannot jump from roofs of houses and land on their horses. There are huge mattresses there to stop them from getting hurt.
Discuss news and how news is manipulated. I find it very disturbing that the news features one person being killed locally in a robbery or terrorist attack nothing about thousands of people being killed in an earthquake in China or millions in a bloody war in Somalia.
Talk to your kids about TV as a marketing tool and about news that sells. Help them realize that the world is much nicer than what appears in the news and that for some reason good news just doesn't sell very well.
Talk about commercials that will do anything to make you buy things. I tell my kids to imagine that someone has spent days looking for ways to manipulate people into buying these things.
Talk about buying things "as seen on TV". Encourage your kids to check what they buy, to buy it from a place they can return to if they have a problem, to get personal recommendations (recommendations in TV ads are not real – someone pays for them). Encourage price comparison and most importantly, help your kids handle the sense of urgency that TV commercials create in sophisticated ways.
Talking to your kids about what is real on TV and what is not will help them develop critical thinking and next time when they watch a program (at friends' house, when you are not there), they will tell themselves, "ooh, ketchup", when they see too much "blood" on the screen.
Come back next week for "Cutting Junk TV" or subscribe via RSS or email.
Until then, happy watching,
Ronit
This post is part of the series TV Diet:
TV Diet (13): Raising Aware Kids