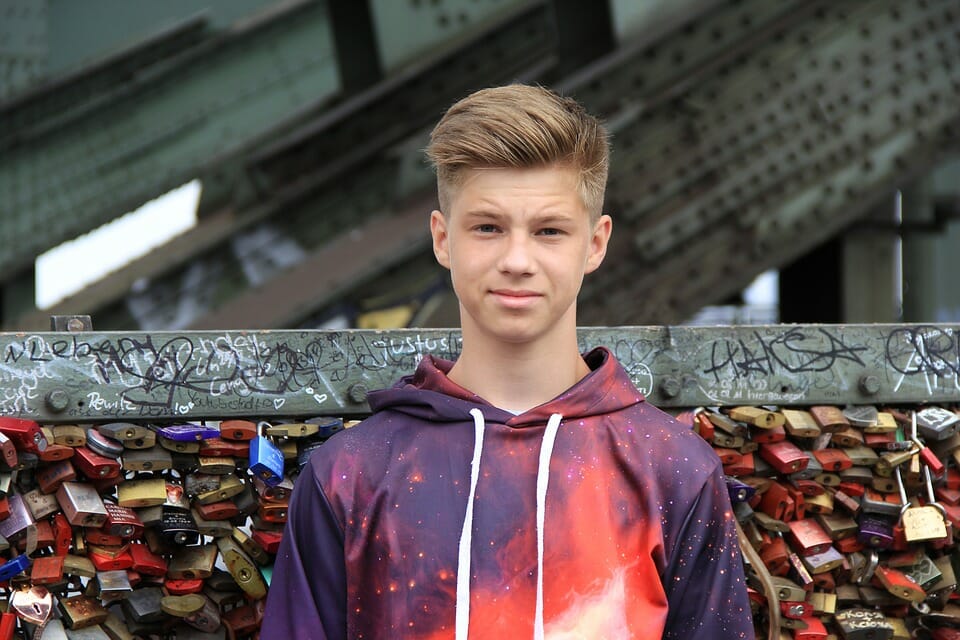 Babies' relationships with their parents in the first years of life has a significant impact on their future relationships. The attachment they have to their parents as babies becomes a blueprint of their attitude towards themselves and others later on in life.
Babies create a "navigation map" and use it until they become teenagers. In their teen years, roughly between 11 and 25, they renew this map as teenagers and the relationship between them and their parents becomes even more important for their future relationships.
For parents, this is the perfect opportunity to fix any problems in the relationship. For example, amending insecure attachment or making an already slightly secure attachment more secure. This is our second and the last one.
Like in early childhood, a secure attachment in teenagers is characterized by the ability to seek comfort from a meaningful figure when they are going through difficulties. It is also measured by how fast and how easily they are comforted and able to get them back on track, enjoying life and being available to absorb new experiences.
Many aspects of attachment in teenagers are similar to those of babies. Yet there is one major difference. At this stage, mom or dad are not always the main caregiver. Teenagers can often gain support and comfort from other people who function as a secure base: grandparents, siblings, teachers, mentors and sometimes family friends.
In some more extreme cases, good friends can provide that sense of security and that safe haven. This can happen when teenagers feel confident that it is safer and more comforting to ask for help from a trusted friend.
If your teen comes to you to express discomfort, for example, "I hate this teachers", "This kid was nasty to me", "I failed the exam", they are seeking comfort. Your reaction to this will impact their sense of security in their attachment.
Many parents think it is their job to prevent their teens from experiencing any "suffering", ever. Others think that they need to use suffering to "teach their teen a lesson". In reality, neither of those are best 100% of the time.
Both beliefs promote insecure attachment in teenagers and will prevent your teen from coming to you for help. They may feel uncomfortable to express discomfort and ask you for help.
Such beliefs foster several different behaviors: avoidance (I can't trust you to help me), aggression (you are not being helpful!), ambivalent (you hurt me, I will hurt you), or disorganized (which can be a confused mix of avoidance and aggressiveness).
The key, is not to try to prevent suffering, or use it as a teaching tool. The key is to acknowledge how your child feels and help them understand their feeling and deal with it.
Recently, I had a session with a dad who had a serious relationship problem with his teenage son. I told him that if his son still comes to him for help, grab the opportunity. This was his last chance.
He was able to change his attitude towards his son from, "He is aggressive", to "He is asking for comfort ". This changed a very dysfunctional teen-parent relationship that had been dragging on for over 18 years.
In early childhood, the son had been cared for mainly by mum. She was the only person around while dad worked away. She was overwhelmed by raising 3 kids on her own without any family support. Now that he was a teenager, dad was making good use of his second chance.
He was determined to fix the faulty "navigation map" that their son was dealing with. He was determined to build trust and create a huge change in only 3 month.
In the same way that babies' attachment is impacted by a lot of factors, the ability to form a secure attachment in teenagers also depends on many factors.
This time, the teens are much more aware of what is going on around them. They are able to make connections between circumstances and rules.
For example, if a teen comes to mum and tell her about problems at school and she becomes, they learn that they should not tell her problems at school.
Things that Affect Attachment in Teenagers
Here are some of the factors that can make it a lot harder to create a secure attachment in teenagers.
Separation from the main caregiver

This happens when the main source of comfort is not available to the teen, for example, through divorce, sickness or death. This is not always the parent. It could be a sibling who is no longer there for comfort and advice (they went on a long overseas trip, got married, moved out of town/to a new country).
This can be devastating for a teen. If the source of comfort is a teacher/a friend then changing schools/moving away can make it challenging for a teen to re-align their "navigation map".
Parents with low emotional intelligence or mental disabilities
For example, depression, OCD, ASD, addiction to drug and alcohol or medications). The can sort of disorders or disabilities can make it very challenging to support your teen, especially because you may be finding it hard to help yourselves.
What can sometimes happen in this situation is that the teen and parent swap roles – the child feels the need to comfort the parent.
Teens that experiences physical or emotional neglect
In this case, the parent has already shown that they are not meeting the child's basic physical needs. A child may find it hard to trust their parents to fulfill their emotional needs as well. Let me give you an example.
I ran a program in a primary school (as a guest) and by 10:30, I felt like I was losing the kids' concentration already. I had a colorful lunch box sitting on the table and they stared at it for the whole class. I asked them, "Who had a chance to eat breakfast this morning?".
Over 60% of the kids had eaten nothing since dinner at around 6:30 or 7:00 the night before.

Rushed mornings are part of many kids' and teens' lives. To be perfectly honest, it can be a reality for many people. If your child misses breakfast once in a blue moon, that is not what I mean by neglect.
What I mean is that many (too many) kids and teens do not even bring food for a full day of learning. This is a type of neglect.
Neglect is when parents do not make sure the environment is clean, the teen has sufficient food or sleep and when there is a neglect of medical issues.
Emotional neglect works in a similar way. It happens when the teen's emotions are not expressed or met. They are often ignored or even mocked.
Emotional abuse
This can also result in insecure attachment. This is when the parent, instead of being a source of comfort, becomes a source of fear for the teen. Emotional abuse is when the parent diminishes the teen's needs and feelings.
The most common form of emotional abuse is verbal, when parents tell their teens they are "nothing", "have no rights", "are a pain" or "trouble". It can often involve mocking the teen, making fun of them, threats or punishments as educational tools.
Physical or sexual abuse
In a very similar way, physical or sexual abuse can result in insecure attachment in teenagers. When the parent, who is supposed to protect and comfort the teen, causes physical injury or violation, he/she becomes the source of the pain and not the one that "heals" it.
Trauma that was not addressed properly
This can be a big source of insecure attachment in teenagers. It can be trauma that the parent, family, friends experienced. The way attachment forms will depend on how the parents addresses the trauma. If they are avoidant, the teen will learn that, "when I experience a trauma, I need to avoid asking for help".
If the trauma makes the parent aggressive, the teen will learn that, "when I am in pain, it is OK to be aggressive towards others". It is common for families to experience grief at some stages in life.
This can make the family dynamic a very sensitive place. If not addressed properly, this can turn into trauma and begin to impact a teen's sense of security.
On the plus side, there are also ways to help teens develop secure attachment. Remember that positive attachment is characterized by your teens ability to seek comfort when they are experiencing any form of "pain" and their ability to be comforted and move on from the experience.
If your teen gets stuck with a bad feeling for a long time, this can be a sign that their attachment is not 100% secure and they are struggling to manage their feelings. In most cases, if there is at least one source of comfort, they will be able to overcome pain and challenges.
Successful teens do not fail and experience less pain than any other teen. They just know how to overcome it and bounce back from it faster. Resilience is the key here!
Your "job" as a parent is not to prevent your teen from experiencing pain. You are there to help them overcome the pain. Teens will experience pain all their lives and they need to develop the coping mechanisms and the resilience to be able to move on.
This does not mean you teach them to avoid expressing pain or to hide their pain. You probably do not want to teach them to "enjoy" the pain either. Your job is to be there and reassure them of two things: (1) "you will be alright" and, (2) " I am always here for you".
I wrote a post about this called the open door philosophy. I think it summarizes this aspect of secure attachment perfectly. The idea of unconditional love. This unconditional love is what they needed when they were babies and this is what they need when they are teenagers.
Join me in the next chapter in the series on attachment theory where we will be covering the challenges in relationships and marriage.
Until next time, remember that unconditional love is the best way to raise secure teens.
Ronit
Attachment Theory: Secure and Insecure Attachment in Teenagers