Last week, I wrote how important it is not to confuse being on time with doing things at the last minute and how you can lose opportunities by doing things at the last minute ("on time") without taking spares or considering unplanned events, mistakes and accidents.
This second chapter will give you ideas of how to change it.
How to win in the game of life
Here is a story I tell my life coaching clients:
Every week for 20 years, an old man goes to the Wailing Wall in Jerusalem and puts a note in the cracks of the wall asking God the same thing, "God, please let me win the lottery". Thousands of people come every day to pray to God and put notes with wishes for God. The tradition says that every night, God sends his angel Gabriel to bring him the notes. This old man put the same request every week, but nothing happened.
One day, Gabriel brought God the notes and said, "Dear God, this old man is a very good person – he goes to prayer every day and gives to charity. He is an honest person who comes here every week for the last 20 years and yet, you have never granted him his wish. Can you please do something about it?"
And God said, "I would have done it a long time ago, if he only the man bought a lottery ticket".
Doing things on time is not winning, but it is buying a ticket. If you want to win, you need to participate first.
Every family has many things that need to be done. Doing them on time and doing them well often depends on our ability to estimate, plan and execute.
Some people do not see that late is often translated to not being able to participate. The success of a family with kids depends on the leaders of the house (the parents) adopting the "early is on time" philosophy and teaching/modeling it to their kids.
Here are some examples of last minute behavior in a family:
Doing homework a day before it is due ("Mom, can you help me with this?")
Finding clothes to wear when you get up in the morning ("Has anyone seen my purple jacket?")
Packing your bag in the morning ("Where's my pencil case?")
Preparing dinner when you get home from work (Quick Defrost is just not the same)
Going to the shops to buy only what is necessary
Paying bills on the due date
Walking to the shops just before closing time (without cash or card…)
Cleaning the house only when guests are coming
Doing the laundry because you have to wear something tomorrow
Compromising on what to wear because what you need is in the washing
Going to the dentist when you are in pain
Planning the weekend on Saturday morning
Looking for accommodations on the first day of your holiday (only to discover that everything is fully booked and prices are sky high, because everyone else is on holiday too)
Using your budget to the last cent
Using your overdraft to the limit
Not saving for a rainy day (like when you get sick, have an accident or lose your job)
Buying with credit and paying interest on things you do not really need
Buying shampoo after discovering you do not have any left (and not washing your hair for two three days until you go to the shops. No big deal, right?)
Cooking without looking at the list of ingredients first (and discovering in the middle of your cake that you need more eggs than you have)
Taking the kids to school on a drive that usually takes 7 minutes and leaving home 7 minutes before the bell rings without considering rain or unusual traffic
Taking the kids to rehearsal to be there the second the rehearsal starts
Whenever you say, "I don't have time", it means you have not scheduled things right. At every house, there are always difficulties not caused by your own mistakes.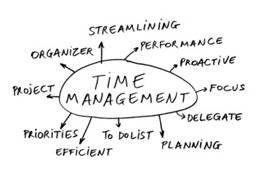 Noff, our 9 year old, gets homework on Monday to be submitted on Friday. She estimates it takes her about an hour to complete it. On bad days, when she is grumpy, tired, hungry, frustrated or has a confusing worksheet, it takes her longer and she spends more time complaining than doing her homework.
She decided to do her homework on Tuesdays, because on other days, she comes home around 5:30, which leaves her no time to do it. Doing it on time (on Thursdays) was not an option, because she is back home at 6:30pm from Ice Skating and then she needs to eat, shower and be in bed by 8:00pm with no time for left for homework.
Sometimes, Noff's teacher (who is a last-minute person) gives them the homework on Tuesday, Wednesday or even Thursday. He still wants it on Friday, but sometimes he does not have it printed on time. If he gives it on Tuesday, it is still fine. If he gives it on Wednesday, Noff has a very hectic evening, and if he gives it on Thursday, Noff is stuck!
The best way to change this mentality is to have "spares" and agree that "early is on time!" It will help you prioritize. Here is a formula to cover most of the issues that require completing things early to give you more options and a relaxed home environment.
Find out what you need to do
Check the due date you need to submit/complete it
Estimate how long it will take you to complete it
Add 10% of time for wrong estimation. My recommendation is to start with 30% and reduce it to 10% over time. Even if you become very good at it and your estimates are perfect, give yourself 10% for UPEs (UnPlanned Events)
Decide how urgent and how important is the thing you need to do
Schedule it in your timetable
In a full and exciting life, clashing can be a big problem. The more active your family is, the more involved you are and the bigger your social circle, the more clashes you will have. I tell my kids that I hope they will have many happy clashes, like being invited to two parties on the same day. When new things come up, shift them according to their priority. If you have two things that clash, do the more important one first
The result will be that you come up with your own due dates – just as we did with Tsoof's competition. If the rehearsal starts at 4:00pm, plan your trip so you will be there at 3:45. If you need to hand in an assignment at the end of the month, plan to finish it a week of two before. If you need to prepare dinner for guests on Friday and you do the shopping on Friday, plan what you will cook, what ingredients you will need and put it on the shopping list the previous Friday.
May your life be full of surprises that will never make you miss anything.
Happy parenting,
Ronit
Handy Family Tip: Early is on time