Last month, I visited my sisters and nephews. One of my sisters is in her late 30's and the other is in her early 40's and both became moms just last year. For years, they had lived on their own and managed a household perfectly, but when their babies arrived, they started dedicating most of their time to their "bundle of joy" and managing their house became a challenge.
Although it seem like a gradual progression from living on your own to living with a partner and then living with kids, the shift from managing a house as a couple to managing a house with kids is huge and can shake the most organized people just as it happened to my sisters.
As a parent, you probably remember yourself saying, "I don't have a spare second to do the basic things anymore". My younger sister was happy simply because I was with her baby so she could take a shower in the middle of the day. "Sometimes, I don't have time to eat", she said.
The good news is that parent's time management or household management improves as their children grow. It is very natural that as the load of taking care of kids, work and household increases, people come up with better ways to save time. When you start having kids, this is when parents' time becomes an important asset they need to master.
I suggested some household tips to my sisters and realized I have accumulated many handy tips to save time and headache in my own household, which have allowed me to spend more time with my kids and still do everything around the house. Every time I gave my sisters a tip, they tried it immediately and were so happy, I decided that for the New Year, I would post these tips here to help other parents benefit from them too.
I hope you will put them to good use.
Timing the dishwasher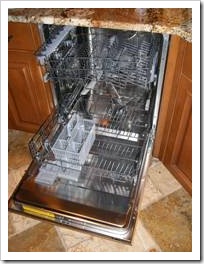 Every morning, as I got up at my sister's place and entered the kitchen, it was a mess. Early in the morning, she dragged herself into the kitchen and started cleaning, clearing the dishwasher and putting all the dishes piled in sink from the previous night. I personally hate such mornings. Looking at a messy kitchen as I get up is not a very good start for the day for me.
Here was my suggestion:
It takes the same time to clear the dishes (let's say 10 minutes) whether you do it in the morning, afternoon or evening. It takes the same time (let's say 10 minutes) to load dirty dishes in the dishwasher, whether you do it in the morning, afternoon or evening.
Run your dishwasher at night and clear it in the morning!
Regardless of when you do it, it only takes about 20 minutes a day, but there are some advantages to timing things this way.
Turning your dishwasher on at night, when everyone is asleep, will leave your kitchen clean and save you listening to it working during the day. In our case, Gal is auditory and works at home. The constant grinding noise of the dishwasher drives him nuts and does not let him concentrate on his work.
Putting the dishes away in the morning will leave the dishwasher empty and ready to be filled up with every dish that needs washing. This way, your sink is nearly always empty and the kitchen stays clean, no matter how many dishes you use. My brother in law, who is an efficiency fanatic, even calculated the time saved by putting the dishes straight into the dishwasher instead of piling them in the sink first, but that was too much for me…
And in the morning, you can enjoy going into your kitchen and seeing it clean and tidy. There is nothing better than starting your day on a good note, is there?
When I explained to my sister that the act takes the same time but timing it differently makes the difference, she only had to make an effort once and the following days were easy. As she got up in the morning, while making her coffee, she cleared the dishwasher and from that moment on, the kitchen looked clean and tidy.
Easy, don't you think?
My nephew is just 8 months old, but if you have toddlers, you can already teach them to help with household tasks. Even a 2 year old can clear the dishes (starting with the things that will not break) and when they are tall enough to get to the sink, they can also help load the dishwasher. Timing the dishwasher loading and clearing can be educational and the time saved by working together gives you the chance to have more fun together.
I hope this tip is useful for you too.
If you have household tips that other parents can use, use the comment box below to share with other parents and subscribe via RSS or email to get the next tips.
Easy parenting,
Ronit
Handy Family Tips: Dishwasher