In the last chapter, I wrote about my decision to write my personal "parenting bible" to make it easier for parents to design their own parenting rulebook, fine tune their parenting style and build confidence in raising their kids.
I would like to encourage you to listen to many other parents and their parenting tips, because you will learn a lot from them, not only because they have great rules but because they have some really bad ones. As you listen, look for a correlation between what they do and what happens to them and their children as a result.
I have designed my bible by looking at my own parents, Gal's parents, my extended family and my friends and by studying special education and life coaching. I have made connections and said, "This tip goes into my bible and this one stays out".
For example, I had friends who were in continuous negotiation with their kids. Whenever I was around them, I felt like I was in a war zone. Everyone was in a position of lack and bargained all the time. So I made a choice to enter negotiating with my kids to my bible on the "Don't" side. To make it even stronger, I found an alternative commandment. Instead of, "Don't bargain with your kids, because you are not equal", I entered, "You are the captain of your family ship, with all the privileges and responsibilities. Act like one!" This obviously does not mean the kids do not try to bargain (oh, they do!), but whenever the bargaining begins, I remind myself that I need to act like a captain and that my rule is law.
Another example of designing my bible based on things I have seen is the working on the weekend commandments. When I was young, my mom had to work on Saturdays, which was the only weekend day. She did not like it, but she was a chef and had a roster with the other chefs (everyone wanted the weekend off). That always hurt our quality time, because my dad felt guilty she was at work and did not want us to do anything fun without her. So our fun time was subject to my mom's weekend roster. On weekends, everyone did their own things and we did not have much time to do things as a family. Because of that, I have added to my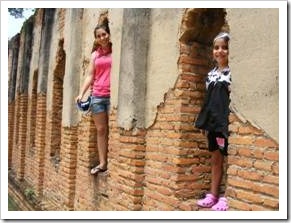 commandments to avoid working on weekend. Gal and I have had many opportunities that require weekend work and we have declined most of them. This does not mean we never do any work on weekends. It only means that making it a lifestyle sits in our bible on the "Don't" side, while the "Do" side includes "Make weekends bonding time for the family. Do your best to have meals and have fun together. This is when great memories are born".
Here are my next 10 "commandments" about love. I hope they will help you find yours.
Hug your kids and touch them as much as you can – there is no age limit for hugging and kissing your kids. Have rituals at home that will encourage kids to be happy and proud to hug, kiss and walk hand in hand with a sibling or a parent. First, you need to be happy and proud of it yourself.
Hug and kiss your kids and show them affection in public. There is an important statement in showing love, appreciation and affection in public and the sooner you start, the easier it is to pass smoothly through the risky zone of the teenage years. It is cool to love your family members.
At the same time, never ever shame your kids in public. It is a form of bullying and an abuse of power. If you have an issue with them, resolve it without putting social pressure on them through humiliation. If you do use this technique, it is a sign you are weak! Do not be surprised if your kids use it against you. After all, they learn from the best…
Take your kids to see other places around the world – leaving your comfort zone is the best way to sharpen their perspective and the bonding opportunities are endless. Traveling also builds self-confidence and the photos provide many opportunities to strengthen it further.
Tell your kids how much you love them every day – regardless of their love language. Love is a learned concept. We learn about love from the people who are close to us and you are the closest person to your children. Every time you express your love for your kids, you reassure them that regardless of their skills, abilities, experience or looks, you will always love them.
Telling your kids you love them is important, but it is not enough. Show them your unconditional love. Tell them you will love them even if they fail. Kids do not come with a "return to manufacturer if faulty" warranty, so do not try to convince them anyone ever gave you this warranty (in fact, you are the manufacturer and kids are still "in production"). They are yours even if they do not meet your expectations. Unconditional love is when they know all their life that you will come looking for them if they ever get lost on the other side of the world (doing silly things).
Make sure your kids get enough sleep – there is plenty of research to show that kids who sleep well are more successful. In fact, many of the problems people have are caused by sleep deprivation, which causes the body to go into stress. Many teen behaviors are related to lack of sleep, so before deciding your teens are "hormonal" (or your kids are "naughty"), make sure they are getting 8-9 hours a sleep every night.
Whenever your children are stubborn, be happy – treat stubbornness as a sign they will be strong-minded and persistent. "Stubborn" is what we call our kids when they do the opposite of what we think they should do. We call them "persistent" when we discover we were wrong…
When kids misbehave, notice that it means they do not fit into your standards of behaviors. Do not be tempted to use " right" and "wrong" statement as the your standards of behavior is not the ultimate "right"
Instill in your kids the belief they are strong and quick to heal. Your motto should be "Whether you think you can or think you can't, you are right!" When your kids are sick, make sure they drink plenty of water, pump them with vitamin C, make sure they sleep well and teach them to mediate. These 4 actions are sure cures to overcome many illnesses. All your kids need to do is believe that they are.
Next week, I will tell you my parenting rules about food.
Happy parenting!
Ronit
Ronit's Parenting Bible: Love