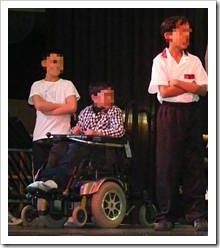 This is a story of integration that works. It is about how beliefs are stronger than physical limitations, mental disabilities and social prejudice. It may also be about how you parent your kids, if you so choose.
When I was a kid, I lived in a town with 3 distinct areas – one area where people did pretty well and two "working class" areas where people did pretty badly. Naturally, this situation was also reflected by the academic performance of the children at the schools in each area. This situation was common to many other towns and cities.
To balance this out and give the poor kids a chance, the government declared a program of "integration", in which larger regional schools would have kids from several areas, in hope that mixing poor kids with middle-class kids would have a good effect. As often happens with government programs, this resulted in a lot of talk, after which the effects flowed both ways, giving middle-class kids some bad options and sometimes increasing the animosity between kids from different backgrounds.
If you have had kids in any American school, you should also be familiar with the term "integration" and know it as mostly lip service in most places. The ever-socially-sensitive movie industry has made a good number of films by now on how difficult integration is overall, despite stories of local success.
One particular aspect of integration is that of kids who may be from a similar background to the general school population, but are different in some special way – they may be blind, hard of hearing, physically disabled or suffering from some mental disorder. Many school systems have spent enormous efforts creating special schools for these kids, then "integrating" them into the "normal" schools, then separating them again, then bringing them back, but their existence is certainly an ongoing discomfort to any system.
As life coaches, Ronit and I are great believers in the power of conviction and in planting seeds of strength and ability in kids' minds. If you have been reading this blog for a while, you will have read several times what we think about motivating kids.
So our personal philosophy is that "special" kids ultimately grow into "normal" society and should therefore be raised in it. We also feel it is important for healthy kids to realize at a young age that some people are not as fortunate as they are and learn to treat them with respect.
In his famous book Think and Grow Rich, Napoleon Hill tells about his son, who was born deaf. Being a great believer in conviction, he treated his son as he would a healthy boy, forcing him to read lips and participate in every activity without regard to his physical limitation. When his son grew up, he came across a new device to help the hearing-impaired and was confident enough to try it out and send a detailed report to the manufacturer, landing him a job at that company and securing his future.
At Noff's school, special kids abound. There are kids wheeling around the school on motorized wheelchairs, walking with difficulty using walking frames, having difficulties hearing, seeing and communicating. Some of these kids are so limited they need to be fed and, well, wiped clean.
The school has a special block for them, where they have special lessons and exercises, but for the most part, they attend regular classes and participate in absolutely everything.
The way these kids are treated at that school is so good I decided to share it with you. If you have a child with disabilities, you will find this moving and inspiring.
In the past semester, Noff's school ran a dance program for the kids called Dance Fever. In previous years, Noff really enjoyed the program and, being the great girl and awesome hip-hop dancer she is, she also got a "Best Groover" award. So this year, she was savoring every moment and we got to see her dance moves every Friday, as soon as she came back from school.
When the Dance Fever performance was announced, we cleared our schedules and made sure we would go and watch it. Noff was so excited she nearly popped.
So there I was, sitting in the audience with my camera and waiting for Noff's class to go on stage, when I saw one of the special education teachers rolling a couple of kids in wheelchairs onto the stage.
"Well, this should be interesting", I thought, "I wonder how these guys are going to participate".
As I kept watching them, I noticed they were clearly excited. They talked to each other with big smiles on their faces, waving their arms around and apparently practicing some moves for their routine.
"This is so cool", I thought, "They are seriously going to be in a dance performance on electric wheelchairs".
One by one, classes got onto the stage and performed a routine that went like this: everybody danced in rows, then they formed a big "U" and danced some more, then some kids did fancy solo moves in the middle of the "U" and then they stood in two rows with their hands joined high and gradually left the stage through the "tunnel", giving their parents some good photo opportunities.
I was so unprepared for what happened next that I missed some great moments.
First, one of the kids in wheelchairs rolled on stage with his friends, moving into formation and waving his arms and head to the best of his abilities. The kids around him did not look like this was strange. They looked comfortable having him around and did their dancing as if he were just another kid. During all his performance, he had the biggest grin on his face you have ever seen. That kid was beaming!
Then, one of the Special Education teachers supported a girl with thick glasses and a clear difficulty to walk. At times, it seemed like the teacher was doing most of the dancing, but then the class formed the big "U" and the girl plunged onto the floor and lay there, raising her feet and arms up. She was doing a solo! The crowd of parents went nuts with cheers and whistles as the teacher helped her up.
Next, a girl with a walking frame performed with her class. She walked with difficulty from place to place, but kept up. When it was time to raise her hands in the air, she steadied herself and waved, just like everybody else, looking very happy.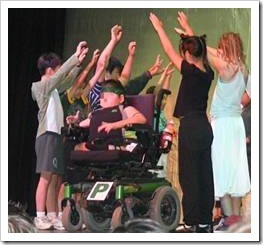 Finally, the other kid on a wheelchair performed, looking cool with a green band on his head. I was able to snap him in formation and then coming out of the "tunnel" before leaving the stage.
I have had to blur these kids' faces for their privacy, but believe me they were beyond excitement. The joy on their young faces intense. The parents jumped up and down in their seats, cameras flashing and videos rolling.
What better integration and what greater victory for the kids, their classmates, the teachers, the school and, of course, the parents than seeing disabled children dance?
Inspired parenting,
Gal