Coming together is a beginning. Keeping together is progress. Working together is success
– Henry Ford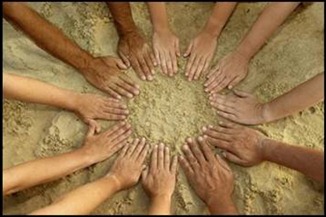 Working in a group is an important skill for everyone and it is not something you are born with but need to develop. Teamwork is not always easy, because not every member of the group is the same, particularly when some people seem to do nothing at all.
I am sure it happened to you that you had to submit something in a group and the level of frustration rose very high. I can sure tell you it happened to me during my studies. If you are a good student, it is probably even more frustrating that you have to form a group and do something together and some only appear on the last day to add their name to your work. My frustrations were not very long, though, because I remembered how hard it was to be on the side that cannot contribute, so when I was leading a project, I was much more tolerant and accepting.
During my studies, I had the honor of working in a very special project called "Creative Thinking" that was led by Professor Gideon Carmi and taught physics to students in Grade 1 and Grade 2. Professor Carmi's philosophy involved co-teaching, so we taught in teams of two, one educator and one who was not. That was the first time I discovered the real advantage of working and learning in a group.
These 4 years of amazing experience thought me that just everyone not being the same could be a huge advantage. When working by myself, I was limited to my own abilities and talents, my own point of views and my own thinking paths. When I worked with another person, we had a wider range of skills and talents at our disposal, different ways of thinking and better solutions to problems. In fact, the bigger the group was, the more successful we were.
Individually, we are one drop. Together, we are an ocean
– Ryunosuke Satoro
Working in a group
For a group to be effective, there are some key concepts that must be accepted by everyone:
Everyone in the group is different. Difference is an advantage when we talk about a group. Remember the saying "Many drops can fill the bucket". The more members, the better. If you think your way is the "right" way, you are an obstacle to the group. The more angles there are, the easier it is to deals with the issue.
Everyone has something valuable to give the group. If you cannot think of something that one person can give, do not be judgmental. If you look for some talent, you will find it! "Seek and you shall find!"
Types of participants
Every project, assignment or working task requires different skills. If we have a variety of people, we can make sure that everyone can contribute using their strengths and using others to overcome their weaknesses.
When you have a mix of enough talents, you are guaranteed a better success rate. Here are the talents you need:
Coordinator – a person who brings the member of the groups together and can allocate tasks to everyone and make sure the work is done. The coordinator is the "glue" in the team. Every project needs one person that has good people skills and can do this job with tact and grace.
Collector – someone who can easily and quickly gather information. They are not overwhelmed by lots of information and can use different methods and technologies to gather large amounts of data. The collector is a fact person and can hold lots of information. This person is most important when the task requires a lot of information.
Time keeper – a person who has a very good time management skills and can make sure the work is done on time. He or she is the one who takes into consideration everyone's schedule and has a good estimate of how long it will take to complete each task. The time keeper does not leave things to the last minute and always makes sure the group has enough time to put everything together and to handle any unforeseen circumstances.
Motivator – a person who makes everyone in the group feel valued and appreciated and encourages everyone to keep moving forward. This person is highly needed when the going gets tough, when there is friction between group members and when some group members are not in the mood for working and contributing. This person boosts the team's morale and helps everyone focus on the goal and the end result.
Creative – a person who thinks "outside the box" and comes up with original ways to do the project. This person is very helpful in thinking of different ways and different approaches and can typically come up with great ways to present the work at the end.
Some people have more than one skill, so if you find them, hang on to them, because they are destined for success and there is a lot to learn from them about how to succeed.
Teamwork is a very important skill that we all need during our life. It starts with a very insignificant assignment your teacher gives you at school and continues with your projects at work. But perhaps the most important assignment of your life that requires teamwork is running your own family as a parent, where you need to get results, but also to demonstrate to your children how to be good team members.
Happy parenting,
Ronit