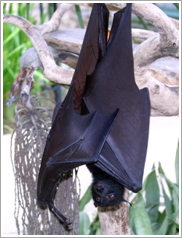 Last week, I wrote about some things that make our world seem to be operating upside down, including relaxing to accomplish more, exercising to have more time, giving to receive, listening to be heard and praising your kids so they will do better.
But life is so weird and wonderful, there are other examples of its topsy turvy ways and I just have to share them with you, because they have helped me and will likely help you too.
Is the sun good or bad for you?
One of the unfortunate things I have had to go through was the removal of a large skin cancer from the top of my head (see Finding Cancer). Naturally, that made me extremely interested in the causes of skin cancer and the best ways to prevent it, so I did some research right away.
There are those who claim that the sun – that big yellow balloon in the sky that gives us all our energy – is the source of skin cancer and should therefore be avoided at all costs. Specifically, they say sunlight contains harmful ultraviolet rays, which penetrate our skin and cause genetic mutations in healthy cells that turn them into cancer cells.
These people warn us to stay in the shade particularly between 10am and 4pm, when the angle of the sun is nearly perpendicular to the ground and those rays are the most dangerous. If we do venture out, they claim, we should put on protective clothing and/or a good dose of protective cream with a high SPF.
On the other hand, research has shown a very close link between low levels of Vitamin D and cancer of all kinds, as well as various bone density issues. The problem is that Vitamin D is created by ultraviolet light from another substance in the skin, which means that "no sunlight = no Vitamin D".
My doctor even told me a story about one of his patients who had very low levels of Vitamin D. The man grew up in India, where he used to play cricket with only shorts on when he was young. When he grew up, he started working indoors and wearing long-sleeved shirts and long pants due to air-conditioning. Put together with his dark skin, which blocks most of the light anyway, you can see why his body ran out of Vitamin D and, after a while, developed cancer and other problems.
You could say "Damned if you do, damned if you don't", but you could also find comfort in this and the ability to relax about going out in the sun and forgetting your cream.
It seems that skin cancer is related to abusing your skin by getting it burned, particularly repeatedly burned. So find the best balance for your skin type and do your best to stick to it. When you do not get enough sun, take comfort in being safe from UV and when you get too much sun, take comfort in your rising Vitamin D levels. As long as you do not overdo anything, the main thing is to be happy.
Getting enough protein vs. getting too much
Lots of people struggle with maintaining the right diet – enjoying their food and getting enough nutrients while keeping the calories to a minimum. There is a school of thought that claims proteins are the key to that balance. They say proteins should be the main ingredient in our food and this will keep us slimmer, fitter and feeling full more.
The other side of this is that excess protein is not stored by our body and breaks down in a process that produces toxins. Too much protein means too much toxins, which cause kidney problems, allergies and other discomforts.
So what should we do?
Unless you are reading this post from a hunger stricken war zone, it is likely your diet contains enough protein no matter what you do. We are very fortunate that our body can operate well within a range of levels and, as long as things are OK on average, it can keep us healthy and functioning. When it comes to getting enough protein, you really need to do nothing special. In order to get too much protein, you need to make an effort, so when it comes to getting too much protein, you also need to do nothing special.
Isn't life grand?
Losing weight vs. having stable weight
Is slim beautiful? Is fat beautiful? Ask an American and you will get one answer. Ask someone from the Middle East and you will get another.
Still, people (especially women) everywhere try to change their weight to suit some ideal. In Western society, where life is plentiful and the average weight and heart problems are on the rise, diets are being sold by the millions every day and many people lose weight for a while and gain it back (with interest) later.
Oddly enough, research of very old people (those who did not die from heart problems and lived to be over 80) shows that one of the most common things for them is keeping a constant weight. Most of them gain some weight when they stop growing and become adults, some of them put on a little bit more later on, but their weight changes are slow and subtle, if they occur at all.
Now, I am definitely not saying everyone should keep pigging out and be happy with 100kg (220lbs). What I am saying is that being "pleasantly plump" and keeping the same weight all the time is better overall than going "yoyo".
Of course, being happy with your weight and appearance means a much better life just by itself, which may be another way to explain why those people lived so long…
Doing your best vs. being perfect
It is all too common for people to believe that the proverb "If a job is worth doing, it is worth doing well" means "Whatever I do must be done perfectly or not at all". The two inevitable ways these people operate out of this belief are doing things perfectly and not doing them at all.
Before they decide to do something, they try to predict whether they can do it perfectly. In many cases, the answer is "no", because perfection is hard to achieve.
When they go ahead with the job, they spend most of the time worrying about little things that may go wrong and render their job imperfect, even when they have essentially done the core of it well. Worse yet, they may be satisfied with their work until someone comes along and makes a comment about it, thereby destroying the illusion of perfection and any chance of a good relationship.
Admittedly, perfectionists do a better job in most cases. They pay attention to details and can even attain world fame in their field of expertise, but they often pay the price of stress and loneliness to get there.
On the other hand, doing the best we can and feeling comfortable with whatever comes out may produce unspectacular results, but it will allow us to be happy and enable us to take on a lot more jobs, which means we will be far more productive overall.
Whichever you turn, there are advantages and disadvantages. How weird and wonderful!
High performance kids vs. happy kids
When all of the above is taken in the context of raising children, we can keep them in the shade or we can make sure they get enough sun, we can feed them eggs and meat or we can opt for fruit and cereal, we can try to keep their weight down or try to keep it constant and we can teach them to do things perfectly or we can teach them to do their best. In our kids' life, the choice is ours and so is the responsibility.
Being successful, being the best or doing things just right should make them happy, right? Yes, it should, depending on how you do it.
The nice thing about kids is that they believe everything we tell them as parents. Changing your mind will cost you your kids' confidence and confuse them for life, so you just need to be consistent. No matter how you choose to raise your kids, stick to your choices, because there is some good in whatever you choose.
When in doubt, seek and you shall find enough evidence to support yourself and feel good about whatever it is you are already doing. I hope this post already helps.
Life's what you make it, so let's make it rock!
– Hannah Montana/Miley Cyrus (Matthew Gerrard & Robert Nevil)
Happy parenting,
Gal