My dad always said that the process of anything in life depends highly on how your start it. A good start will set us up for a nice and easy process, while challenging starts will set the tone for struggle. I think happiness is a lifelong quest. I chose to adopt my dad's philosophy and tried to instill this belief in my children.
Here are my A to Z rules for having good starts and continuing the happiness journey. I hope you will find them successful and encouraging.
Act on your goals rather than waiting for things to happen to you. If you want to start feeling happy, make it happen. Act on it. Waiting for that "one day" when your life will be they way you want it to be will only reinforce the fact that you are far away from it. Moving slowly, by taking action, towards your goal, will make you feel like you are just that tiny bit closer.
Every day is a new opportunity. You can build on yesterday's success or put its failures behind and start over again. That's the way life is, with a new game every day, and that's the way baseball is.

– Bob Feller
Birthdays are a fantastic starting point. Make sure you summarize the past, take stock of your achievements and successes. Remember that next year, you can get an even better result if you make different choices starting right now.
Celebrations can be very helpful the beginning and ending of every journey. If you celebrate at the beginning, it will get you motivated. Celebrating at the end will highlight your achievement.
Dream big and dream a lot. Imagining is a great way to start a new adventure. In NLP, visualizing is a fantastic motivating technique that drives us forward. Spend time day dreaming. You might surprised how similar the final result is to your dream.
Eyes on the ball! Focus on your goal. It is easy to do this when you are just at the beginning of your happiness journey, but it gets harder once you leave the starting line. Keep your eyes on the target at all times. Remind yourself what the goal is and do not drift.
Finishing a task is as important as starting it. If you start but do not finish, you waste a lot of energy and only end up thinking the experience was a failure.
Goals and targets are really important in life. If you know where you are going, you will be more likely to get there. But our happiness journey takes a lifetime and you cannot be aiming for giant goals all the time. Make sure to have mini targets of happiness along the way.
Habits make us masters or servants. They either control us or serve us. Develop happy habits that will serve you in life. Do not do things just because that is the way you have always done them. Ask yourself, "Does this work for me?". Change accordingly.
If you have problem, it is not the end of the world. Problems only mean you have not found a solution, yet! Keep the "yet" as long as you can to motivate you to keep trying.
Joy is a very good measurement of success. If you feel great, keep doing what you are doing. If not, change it!
Keep moving forward. Regardless of your starting point, if you do no move forward, you will fall behind. Happiness is an accumulation of happy and successful achievements. It is like a diet, if today did not turn out to be such a happy day, start again tomorrow.
Learning from your mistakes is important to make sure next time you start something new, you will be able to start smarter!
Monitor your progress. You can be doing lots of things and working hard but without any monitoring system, you will never know if what you were doing is effective. Whether you are going west, when your original goal was to go North. Pay attention to the milestones, the small indicators, to make sure you are on the right track.
Never, never, never give up! If you have that in your mind, you will be ahead of many of the people around you.
Obstacles are not problems. It depends on the way you look at them. They can make you bitter or better. They can be stumbling blocks or stepping stones. Your choice!
You may have a fresh start any moment you choose, for this thing that we call 'failure' is not the falling down, but the staying down.

– Mary Pickford
Plan, plan and plan. Planning increases the chances of sticking to original goal. Do not freak out if it is not 100% accurate though. Planning may help you solve many complications in advance.
Question your reasons before starting, to make sure your motives are in the right place. Ask yourself, "What do I want? Why do I want to do it? What do I want to achieve? How will I achieve it? Who will help me achieve it? What do I need to be/have and do in order to achieve it? What may be my obstacles? How can I solve these problems before I start?". I would even say to ask, "How will I celebrate achieving it?".
Replacing negative thoughts with positive thoughts about yourself, the world or others, will guarantee that you will walk a better path. A negative mindset takes up a lot of energy. Anger, fear, disappointment and judgment cannot reside together with happiness, success and love. Make room for positive thoughts.
Staring at closed doors will guarantee you miss the doors that open. Make sure you let go of the closed doors and pay attention to new opportunities coming your way. Happiness can be in many hidden corners. Seek and ye shall find!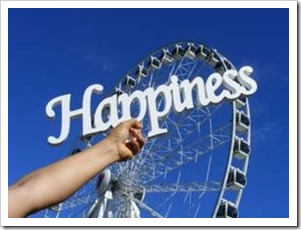 Today is the first day of the rest of your life! Think about it, it is always, always, always a good time to start.
Unity can help us achieve lots. You are not alone. Collaborating with others who share the same values and goals will help you all walk longer, faster and with lots of support
Victory cannot be experiences when things are easy. Easy means we do not have to overcome anything. Be careful though, easy can be very addictive. Strive for challenge if you want to be successful.
Where you are now means nothing about where you will be in the future. The past is not an indication of what your future will be like. You can always choose to think that you have learned from the past so you can improve in the future.
You must take risks if you want to succeed in life. Life is a big risk taking game. If you want to win the game of life, you must participate and take leaps of faith. Be ware of your need for certainty. It is natural but can be an obstacle to success.
Zoom out from time to time to be able to get a different perspective of your life. Things look different when we step back and look at our lives from a distance. Perspective can take us towards a totally different life journey.
I hope these tips will encourage you to start moving forward towards you own happiness. Send us your A to Z list.
Happy beginnings!
Ronit