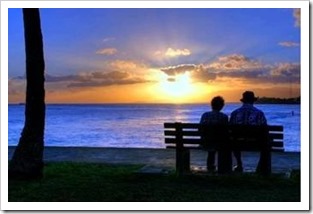 Recently, I travelled overseas to visit my family. While there, I spent some time with my parents who are both getting older than I would like them to be – my father is 80 and my mother recently turned 73.
Surprisingly, my dad is the healthier of the two. My mom, on the other hand, has not been healthy for as long as I can remember her. First, it was high blood pressure, then diabetes, cholesterol, obesity, osteoporosis and the list goes on.
Even though my visit was only for a short time, my mother and her health issues were a drama once again. Thankfully, she is not what you would call "sick". As in, she does not have a fatal illness or anything like that. She just always seems to be in pain, or complaining about her physical condition. She visits her doctor regularly and often ends up telling them exactly what she wants them to prescribe for her. If you ask how she is, she will immediately start telling you. My sister, who is a social worker, says this is simply part of getting old. That may be, but my dad is older than her and he is not like that. I have met other people the same age, and even older, that were not like that either. I find it hard to accept that this is part of getting old.
During my visit, I spent a lot of time reflecting on myself and the people around me. If I could sum up my mom's biggest problem, I would say that it is the belief that doctors are gods. She thinks they are all knowing and she does whatever they tell her to do. This would usually be a good thing, but she goes so often that they give her one medication after another (sometimes without checking what she is already prescribed). She is taking about 30 different pills and none of it seems to make her feel better. When we ask her why she takes it if it does not help, she says, "Without the medication, it would be worse".
I felt really helpless during my visit. I pride myself on keeping my kids away from doctors. Not because I have anything against doctors, simply because I want my kids to be healthy and not need to see a doctor. Unfortunately, I cannot help my mum stay away from them. Even now that I am back home, the situation is the same. I talk to her via Skype and regardless of what we talk about, she says, "I will go to the doctor and do whatever he tells me to do".
To reassure myself that she is an adult who can take care of herself, I try to remind myself that she raised five kids. Sadly, it seems she passed her issues in the health department on to us. Most of us had, at one point or another, a few too many health issues.
So I try to remind myself that she has the right to stuff her body with whatever medication she wants. Then I think how that impacts our rights to have her as a mother or a grandmother, or a great-grandmother.
Sometimes I try to remind myself that doctors know what they are doing. This is their profession after all. Unfortunately, I then realize that if they advocated healthy eating and a balanced emotional state, they would be out of a job.
These thoughts scared me a little. When I got back from my visit, I attended an event where two of the women shared similar feelings of helpless with their own older parent. Each of their moms thought doctors were gods and that they did not need to do anything to help themselves.
I wonder how many people out there have older parents with the same attitude. Let us know about your parents by answering the poll below.
Do your parents believe that "doctors are gods" and follow their advice blindly?
Be a happy child!
Ronit