The other day, I was driving up the road and saw an ad on a bus using the expression "Spoiled rotten". This made me think about the countless times I have heard this expression being used by parents to describe their kids.
Parents usually say their kids (or somebody else's kids) are spoiled when they cry loudly, throw themselves on the ground or behave in some other anti-social manner. The assumption is that when kids behave like that, they are being selfish and inconsiderate as a result of too much pampering and attention.
Now, I may not go as far as advocating attachment parenting, because I think parents should also have a life and kids should learn to respect that, but I believe that attention is a good thing and that much of what we call "spoiled" behavior is actually due to lack of attention or not knowing how to pay attention.
If you have a spoiled child, who throws temper tantrums on a regular basis and "embarrasses you" in front of friends, family and complete strangers at the supermarket, this is your lucky day, because I am here to help.
This might only hurt a little bit, but it is good for you.
Everyone is self centered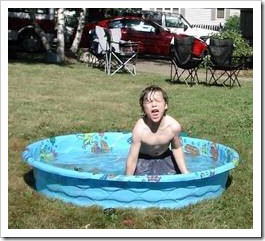 Yes, everyone. Yes, including you.
I once had a fierce argument with my dad about this point for 3 hours, while we were stuck together in the car and neither of us could escape.
My dad said I was self centered. I told him everyone was.
"I'm not", he said.
"Sure you are", I said.
"No, I'm not. I like helping people", my dad said.
"That's great", I said, "Why do you like helping people?"
"It makes me feel good", my dad said.
"My point exactly", I said, "You help people because it makes YOU feel good".
I will not share what came next, but it was long and loud. In the end, I was still convinced everyone is self centered and I hope that now you are too.
So your kids being self centered is cool, right?
And when you expect them to do something because that is what you want, who is self centered?
And when you say that they embarrass you and immediately proceed to berate them in front of those very same people whose opinion is more important to you than your own kids', who is self centered?
OK, this is the end of the part that was going to hurt a little. You can breathe now.
Everyone needs attention
I bet you can relate to this one. Love and connection is one of the basic emotional human needs. People do pretty stupid stuff to feel connected to others (like chatting to them until 2am on a week night) and even stupider stuff to feel like they belong to a group (like going to war).
Kids are little people and they do stupid stuff to feel loved when they run out of ideas. The need is there all the time and it must be fulfilled continually or the kids feel lonely, detached, rejected, neglected and miserable.
The good news is that, being little, they also need little doses of attention. The right kind of attention, that is.
Sometimes, my own kids get to the end of their day and need to go upstairs and get ready for bed. After a bit of "encouragement", they finally go upstairs, but then I start hearing high pitched voices and I know a storm is brewing.
Expecting my kids to go to sleep because I told them to, might cause me to yell at them, start counting to 10, threaten them or apply some other kind of parental pressure. I have tried this in the past and it has always resulted in tears and in me feeling like a rotten parent for hurting my kids' feelings in order to keep their health.
NOT the right kind of attention.
Instead, I recognize that being upstairs by themselves, they feel abandoned. Kids love some attention before they go to bed and say goodbye to everybody for a whole night. So I drag my bones up the stairs and join them and, hocus pocus, their faces light up, the high pitched voices are replaced by giggles and within a few minutes, they are tucked in and ready for what dreams may come.
It takes me all of about 10 minutes, but to the kids, my attention makes a world of difference and I feel super for being nice to my kids and crediting myself for more quality time in "the good parenting book".
Oh, and guess what? This only lasts for one day. The next day, they want another does, but that's OK, right?
Attention seeking
Now that you are convinced that giving attention to your kids when they need it is a good thing and that it may only require little effort on your part, how do you know what to do?
When you are confronted with "attention seeking behavior", start seeking the right kind of attention to give. Unfortunately, kids are not very good communicators yet, because they have not had enough practice and because emotions are possibly the most difficult human experiences to describe. So what now?
You can help your kids help you help them by focusing them in the right direction and letting them select from a few options, rather than having to come up with their own words. Maybe an example will help here.
Say my little boy has just been pushed by another child in the playground and hurt his knee. Although he can see I am having a nice conversation with one of the other parents and he picked the fight to begin with, he still comes running up to my face and stands there screaming his little head off. I try to finish my sentence, but he turns up the volume.
How embarr… Oh, hang on. Maybe he is trying to tell me something.
I apologize to the other parent and then turn to the most important person around (for me), give him a hug and ask gently, "What's the matter, sweety?"
"Umm, grrr, pshsht, hmff", the little fellow mumbles and sobs at the same time.
"Did you get hurt?"
"Yeeeees", he whines.
"Show me where it hurts".
"Here", he points to his knee.
"Here, let me kiss it and make it all better".
The end. He sniffs, puts on a brave smile and hops back to play. I can return to that nice conversation I was having, feeling like the best parent ever.
OK, so this is a bit of a simple example. Bigger kids have bigger problems and sometimes kids do horrible things too, like breaking things. Still, by acknowledging my son as a person with feelings, focusing him gradually towards a good enough description of his problem and providing some attention, I can help him play happily for hours with a few minutes of focused attention.
Now, you can do one of two things:
You can share stories of your own carefully applied parental attention to "attention seeking behavior by a spoiled child", or
You can throw some challenging situations at me (and the group) and let's see if we can help you out
Give your kids lots of hugs and positive attention. One day, you will find out why this was a good idea when they will stay friends with you, while all their friends move as far away from home as they can.
Loving parenting,
Gal