Remember 17-year-old Jessica Watson, the girl who sailed around the world after she crashed into a massive ocean freighter and nearly died?
Well, last week, 16-year-old Abby Sunderland was feared lost in the Indian Ocean while sailing around the world. She set off two emergency beacons from about 3,600 kilometers off the coast of Western Australia after her yacht was knocked over in huge seas and its mast was broken.
Before Ronit and I had a chance to calm down from hearing this (because, after all, the majority of kids do not sail around the world), we happened to watch a TV piece on top models' body image (no longer available online), eating habits and self-inflicted damages.
Top model Jessica Gomes (24) said the pressure on models to be slim was enormous and that models are afraid to miss out on work opportunities in the highly competitive fashion industry, so they use some excessive methods to keep themselves trim.
She said models run for days on a mix of lemon juice and maple syrup, which also "cleanses". To keep their energy up and be able to work, they drink coffee and use Cocaine.
The article mentioned Ana Carolina Reston (in the photo), a famous Brazilian model who died from Anorexia at the age of 21, weighing 40kg (88lbs). Her mother told the press Ana had eaten nothing but apples and tomatoes for 2 months before she died.
Although the article did a very good job showing models who decided to eat normally and still got excellent jobs, Ronit and I were left with a very painful question:
Where are those top models' parents?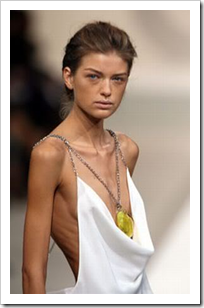 Just take a look at the pictures, will you? There is no chance the parents of any of these girls might have missed them being abnormally skinny. There is no chance those parents might have thought their girls were healthy. Healthy girls just do not look like this.
Ana Reston's mother knew what she was eating. She even told the press. If your 21-year-old daughter ate apples and tomatoes for 2 months, saying she wants to keep her weight down, would you just say, "Sure, honey, you just keep those dollars coming in?"
Eden is 21 now and we notice every mood change, let alone anything that lasts or shows up physically.
When Eden was about 15, she spent 10 days on a camp, where the food was being badly managed and the kids were not kept warm enough. She ate so little she lost 3kg by the time she came back home. I was all over her as soon as I picked her up and bombarded her with questions about what had happened during camp.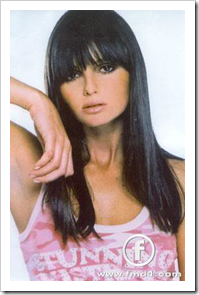 Eden did her best to downplay the problems and told me she was not really hungry and everything was fine, but in the car with us was Tsoof, who was 9 at the time and had been to the same camp in the last few days. Tsoof honestly described how he had been hungry and cold and how one of Eden's friends had been taken to the hospital with hypothermia.
It took me all of half an hour to find out EVERYTHING.
That was the last time our kids went to that camp.
The organizers have contacted us since and promised all would be well, because they had changed personnel and policies, but we give people only one chance to treat our kids badly. No second or third strikes. Just one.
Now imagine you have a good-looking girl (most models start pretty young – excuse the pun). She wins some competitions, gets some working gigs and is then picked up by a modeling agency.
Next thing you know, your daughter is whisked all over the world to exotic location, looking slimmer every time she returns, acting jumpier and feeling worse about herself. After the first time, you may put it down to the hard work, or maybe to being away from home with all those strangers. "Nothing to worry about", you think, "The agency will take good care of their investment".
But it does not stop. Whenever you get to glimpse your once bouncy, lively girl, she looks more and more like a shadow and just wants to be left alone.
Is it just top models?
But I see bigger issues here.
First, these parents become part of a powerful mechanism that uses their daughters to pump everyone else's daughters full of negative body image and desire to buy magazines, clothes and cosmetics. In essence, their neglect is our loss.
Second, most of us are not the parents of a super model and never will be. In fact, some parents only have boys. But we may just be like those top models' parents if we do not put our kids' health and wellbeing (and that includes emotional wellbeing) above all else.
Whether they are star athletes, musically gifted, super smart or highly artistic, their special skills should be only second to their livelihood, energy and happiness.
Third, as consumers of the fashion advertised by those "models of starvation", we have the power to do away with this practice. We have the choice to shun magazines, advertisers and brands that use overly slim models. We can simply refuse to buy their products until they give in and show healthy people in their ads.
Fourth, as parents who need to demonstrate good values to our kids and teach them how to live well, we must show them the false image being shoved in their faces and tell them to reject it with all their might.
We must ensure that when it is their turn to run the world, they will put wellbeing at the top of their priority list and recognize when it is not.
Who, me?
Are you sure you notice everything about your kids? Are you sure there is nothing that looks like it might be starting to go wrong, but you have "reasoned" it away somehow and let it slip? Just think of your kids' TV, video game and computer habits vs. their active, creative and social habits.
Think about it next time you walk in the door and maybe keep a diary of your observations for a week to see what you notice.
Are you sure the way in which you select products and services is aimed first and foremost at health and wellbeing? Do you always buy healthy food? Do you read the labels? Does your doctor treat your symptoms or you?
Do you buy any magazines showing starved girls who are clearly too young to be posing like that?
Think about it next time you are at the supermarket and maybe keep a diary of your purchasing and viewing choices over a week.
We are powerful beyond measure, especially when we work together. By making better choices every day, we can help change the world for our kids' sake and reclaim it back from the money-hoarding mega corporations that run the media and fashion industries.
And if your 12-year-old daughter comes to you and says she wants to be a model, you know what to do, right?
Happy parenting,
Gal
This post is part of the series Anorexia: