Traveling has been part of my life in the last 22 years. It started with a move from one country to another with a 4-year-old daughter and ended up being a passion. Last month, Gal and I went on a 3-week road trip with our 2 younger kids, Tsoof, my 20-year-old son, who had just graduated from university, and Noff, my 14-year-old daughter, who was starting 10th Grade. This road trip it reminded me again that taking kids out of the comfort zone of their rooms, TV, computer, mobile phones and friends, and introducing them to a different world, can do magic.
I am not the same, having seen the moon shine on the other side of the world

Mary Anne Radmacher
Recently, I worked with a couple (let's call them Bob and Matilda) who had a conflict. He dreamed of taking the kids (16 and 14) on a 6-month road trip and she was shocked and concerned about the kids not going to school during that time. Bob had memories of his family, at the age of 9 years old, taking 6 months off to travel in England and he wanted to give his kids the same experience, before it was too late. Matilda had memories of a different childhood, in which she was never ever allowed to miss school, not even for a day.
I understood them both.
I grow up like Matilda did. We were not "allowed" to be sick (my mom had to work, my dad had to work, and we had no one to stay with us at home), so we didn't miss school. I have to say there was something good about it, because in my adult life, I've never missed work or study due to sickness.
I also understood Bob, because I had traveled with my kids and witnessed the huge growth we all went through as a family and as individuals. I guess when you experience it once, you understand the value of it forever.
People don't take trips. Trips take people

John Steinbeck
Traveling with kids is the best school of life
Many of our travels happened during the school year and my children ended up missing several years of school in total. My oldest daughter, Eden, started school in the USA, continued in Thailand and Singapore, and finished in Australia. Out of 13 years of schooling,  she only spent 9.5 years in school and did great. She is now 27, has a Master's in Social Work and is in her 2nd year of Master's in Clinical.
Where did the other 3.5 years go?
Mostly traveling!
Why?
Travel is the only thing you buy that makes you richer
Anonymous
Because traveling with kids can teach them more things than any school can. School has something that kills learning and growth. It is so predictable, so routine, same hours every week, same people, same friends, same teachers, same classes and same experiences. It leaves little room for taking risks, for variety, for stretching and for building character.
Travel makes one modest. You see what a tiny place you occupy in the world

Gustave Flaubert
The Comfort Zone is our inner prison
Traveling with kids helps them experience things that school can't. It allows them to stretch the boundaries of their thinking. Children hear things they have never heard, see things they have never seen, smell things they have never smelled and taste things they have never tasted. If they go to different countries, they hear other languages, get exposed to different cultures and are forced to stretch themselves constantly without the comfort zone of school, friends, routine, computer or TV, because every day is very different.
Yes, routine is part of our comfort zone, and when we stick to the safety and comfort of the things we know well, we create our own emotional prison. When things are hard, we don't think we can break free, we don't think we can do things differently, we don't think it is possible to change, and we run to our comfort zone – no risk taking, no learning, no stretching and no growing.
To my mind, the greatest reward and luxury of travel is to be able to experience everyday things as if for the first time, to be in a position in which almost nothing is so familiar it is taken for granted

Bill Bryson
We send our kids to school and it mostly teaches them to stick to the known and familiar. There is no growth in the known and familiar. Don't get me wrong. As soon as we returned from our travels, my daughter went back to school, because we believe the company of other kids is important for her. Children need to have a routine in order to develop perspective when they break it.
I would not encourage anyone to do home schooling unless it is essential, but compared to what Eden learned on our trips to China, to New Zealand, all over Thailand, to Korea, to many places in the USA, around Australia, around Israel and around Singapore, school was a joke.
Man cannot discover new oceans unless he has the courage to lose sight of the shore

Andre Gide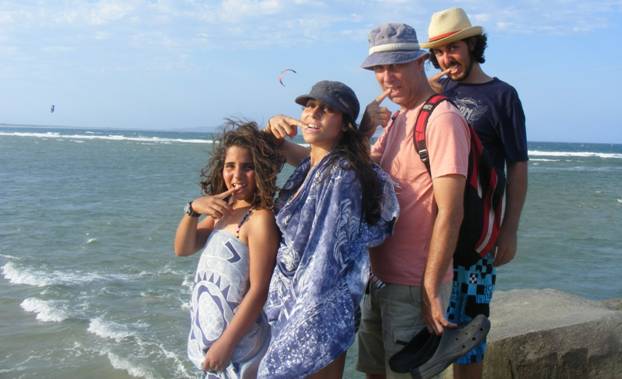 Many people are afraid of trips with their children because they are afraid it'll be hard work, and they don't consider that traveling is such a huge growth opportunity. Things you can achieve in 2 weeks of traveling with kids, you cannot achieve in 2 years of staying in one place, because the settings in travel allow for more growth at a faster speed.
People don't take trips. Trips take people

John Steinbeck
We went on our last trip because Noff was born in Melbourne, Australia, and since our move to Brisbane 13 years ago, she had never been to Melbourne. She was a 1-year-old baby back then, when we went on a trip through the center of Australia for 8 weeks. We slept every night in a different place, we hiked for hours and had an amazing bonding time, but she was so young, she knows about it mostly from photos.
During the 3 weeks, my kids learned many skills that they will need for their life. Here are just some of them.
Planning skills
When we talked about the trip, there was a buzz of excitement. Originally, we thought it'd be for 10 days to 2 weeks. I brought some maps and we sat as a family, searched the web for recommendations and highlighted the attractions we wanted to see on the map.
This planning section was wonderful for the kids. We talked budget, we talked duration and we talked about what we wanted to achieve from the trip. The learning was amazing, because the kids were invested. They were part of it. It wasn't "Mom and Dad are taking us on a trip". It was "We're going on a trip together".
Can you see the difference?
Responsibility
During the trip, we asked the kids to be in charge of booking us cabins each night. We slept almost every night in a different place. They searched for suitable accommodations, called, asked, compared and booked.
They were very proud of themselves. We were also very proud of them (and had one less thing to take care of J).
Managing stress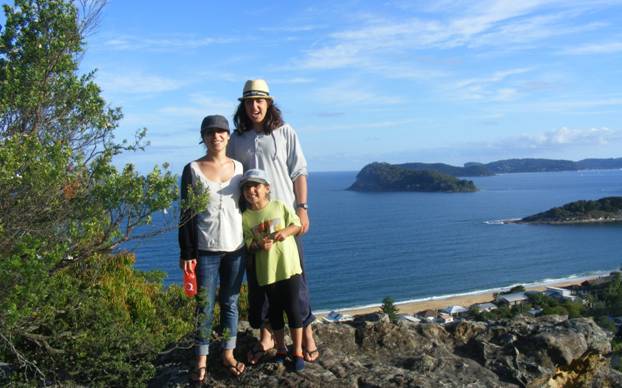 Being together 24 hours a day for 3 weeks straight is not easy. There are many stressful situations. When you're traveling with kids on the road, everyone is stuck in the car and there is nowhere to go, so we are forced to work things through.
Stress can be due to disagreements in the family or just external things. One day, at 7:30pm, the kids were stressed because every place they called was very expensive. I asked them, "What is the worst that can happen?" They said, "We'll sleep in the car", but Gal and I said, "No. The worst thing would be to pay an extra $100 for one night".
So we relaxed and had some amazing Thai food for dinner. Then, the kids found a place that was 5 minutes away from us and offered a hotel style room at a very reasonable price.
Nobody can discover the world for somebody else. Only when we discover it for ourselves does it become common ground and a common bond and we cease to be alone

Wendell Berry
Troubleshooting
Originally, we asked friends of ours to lend us their caravan and they agreed, but a week before our trip, they called and said they couldn't give us the caravan. At first, we were disappointed, but after half a day, we changed our plans and decided to do the same trip, but sleep in cabins in caravan parks, which turned out to be fantastic and even more cost-effective than towing the big trailer we were planning to borrow.
It was great for the kids to witness this change of plan and see how, instead of giving up on the trip, we found another way to do it.
Our happiest moments as tourists always seem to come when we stumble upon one thing while in pursuit of something else

Lawrence Block
Schedule
Usually, we plan things well in advance, and since we are experienced travelers, we can estimate a schedule and stick to it, but why?
On this trip, we decided to go with the flow. We had a skeleton plan and gave ourselves the freedom to change it. We extended the trip from 2 weeks to 3, taking into consideration everyone's commitments. Not all trips can be fluid like this, especially when you go to another country, but it is wise to give yourself some "buffer" time for things that you cannot predict, including problems, places you want to see for longer and unplanned detours, which often turn out to be the best parts.
Our kids learned on this trip that a tight schedule increases stress. If the attraction closes at 3pm, it is not a good idea to sleep until noon, so one night, we had to finish things up and go to bed early. They also learned that a schedule with buffers invites more opportunities to do things you didn't know existed when you were doing your research on the Internet.
Life begins at the end of your comfort zone

Neale Donald Walsch
Food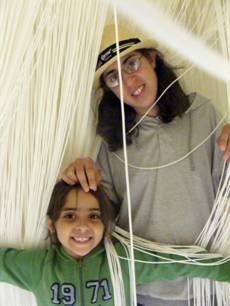 When traveling with kids, we don't eat the same food we eat at home. Some kids find it challenging and I find it a great stretch opportunity.
We had healthy snacks in the car. We had junk food We cooked some meals in our cabin (there is always a supermarket nearby), we had BBQ meals, restaurants meals, food court meals and even skipped meals. It is easy to expose kids to new things when you travel.
Luckily for us, our kids are food adventurers and get excited about anything we eat, junk or fancy. We always have bread and some spreads in the car with us, nuts and fruits and bars and we are good to go.
Sleep
Our kids have no difficulties sleeping, but it was interesting to see that when we talked about the plans for the following day, they said, "We need to go to sleep early today if we need to get up at 7", and they would set alarms on their mobile phones and wake us up in the morning.
No need to nag. No need to push. It was their trip too and they wanted to make the most of it.
When you all sleep in the same cabin, sometimes in the same room, going to sleep together is inevitable, so when Gal and I had to talk, we left the room and went for a walk outside.
Entertainment
At home, TV, computers and gadgets are very accessible. On the road, they can be used much less, especially if you set the rules right. While at home, the kids were on their mobiles and computers about 2 hours every day (including school and work), but during the trip, they mostly used their phones to find attractions, distances, accommodation and restaurants with very little time to chat with friends or read emails.
Gal and I both took our laptops with us. I was very proud of myself that I didn't use mine at all and set a good example for the kids. Gal had one emergency and we stopped in a picnic area by a lake for half an hour and then kept on driving.
In our spare time, we read books with excitement and out of the 3 weeks of traveling, we watched a total of about 1.5 hours of TV. Other than that, the main entertainment was glorious nature, the company of each other, the discussions we had and dreaming about the future. We just can't do that at home!
When we got home, the kids were very motivated to start the year by doing amazing new things and the computer was no longer the default activity. Our family feels quite different now.
Traveling tends to magnify all human emotions

Peter Hoeg
Catching up
When we came back, we had to unpack and catch up on 3 weeks of things at home and work. Our kids are generally great and whenever we come back from a holiday, they take an active part in unpacking and cleaning. This time, they did it even more and were very accommodating when Gal and I had to go straight to work, and they still had two days off before school started.
It was great to see that the experiences and the bonding time made a difference to both of them. Gal and I said that they both behave "bigger" because of the growth they have experienced on the road.
Investment in travel is an investment in yourself

Matthew Karsten
If you are not a traveler and you want to help your kids grow using the best school on earth, consider going on a road trip with them. If you are too stressed about it, make it short at first and build in a lot of time buffers.
Before you go, read my posts Riding in Cars with Kids, where you will find many tips to make traveling with kids pleasant and educational for everyone.
I can't wait for the next road trip!
Wishing you a wonderful 2016 and many travels with your kids,
Ronit