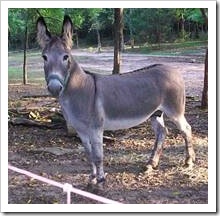 Telling people they should be donkeys may seem like a rude thing to do. When we think of donkeys, we typically think of being stubborn, but Gal has liked donkeys and says they are very smart animals. He says, "You can lead a horse anywhere you want, but a donkey has a mind of its own".
Our friend's light plane accident that has left him unable to walk (so far) has made me think a lot about donkeys. You see, I always say, life is not about what happens to us but what we do about it. Sometimes in life, things might happen that we cannot control, but at every moment, we can still choose how to feel and what to do next.
Sometimes, being a donkey is not that bad. Here is a story about it. Your kids will love it too.
One day, a farmer's donkey fell into a deep well. The animal cried heartbreakingly for hours as the farmer tried to figure out what to do.
The farmer called all his neighbors to come over and help him save his beloved donkey. Finally, after hours of unsuccessful attempts, he decided to give up and bury the donkey.
With the help of his neighbors, he grabbed a shovel and began to shovel dirt into the well. At first, the donkey realized what was happening and cried horribly. Then, to everyone's amazement, it quieted down.
A few shovel loads later, the farmer finally looked down the well. He was astonished at what he saw. With each shovel of dirt that hit his back, the donkey was doing something amazing. It shook the dirt off and took a step up.
Pretty soon, everyone was amazed as the donkey stepped up over the edge of the well and happily trotted off!
You see, we can all be donkeys sometimes. Instead of feeling sorry for ourselves and seeing the end, all we need is to shake our troubles off and keep going!
Life may throw dirt at us. Some of it may be heavy and painful. What we need to do to get out of the well and live a happy life is to shake it off and take a step up. The donkey turned dirt from something that would bring it closer to its end into a higher ground to stand on. Dirt, when used properly, can save you too from disaster.
Remember, if you feel you are in a well without any idea of how to get out of there, have a look at your "dirt" and see if you can use it to your advantage. Human beings can survive a lot more than they give themselves credit for and tough experiences contain precious learnings and a lot of personal growth.
Instead of treating dirt as your end, shake it off and step up!
Have a great day,
Ronit