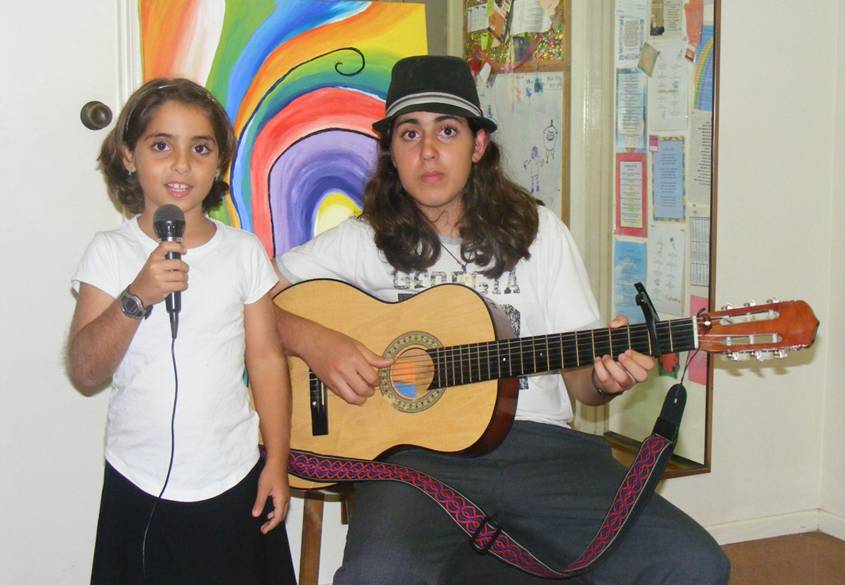 On my happy list, I wrote, "It makes me happy to listen to my kids singing". This was true even when they were babies. I remember my youngest daughter Noff joining us in Alicia Keys' song Fallin' when she was one year old. She always joined on time and it made us all very happy.
Singing is a very sensitive thing for me. Well, it was very sensitive. Today, when I run workshops or stand in front of a big crowd during my presentations, no one can guess that years ago, when I was young, I sometimes had no voice.
No voice
Since I was five years old, I had a polyp on my vocal cord and I speaking was very difficult for me. When I produced a sound, it would come out rough. What was worse was that I had to take a deep breath before every sentence, but it was often not enough to finish the whole sentence. This was so debilitating that I avoided speaking in class or any other place outside of home. At home, when I wanted to express myself, I shouted.
You can guess that singing was not an option for me…
I come from a very musical family. My older sister sang all the time and played the guitar. My brother is a musical instrument genius and can play any instrument a short time after picking it up. He never learned to play. He just has this ability. My two younger sisters learned to pay the keyboard.
I never did any of those.
I remember a few occasions when my sister organized a singing session, in which she and my brother played the guitar and we all sang. I loved those occasions and hated them at the same time. I loved them because it was great to sing and I hated them because everyone told me that I was ruining their song.
It was true. I did not have enough air to produce a sentence and it takes even more air to sing.
Finding my voice
This was my life for years, until I was 18 years old and had surgery to remove the polyp. The doctor said it was one of the biggest he had ever seen. He told me that my life would change immediately afterwards.
It did. I could speak freely, and for the first time ever, I knew how people felt when they talked without effort. Singing, however, was out of the questions for another 25 years.
Some days there won't be a song in your heart, sing anyway

Emory Austin
My own family is very musical. My husband, Gal, played accordion and keyboard for years and now plays African drums. My oldest daughter Eden plays the piano. My son Tsoof is a professional musician. He writes music, plays percussion, guitar and piano and sings (we envy him sometimes). My youngest daughter Noff played the flute for a while, then some percussion. She has been singing in choirs since she was five and in recent years, she has performed solo (with Tsoof accompanying and singing harmony).
I am their cheerleader (I'm very good at it!).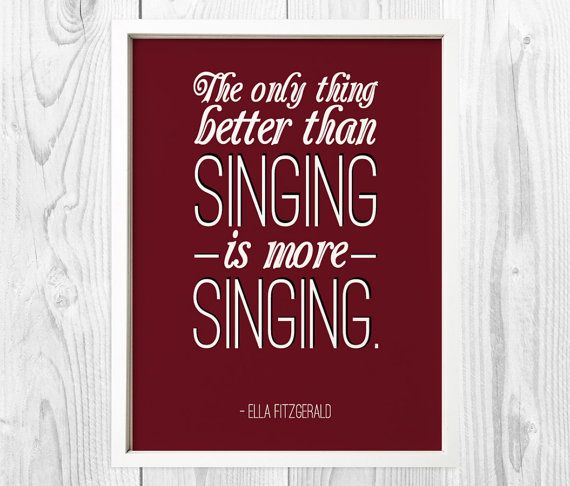 Since the kids were young, we have had music in the house and we always joined in the singing. When Tsoof joined the choir in primary school, he told me that I had a great voice and I dared to sing even more. Over time, we became a singing family. Some years, Tsoof would bring his guitar and we sang for half an hour to an hour after dinner. It was total bliss.
If you read this blog regularly, you know by now that I think family is important and that bonding is a great goal. Singing together is one of those fantastic bonding opportunities.
Life of the party
A month ago, we went to an event with about 30 people at our friends' house. After dinner, the kids left the table and the adults stayed for a chat. Tsoof brought his guitar and he and Noff started singing. Within 10 minutes, most of the other kids in the event had joined them.
It did not take long for the adults to join in as well. We spent 3 hours singing. We knew some of the lyrics and did not know others. Tsoof knew how to play some of the songs and had to figure out how to place others. Towards the end, our host played guitar as well.
Music is the prayer the heart sings
The whole time, someone we had not met before held another guitar and, without knowing most of the songs, decorated the music magically. It is easier to sing in a group, so even those who did not consider themselves good singers joined in and had a good time. This night of singing was a wonderful experience.
When we cleaned up, one of the women came to me and said that my kids were amazing because of the way they held the singing for such a long time. She asked me, "Do they sing at home a lot?" I smiled and said, "Yes, they do", and at that moment, I realized that it was probably not what happened in other homes.
I actually knew that, but probably took our singing for granted.
Afterwards, I thought that as a mother, a life coach and someone who works with families, I should not take this for granted. I know how important it is for kids to feel comfortable with their voice, with not hitting a note, with singing out of tune and with other people watching. I know how much singing contributes to their happiness, confidence, health and social status, not to mention their parents' pride.
Singing builds confidence and more
Singing is an opportunity to build character, because you fail many times and practice a lot before you can sing a 3-minute song. It seems easy, but it is not. It is one of those situations, in which people face their fear and do it anyway.
The hardest thing about singing is that many people who have a good voice and a good memory for lyrics, and who sing beautifully, still fail when others are watching. If they do it as a family activity, it reduces their fear of singing in public.
I was not a singer and I never had musical training (apart from the month my kids taught me how to play a piano, which was hard!). I do not play a musical instrument, but when I learned about how the brain works during my studies, I knew that engaging in music is one of the best ways to enhance academic achievements, social skills and emotional intelligence. Not everyone can play and instrument, but most people can use their voice.
I don't sing because I am happy. I'm happy because I sing

William James
My children had musical training at school and plenty of it. This is why we chose their schools. Tsoof completed a 4-year degree in music performance, so he is surrounded by music all day. Noff sings at home from the moment she wakes up in the morning. She listens to music until she goes to school and puts on music and sings when she comes back home.
Recently, Noff decided she wanted to know how to play and sing at the same time, so she teaches herself to play the guitar or the piano and sing. It is such a joy to listen to her.
Two days after the event at our friends' house, Tsoof and Noff performed at a school event (Noff sang and Tsoof accompanied her). We were so proud. The event featured over 40 songs from two choirs, some duos, several groups and some solo acts.
Some students sang like angels and some were out of tune, but all of them had something way more important. They had their family's support and the courage to stand on stage. To sing well, you need to practice but to stand on stage, you need a character and they all had it.
I admired them for it and congratulated their parents for being so supportive! When someone forgot the lyrics or was out of tune, the crowd cheered support and encouragement. I think everyone at the concert shared the same feeling.
Sharing the love
Here is a video of my own kids' performance that night. I enjoy listening to them every day so much that I wanted to share. I highly recommend to all parents to encourage their kids to sing and, if possible, join in.
Sing and your heart will sing with you,
Ronit