When people are asked what scares them most, public speaking is at the top of the list for most of them, scarier even than death. I thought the same when I was a kid. Speaking when someone else listened was so scary I would rather die than read my homework in class.
As you know, singing is great fun. We all have images of people singing in the shower. Or standing in front of the mirror and having the time of their life singing at the top of their lungs and making faces. Yet, as soon as we include an audience in this image, we freak out and all the happy faces fade.
And it doesn't really matter whether you have public speaking skills, or you can sing. You just get up on that stage and your brain shuts down.
Kids with small panic attacks
Many kids are afraid to speak or present while a group of other kids are listening, not to mention in front of a grownup audience. At home, they feel comfortable and confident. Everything flows.
But as soon as they get to school – blank! They don't remember what the topic was and you can notice a small panic attack: increased heartbeat, blurred vision, broken voice and heavy breathing.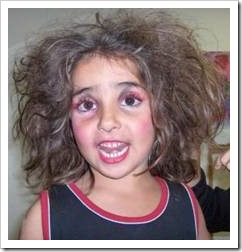 Unfortunately, these kids are often not taken seriously and their parents do not really understand how come their very smart child, who knew all his/her project perfectly did not get a good grade on his/her presentation. Let me tell you something. Acquiring knowledge and presenting this knowledge are two different skills! When your parents do not understand this fear now, you have to deal with two problems.
The fear of other people watching you
The fear of what Mom and Dad think about your fear
Most parents are brave when they talk about their children's fear of public appearances. However, as soon as you ask them to do something in public, they freak out and never take the risk themselves.
They give their child millions of tips, but have a tough time when they need to present to their work colleagues. They practice for days, work on slides, spend money on the latest presentation gadgets (as if this helps), and even get a haircut. Sometimes, they also have a drink just before to survive the anxiety attack they have, even when it's just their turn to present at a small meeting.
I feel very sorry for kids when they express their fear of public speaking. I think I understand them very well. You see, I can stand in front of thousands of people and present a topic, but I was not like that all my life.
When I was a child, I had a huge polyp on my vocal cord. It was so big I had to take a deep breath to produce every sentence. On top of it, my voice was rough and unstable. Even when I was not afraid of anything, my voice sounded broken and shaky.
Can you imagine how scared I was for others to listen to my voice?
When my teacher asked me to read my homework, I would say I did not do my homework. I loved drama, but I never dared to participate in a school play. I still remember my primary school graduation evening, which usually included a performance by all the graduating students. It was full of songs and drama acts.
Out of about 160 students, I was one of the 6 kids holding blue ribbons to represent the sea. And I felt lucky that no one could hear my voice.
The fear of speaking in front of others is not exclusive to children. Although it normally starts during childhood, being more aware and self-conscious only makes it worse as we grow up.
Can you imagine how many opportunities we miss as children and later on as adults due to the fear of public speaking?
The good news is we can change that and the younger we start, the easier it gets.
How to help your children speak up
School gives many opportunities for children to present their work. It is very important for children to hear their own voice and get used to the sound of it. It is good to do it with a supportive audience and slowly extend it to presenting in front of to others. The fear of public speaking is related to the fear of failure and the fear of being laughed at.
As parents, we need to make sure our children never consider public speaking and presenting as potential failures. They must be opportunities to grow and gain confidence.
Here is how:
Kids who live in a home with one or two perfectionist parents tend to have more anxiety about their performance. If you suffer from perfectionism, eliminate it from your life. It is a disease and you will sentence your child to life of misery. If a children cannot focus on the performance but on what Mom or Dad thinks of their performance, no wonder they are anxious.
Let kids play with sounds and enjoy the sound of their own voice. Record them making noises and help them relax about hearing their recorded voice (it sounds different). I remember my daughter having a tape recorder as a child. Nowadays, it is so much easier, because you can do it on the computer or on a mobile phone. There are many opportunities – just let them enjoy their voice.
Teach kids to tell jokes and capture them on video with your phone or digital camera. Let them watch themselves and make sure you are not judgmental (if you do something that may seem judgmental, it only increases the performance anxiety and blocks their thinking).
Spend time listening to your kids reading aloud parts of the book they are reading. This can be done from the second they start reading and can continue later on when they are older and they read something funny and want to read it to you.
Tell your children stories about your life, when you had to do something and you were afraid to speak in front of others. It will make it easy for them to know that everyone experiences fear of public speaking.
Tell them stories about celebrities who were shy and afraid to speak in public. This is why I like to find videos of true stories from the DVD shop. I think it is essential for kids to realize that we are not born with this ability – we develop it.
At dinnertime, play some games (I like personal development games, like "Something wonderful that happened to me today", "3 good things I can say about someone in the family" or "If I had everything I wanted, I would…") and make sure everyone gets a turn. They can learn to say what they think and talk about something personal while everyone else is listening and giving them the attention they deserve.
Play with your kids talking nonsense. This is pure voice stimulation. By the way, recording makes it even better.
Spend family time singing songs. You do not have to have a special device like a karaoke system or an X-box to sing songs. A CD with songs and lyrics printed off the Internet can be sufficient. Unfortunately, the signing programs emphasize perfection and we want to do exactly the opposite – singing is fun, even if we are not perfect singers. I recommend doing this as early as possible and never stop (our oldest is 22 and still sings with us).
Teach kids to use cue cards. Make sure they write on their cue cards in big letters and understand they are for practice, not for the presentation. After using the cards 6-7 times, they will need them less and less. Reading from cue cards is not presenting and even using the same language written on the cards is not presenting. They need to practice spoken, natural language!
Encourage your kids to volunteer in class when the teacher asks for students to present things or to read aloud. Again, you can use stories from your own life and work to show that taking this kind of risk pays off.
Inspiring kids to overcome their fears works
We have been encouraging our kids to do the things they love doing. When our son Tsoof sees an audience, he is happy. Give him an audience of any size and he will tell jokes, sing songs and entertain them. He is so brave that no one can imagine that when he was in Grade 6, his school had a talent competition (Macgregor Idol), and he practiced singing Superman (It's Not Easy To Be Me) and never went to the audition.
The following year, we encouraged him to try again. That time, he went and got 4th place. Since then, he sings at every opportunity he gets (you can see him at TsoofBaras.com).
Our youngest daughter Noff, sings at home, but rarely in front of an audience. Last year, she sang with Tsoof at a small gathering and this year, she worked up the courage to participate in her school's talent competition singing True Colors.
She is only 10, and a few times, she thought of giving up. The first round was in her class, the second round was in front of about 400 kids and teachers, and the final round was during the annual school festival, in front of thousands of people.
Noff was sooooooooooooooooooooo scared. We could see it on her face. But, she did it! She sang so beautifully and won the 3rd prize. For 3 months after the competition and the festival, her teachers, her friends and other parents at school congratulated her on being so brave, but I believe her real reward is the belief that she can do it! I believe that with this belief, our kids can conquer the world.
Here is Noff singing True Colors on stage. Enjoy!
Yours,
Ronit