This is an interview I gave some time ago about my book, "Be Special, Be Yourself for Teenagers".
What is the book "Be Special, Be Yourself for Teenagers" about?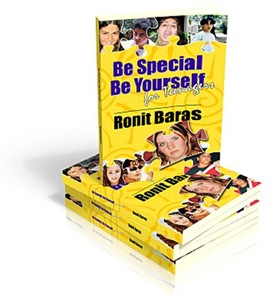 It is a tribute to my heroes, teens and parents, teachers and friends, people I had met throughout my life, had been great inspiration to me and needed to be known. It is about teens who are juggling the need to be unique with the need to be loved and accepted by others and their wonderful ways to be true to themselves.
When did you start writing?
I started writing when I was 14. I used to read a lot when I was young. I lived in a small town and my friend and I used to ride our bikes to the library once a week and could only borrow 3 books. It took us more than half an hour just to get there.
The librarian loved us both and recommended many good books to us. So I read 3 books every week. When I was 14, I already had stories in my head. When I think about it, the stories pretty much asked me to write them.
So you started writing when you were a teenager. Is this the reason you decided to publish "Be Special, Be Yourself for Teenagers" first?
My first book was actually poetry. I am also a poet and have written over 400 poems. When I was 16, I published some poems in a collection of young poets' work. I was very proud. "Be Special, Be Yourself" is a collection of stories I had, mostly for grown-ups. I still have them and they will be published later on.
I made a decision to publish for teens first, because I am dedicated to helping teens overcome this though period in their life. Until I was 16, I had a tough time, so I want to make it easier for others.
What do you think is teens' greatest challenge?
Like everyone else, teens have many challenges. However, they have extra challenges because they realise for the first time that the adults in their life are just human. Parents do not know everything, they cannot do everything and they have fears and problems too. This is very scary.
Teens have a major trust crisis, because they can no longer count on the adults in their life to fix everything for them and they need to start taking responsibility for themselves. I think this is heavy for most of them.
At that stage, they are very vulnerable to pressure and pressure comes from all around. As much as parents hate to admit it, most of the pressure comes from home. Teens see their parents' expectations as the biggest source of pressure.
How can the book help solve these problem?
The book contains 8 short stories about teens, their families and friends, their challenges and difficulties and how they handled their pressures. The stories cover body image, peer pressure, parental pressure, domestic violence, school challenges, hassles with teachers, learning difficulties, love, hate, sex, relationships and many victories that are very inspiring.
Readers have written to me they were very inspired by the stories. It is a book for teenagers and their parents, and both have said it was insightful and helped them understand each other better.
Why did you call your book "Be Special, Be Yourself"?
When you go through life coaching, you realise it is very helpful to find your purpose in life and direct your life towards your purpose. I have chosen to be an educator, a facilitator of change in people's life through teaching, public speaking, coaching and writing.
"Be Special, Be Yourself" is my message to the world and this is my answer to the biggest problems in life. I think we need to learn it, teach it and practice it every day of our lives. So I thought it was appropriate to use this as the name of my book.
Where can parents and teens find the book?
In Australia, the book can be ordered in many book stores, including Angus and Robertson, but the easiest way is to order it online, because you can then buy it as an e-book too.
Happy reading!