Since today is Wednesday, it is my day to post, but surprisingly enough, my post is quite related to our tragic baby story Ronit is sharing with you now. It is related, because one of our babies died from a genetic heart defect, which we had had no knowledge of and therefore had never checked for.
A couple of weeks ago, I got an email about genetic profiling. Among other things, it mentioned finding out the likelihood of having certain genetic defects when matching two people.
Being the curious monkey that I am, I went and checked it out.
What I found out was the there is a new service, based on the Genome Project, the offers to predict a baby's abilities and difficulties from a simple, painless genetic test, which can be done from anywhere in the world.
So I told Ronit about it and said, "This could be really cool, don't you think? Parents spend years trying to figure out what their kids are good at, so they can help them get the most out of life, and this could be a shortcut, like gazing into a modern crystal ball. It's Fortune Tellers – The Next Generation" (I just love Star Trek: The Next Generation).
"I disagree", Ronit said, "Parents will get a report saying their son is good at sports and no good with math and they'll start directing their son's life as if this was true, when it's only an indication of his genetic disposition and could be wrong".
"But it would be better for his parents to not badger him about schoolwork, which he will never do well, and support his sporting activities more than they would otherwise, so that he can be the athlete he can be", I said.
"As a life coach, I see people as holistic beings. Kids need to develop skills in all the areas of life, even if their level of competence varies", Ronit said, "What if this athletic boy couldn't do enough math to manage his finances? When his parents die or he moves away from them, he can get ripped off by anyone. Everyone has to learn enough math to live, because math is built into our life".
"Yes, but after the end of primary school or maybe a bit later, why keep studying higher math during times that would be better spent on the field or track or pitch? Every hour this kid spends running or jumping or throwing a ball can get him a little bit closer to significant achievements", I said.
"I still disagree", said Ronit, "When my clients change one area of their life, all other areas are affected. A client who improves her relationships, even one major relationship, is happier, more productive and gets long better with everyone afterwards, so all of a sudden, she gets a promotion and has more money.
I find that music develops academic ability, so kids benefit from music even when it is not their main pursuit. Sport builds stamina, coordination and sometimes social skills, so kids benefit from physical activity and organized sport regardless of whether they are excellent at it or not. Social interaction builds flexibility and emotional intelligence, so kids who spend their time with friends have lifetime contacts to help them and useful skills to get results and happiness.
This athletic kid of yours might be so focused on his practice he will forget about friends, keeping his mind active and even improving his emotional management, which are all important for a person. What's he going to do when he retires from his sport at the age of 35?"
"Well, since you've mentioned coaching, how is this genetic testing different from teaching people about communication styles? If a client comes to you and says he's no good at math, but he's really good at running, aren't you going to tell him it's OK because he's kinesthetic?" I asked.
"That's different!" Ronit said, "When an adult client comes to me and learns to accept himself and manage his expectations of himself better, it's not the same as parents testing their baby's genes and arranging his life in a certain way from the beginning, before the baby can make any decisions".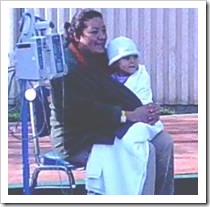 "What about health problems, then?" I pressed her, "They can also tell you about those, you know. Wouldn't you like to know if there's some gene in your baby that will somehow change their life at some stage? Wouldn't you like to be prepared?"
"No, I wouldn't", said Ronit, "Some genetic problems can be helped, but some can't. I'd rather live my life with a positive outlook than spend it worrying that my baby might have a problem at the age of 20. It's the difference between 20 happy years and 20 miserable, anxious years".
So there you have it. Life is never cut and dry. No matter the invention or the advancement in technology, there are always pros and cons, positives and negatives, advantages and disadvantages.
As always, I believe the ultimate decision is a matter of personal preference, so I would say that genetic testing can be beneficial if you follow some guidelines while interpreting the results:
Humans are holistic beings. No matter what your kid is good at, they must still be able to interact with others, communicate, manage their emotions, earn a living, maintain a place of residence and so on.
Genetics is not everything. How your child grows up is as much due to their environment as it is due to their genes. Expecting your child's genes to guarantee their future performance in any field is asking too much.
Emotional intelligence is by far a better predictor of success in life than IQ. This has been proven by years of research on countless people and we keep proving it to our clients every day. You baby will get the best out of life by being happy, regardless of their talents.
Although you have made this baby, he or she is not there to satisfy your need for significance. Your job as a parent is to help your kids become responsible, confident, happy and, ultimately, self sufficient. Always treat your kids as separate individuals and do what is best for them.
Technology changes. Modern medicine is now using genetics to develop cancer vaccines. Even if you discover genetic problems, this is not the end. Do the best with the time you have and do not worry, because worrying makes the present bad for you, but it does nothing to improve the future.
Our world changes and so do the required skills. Who would have believed in 1900 or even 1950 we would have a global digital network that allows people from opposite sides of the world to be instant friends and share rich content with each other more easily than we could by walking over to the neighbors? The only constant in life is change, so make sure your kids have enough variety of skills and the ability to adapt.
Take it with a grain of salt. Every medical test has a certain margin for error, both at the positive end and at the negative end. No matter the results you get, do not commit your entire life (or your child's) to changes based on these findings. Keep your feelers on and pay attention to what happens in real life. If it is different from the genetic prediction, life is probably right!
Use the results to prevent unrealistic expectations from your kids. No point expecting them to excel at school if they cannot. Simply switch to supporting them in doing their best and getting the most out of their school years, while encouraging them to do well in what they can.
No point spending money, time and effort on tuition, extra activities and expensive resources if the result will only even improve slightly. Put your money where it will do the most good for your kids.
I would love to get a discussion going about this topic, so by all means, let us know what you think about genetic testing.
Happy parenting,
Gal
P.S. I am in the papers today about life coaching for kids and I am getting interview calls all day due to the controversial title. I guess that makes me an official expert now.