Yes, it's a harsh thing to say, but distracted drivers kill people and distracted drivers die unnecessarily.
My nephew is dead. He was a young man, just starting his adult life, and he did nothing wrong. He was riding his motorcycle, having had zero accidents and zero fines for 4 years, when a distracted driver in a car driver failed to stop at a stop sign, smashed into him and killed him on the spot.
Any life lost is not only lost by the person who died. This accident, caused by a tiny distraction, cost many people's lives. My nephew is dead, but his family, and many people he was connected too, lost something that will never be returned. The pain of his close family is something that will never heal. Death and injuries due to distracted drivers leave scar that never heal.
My nephew and our family cannot change the past, even though we've tried. But we can prevent other families from experiencing the pain and devastation that comes with such accidents.
It is important to understand that every accident is a mistake. No one causes it intentionally. No one wants to injure or kill anyone else. No one wants to live with the massive pain and guilt on their conscience and ruin their own life. This is why it is called an accident, but many accidents happen due to some form of distraction.
There are four types of driver distraction:
Physical distraction – moving the body to pick up something on the ground, dialing, drinking, eating with one hand on the wheel, holding a phone…
Visual distraction – too much sun in your eyes, high beam light in your eyes, can't see what is in front of you, e.g. due to very heavy rain
Auditory distraction – loud noises in the car, laughing, focusing on conversation with another person, fighting, music that is distracting
Cognitive distraction – tired and slow response to emergency, taking medication, anxious, worried, having to focus on a conversation topic, in a hurry to get somewhere
Every one of these takes the focus of the distracted drivers' mind away from the road and with slightly challenging circumstances, will cause an accident.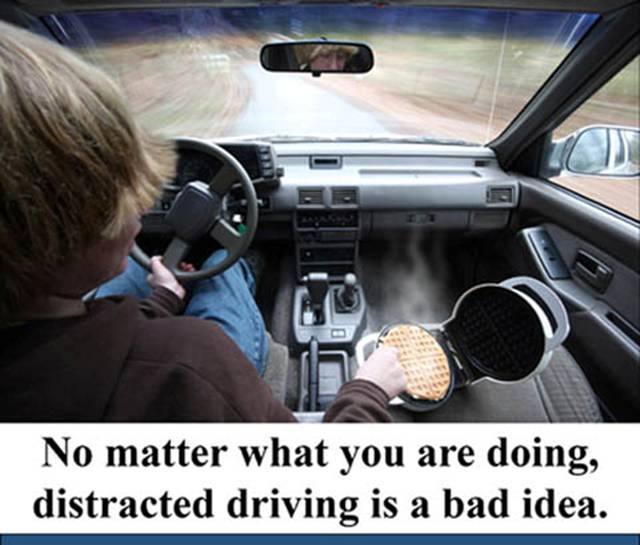 Some distractions involve all four types, like using a mobile to dial, looking at the phone, listening to the conversation and focusing on the topic. When involving more than one distraction, our risk of causing accident increases significantly.
Here are some typical distractions:
Talking or listening on mobile phone
Dialing on mobile phone
Eating and drinking
Outside person, object or event
Adjusting radio, CD, climate control
Smoking-related distractions
Other occupants in the vehicle
Using a device/ object brought to the vehicle
Using controls inside the car
Many teens are involved in accidents, mainly because they are not experienced drivers and want to do things NOW, on the spot. Instead of waiting 3 minutes to reply to a text message, they want to do it immediately. Everything is happening live! For them, waiting is the enemy. This inability to postpone gratifications is their greatest cognitive distraction and we can't blame them for it, because we created the society that promotes getting what we need NOW.
Our role as parents is not only to prevent our teens and children from being distracted drivers who kill, but also to prevent them from being distracted drivers who die. The number of young people who have died due to distracted driving is so big that my heart breaks just thinking about their moms and dads, siblings, friends and extended families. Every one of them was a loss of youth and livelihood.
It won't happen to me
If you are a parent of a driving teen, make it a priority to keep your child from death and from causing pain to others. We are not immune. When it happens to you, you understand that "it won't happen to me" is an illusion.
Talk to your teens. Give them the confidence to be different. Give them the strength to be responsible, so they can stay alive.
How to Talk to Teens about Distracted Driving helps parents with ways to talk to kids about distracted driving. I think there are great tips there. I hope you will make good use of them.
Drive Alive Richmond Teen Driving Study contains more information about teen driving distractions. If you are a parent and want your teen to stay alive and keep others alive too, read it and act on it.
Our kids are our future, let's keep them alive!
Happy parenting,
Ronit