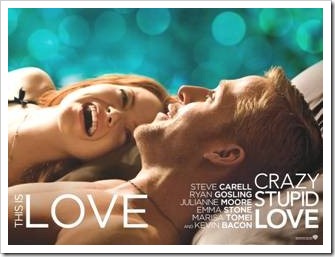 This is NOT a film review. It is a post on love and romance and marriage and kids and family and parenting. But it is inspired by the fact that Ronit and I watched the movie "Crazy, Stupid, Love" this week and it has been running around in my mind to the point where I just had to write about it.
Steve Carell makes movies that are full of embarrassing moments and this usually turns me off. I see him as the American version of Mr. Bean. I also find his acting melodramatic and externalized and I generally prefer subtle and deep. In this film, he was not only the main character, he was also the producer, which should have had me running in the other direction, except I only found that out in the final credits, and by that time, I already had a lot of respect for him.
If you have not seen Crazy, Stupid, Love, it starts with a marriage breakdown and divorce, continues through the attempted recovery of both partners and their children and at the same time, weaves in the generational difference between the old one-partner-from-a-young-age and the new ongoing-partying-and-casual-sex-until-thirty-something. Here is the trailer (see you on the other side):
A web of good people
What I found special about this movie is that unlike the typical good-vs-bad attitude and one-sided story lines we see a lot, this story shows how good, well-meaning people can be hurt and their lives can be complicated. It shows each character close up and personal, so their point of view keeps making sense, but the clashes and awkward moments are painfully inevitable.
Good parenting comes first
The Weavers got together when they were young and had kids early, but they are great parents. They clearly love their children and respect them as human beings. They have meaningful conversations and actually listen to them, even when the kids speak the naked truth.
I loved this, because there are some excellent examples in the film for how to be honest with your kids, how to communicate with them at eye level and how to benefit from their perspective. I loved it even more because they managed to stay great parents despite their marriage problems and personal struggles (Cal Weaver is such a pushover at the start of the film).
The Weaver children have their difficulties too, and they express those in various (and sometimes dysfunctional) ways, but in general, they are really good kids who love their parents and describe how they feel in surprising clarity. Many parents might sit in the cinema and think, "Yeah, right, like a 13-year-old would ever do THAT", but my 15-year-old son is now going through some challenging times and handling them even better.
Common marriage problems
The relationship problems shown in the movie are very common these days. With the divorce rate hovering around 50% in the USA and Australia, it is also very common for these marriage problems to end in a divorce and for the couple to become two single parents and struggle to restore their self-esteem and stability in life.
But marriages that last still suffer erosion and married couples who stay together still lose the romance and the passion sometimes. Feeling unheard, unappreciated and even unloved is part of every couple's life. If they pay attention and refocus their relationship, it lasts, but if they let things slide too long, divorce can seem like a blessing.
What makes a man
Young Jacob is rich by inheritance and spends his days in leisure and his nights in pleasure with young women. He is very confident about his manhood and makes Cal look pathetic.
This brings up the question "What makes you a man?" Is it the number of women you sleep with? Is it the ease with which you can get an unfamiliar woman to go to bed with you? Is it the way you dress, the shoes you wear or your hairstyle? Is it your sculpted muscles and physical strength?
Cal is so out of his depth in the nightclub, Jacob is almost a god to him with his smooth ways and confidence-boosting methods. But at some point, the first woman goes home with him and they have a good time, and after that, it becomes easy.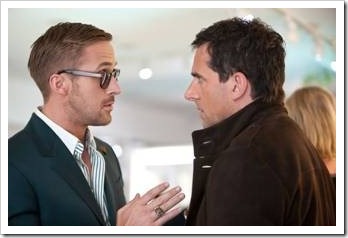 In a nice twist of events, Jacob then faces feelings of love for the first time and panics. In all his conquests, his way to the girls' hearts was to shower them with interest and attention, which also saved him from having to expose himself and being vulnerable. But when this special girl wants to know him better, he freaks out so much, he calls Cal for advice.
Recently, I touched on the self-doubt of men who have only been with one partner in How to Be Faithful. I think Crazy, Stupid, Love does a wonderful job of taking us along the path of either choice (Jacob's and Cal's) and showing us that neither is perfect and neither is better than the other.
Soul mates
The term "soul mate" is used a lot in the film, even overused, but there is a scene in which Cal tells Emily (his ex-wife who had cheated on him) about his one-night stands and she is appalled. For a second, we are with her, thinking, "How could you?" but then he says to her, "I was trying to move on".
Emily felt bad in their marriage, slept with a coworker and initiated a divorce, but she feels justified in criticizing Cal for sleeping with other women. After all, they were soul mates…
But divorce involves a lot of loss and grief, with both partners feeling like a part of their soul is indeed ripped out of them. Many divorcees keep track of their ex-partner's social profiles, ask mutual friends about their life and compare every subsequent potential partner to their ex.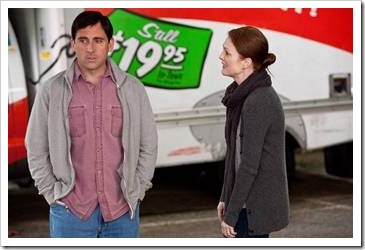 Whether or not we are soul mates when we start our relationship, our souls gradually become connected through hardships and joy, through pregnancies, deliveries and sleepless nights, through first teeth and first steps, through driving lessons and exams, through lost jobs and new jobs, moving houses, changing cars and all those other joint experiences that leave their emotional marks on us.
Next to these things, having sex with someone else is a small thing, but we do not always remember that.
I came away from the movie with a lot of love in my heart. In the past few days, there is more love in everything I do, more softness, more attention and more respect. I checked the patterns of my life against scenes from the movie and compared myself with the characters in it.
In the end, I realized (again) that love may be crazy, but it is certainly not stupid.
Happy marriage, relationship and parenting,
Gal