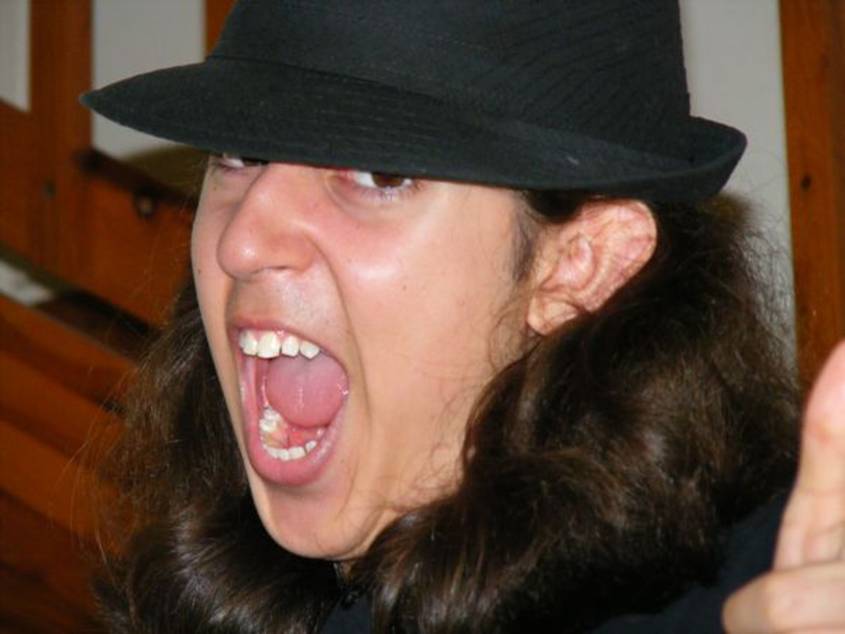 Last week, on our way back home from a weekend at friends' house, our 12-year-old son Tsoof asked if we thought he was a "super kid".
In the past year, we talked to him a lot about three kids in his music department that everyone, including us, thinks of as "super kids". They are older than Tsoof and are very very very smart and talented. All three of them are wonderful role models for him.
Well, this made us wonder about Tsoof too.
Tsoof was born 12 years ago in California after a lot of heartache and waiting. By the age of 4, he had already lived in 4 countries with two languages and travelled to 6 other countries as a fun-loving, happy and curious child.
For 2 years, Tsoof was part of my Garden of Eden program in Singapore, which was designed to give kids the emotional ingredients to be super kids.
When he was 4, our whole family started meditating and, like magic, he started drumming on everything in the house. I wanted to say he started drumming on everything that didn't move, but he also drummed on his tummy and his head and my back.
Do you remember the first time your kids learned to play a musical instrument? They are just beginners and their tune is not perfect. I know of so many talented kids whose parents should get an award surviving all the hours of playing out of tune.
Well, in our case, his tune was perfect from the beginning. We would listen to a CD or to the radio and he would join in with the music as if he knew the music by heart.
I will not write long about how hard it was to find him a drumming teacher at the age of 4. Every teacher and music school I contacted said that 4-year-old kids cannot concentrate for long enough.
Have you ever tried to say, "Yes, but he is not a regular 4-year-old" about your own child? I did, and the fact I was a special Education Specialist working with gifted children did not help me either.
In some cases, I think it even got me the opposite. "Every mother says that her child is special", they told me.
Eventually, I found Ivan. The first day I took Tsoof to see Ivan, he could not reach the top of the Arabic drum Ivan had shown him. Ivan played something, Tsoof listened (I wanted to say "watched", but he did not watch, he listened) and played the whole piece to perfection. Ivan said, "He is not a regular kid".
Less than a year later, Tsoof had 4 drumming teachers teaching him different percussion styles, all very supportive and loving. In his Prep year of school, Tsoof brought his darbuka to school for "show and tell".
Despite the school's policy to allow students into the junior musical groups in Year 3 and the senior groups in Year 5, his teacher took him to the Taiko Drumming teacher and said, "You need to listen to this". Tsoof joined the Senior Taiko Drumming Band and was the one in front giving the beat.
Sounds were always the joy of his life. Together with his musical development, Tsoof could imitate voices in an amazing way. He said his dream was to be the next Eddie Murphy and every movie, every cartoon, every comedy he could copy perfectly, much to our amusement.
In Year 8, as one of his English assignments, the class watched the film Princess Bride (fun English teacher) and everyone had to recall what they could from the movie. Tsoof remembered even the pauses of each sentence in the movie.
We can go to a movie only once and he will make sure we will hear the script over and over again at dinnertime. If he reads his younger sister (6 years old) a story, he puts on a complete show, with each character having a different accent and lots of sound effects.
So on our way home, we wondered if he was a super kid. We did a stock take.
Tsoof is 12 and goes to Year 9. Luckily for him (and us), he is tall, so his young age is not noticeable.
He is a healthy kid. 2 months ago, he jumped after a ball playing on the beach and cut his knee and toe and had to be stitched up at a local hospital. When he came to our local clinic to take the stitches out, the receptionist could not find his file, because he had never visited the doctor in the 6 years we've been living here.
He reads about an hour a day. We go to the local library once a week and Tsoof brings about eight books and finishes them all.
He studies in a school of excellence in performing arts, where he dedicates 30 hours a week to playing music, singing and drama.
He is the captain of the Stage Band (a junior Jazz ensemble).
He plays percussion in the Wind Ensemble.
He is in the Senior Percussion Ensemble.
He is in the Show Choir.
He is in the Junior School Play.
He has been recommended by his music teachers to play in the Queensland Youth Orchestra (and will start this week).
He is a key player in 2 basketball teams representing his school (5 hours a week).
Tsoof is very social and has many friends among the 400 of the performing arts students from all year levels and many from the sports teams.
Finally, he has received an excellence award for high academic achievement.
It was very funny. Tsoof came home one day and said, "I'm getting an excellence award".
We were so proud and happy and asked him, "What for?"
"I don't know," he said.
"What do you mean you don't know? Is it for music, drama, for a particular subject, all subjects?"
"They announced my name at Assembly, but they didn't say what for", he said.
Three weeks later, he brought the award certificate. "I know now, it was an excellence award for high academic achievement".
You see, for super kids, academic achievements are a side effect.
You are probably asking yourself when he has time to do all this and still do well academically (by the way, he goes to sleep every day at 8pm and never complains about starting early in the morning). We sometimes ask the same question.
For super kids, time is fluid. They can do whatever they want if they are in their "Zone", if they are happy with what they do. When their emotional state is high, they are in flow and the sky is the limit.
In the car, on the way home, we said to him, "Yes, Tsoof, we think you are a super kid". What more can parents ask for?
For his 12th birthday, we gave Tsoof as a gift a voice-over demo CD, which was recorded professionally at a radio station on the Gold Coast (Ben, the sound engineer, said he was not a regular kid…).
We are hoping that this recording will make its way to voice-over agents and talent scouts around the world, and that they too will feel that Tsoof is not a regular kids and ask him to record for them.
And now, for your listening pleasure, here is my very own super kid, who may, with your help, need to squeeze yet another activity into his already packed schedule.
His loving, objective mother,
Ronit
Edit: Voice-over didn't happen, but you can find Tsoof's adventures and music on his website.