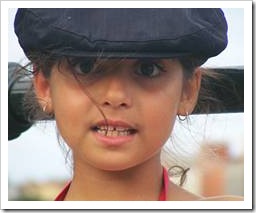 Kids are very gullible. They love colors and sounds and quickly catch on to new trends and new celebrities. Being young, unfortunately, they do not notice the messages being delivered straight into their little brains in bright color and pleasant sound.
Our 8-year-old daughter Noff brings home a kids' magazine called Just Kidding. The name is great and so is some of the content, offering riddles, jokes and general information our kids proudly quote for us. Alas, the good stuff spans about 11 pages out of 48. All the rest is advertising, some of which is cleverly disguised as articles.
Ronit and I were pretty happy about this magazine at first, because our kids like to read, seemed to enjoy the contents and even benefited from having something to talk about at dinner time.
However, through some weird coincidence, one particular magazine lost its cover page and the bare contents found their way to our office desk, where we had a chance to examine them more closely.
Here is what we saw first:
Mind you, this is what kids see when they open the magazine. We were appalled! A girl's life is makeover? Create your own face? Relook yourself? Why should this be a good idea? What kind of messages is this page sending our innocent girl who happens to care a lot about looks and clothes as it is (visual kid, what can you do)?
We decided to check the back page to see what might be lurking there, waiting for young eyes. Sure enough, the boys' equivalent featured angry faces, light sabers, a target symbol embedded in a heading, soldier robots and a war described as "the last great conflict".
See for yourself:
This got us thinking. Our daughter was getting this magazine AT SCHOOL. What could possibly prompt a primary school to send home such a horribly inappropriate and uneducational item? Why would an otherwise very good school want to encourage child consumerism?
And surely there would have to be some supervision of what schools send home with the kids for educational content and age-appropriateness. Does the Department of Education not control this stuff?
Well, I have just visited the magazine's website. Their media kit states the following (among other things):
As Australia's highest circulating kids magazine for children aged 7-13 years, Just Kidding provides an engaging approach in which to speak with the youth of today. Just Kidding is the most read kids title in Australia with two unique distribution points:

Primary schools, where the magazine is used as a crucial learning resource in school classrooms
Target stores …

Just Kidding prides itself on its strong values, promoting both healthy living and high moral standards. Our approach to providing healthy content ensures messages only relate to our specified age demographic.

Ongoing communication with both teachers and children have allowed Just Kidding to be tailor made to suit the needs of the youth of today. With 80 pages of entertaining content, Just Kidding is the overwhelming choice loved by kids, approved by parents and utilized by teachers.
So I rang the sales number for the magazine and asked a bit more. The nice woman on the other end of the line told me the magazine was funded by advertising, so schools pay nothing for it. When the schools get the magazine, they also receive special notes for the teachers on, get this, "using the magazine as a teaching aid".
It turns out most of the schools contact the publishers through "word of mouth", meaning school teachers and principals tell one another how great it is as a "teaching aid" and a "resource for the kids". In fact, when each issue of the magazine is given to the kids at Noff's school, they spend 30 minutes of valuable school time browsing it. Nobody instructs them to focus on the 11 pages of healthy content, though, and the ads, well, they are just ads, aren't they?
What has this world turned into? A magazine with over 75% blatant advertising content promoting low self esteem, violence, hoarding of gadgets and idol worship is being handed out openly as a source of healthy messages by the very system that is meant to educate our kids and make them happy, contributing citizens. Not only that, it is also approved by parents!
What parents? It wasn't me!
Or am I the only one seeing this as a problem?
Gal