When I was at school, I remember always sitting at the back of the class and being one of the worst students. Only later on in life, during my Special Education studies, I learned about how kids are treated based on where they sit in the classroom.
Did you know that some seats are better than others and determine the teachers' attitude towards the kids sitting in them? Well, I didn't know this either and by the time I did, it was a bit too late for me to save myself all those frustrations at school.
But what I realised was that teaching the teachers about their varying attitudes based on sitting positions was missing the mark. Who do you think really needs to know this?
If you have answered "The kids", you are right! But kids, of course, do not read blogs, so I would like to encourage you, the parent, to pass the information below to your kids and, by doing so, to allow them to take responsibility for their own learning and future success.
My programs for children have always included parent coaching. From my very first Early Childhood Centre until today, parents have been the greatest assets for their kids' achievements. You can do the same for your kids.
You see, when kids do not know what to do, any option is as good as the others, but when they know the difference, they can make conscious choices, which means they can take responsibility.
Here is a list of ways school-aged kids can help themselves learn. Please introduce them to your kids and see if you notice any change in how they handle their learning. Then, please come back and share your experiences below by posting a comment.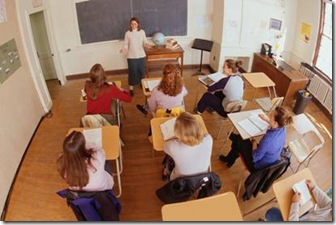 Over the last 22 years I have examined many ways of introducing such rules to children. Some children can handle the bare facts, as in "this has been researched and found to be effective".
Some , if you tell them that these strategies have been recorded to be used by successful children, this will be enough to motivate them to adopt them.
Other kids will need to be introduced to each of the concepts separately. These kids have a bit of a challenge with change management and shift slowly, so let them be and work with them gradually.
One of the ways I found works perfectly, especially in primary years is the story telling technique. Find a story that supports this concept and tell it to your kid before bed time.
Ronit Baras' List of Learning Tips Every Child Should Know
If your classroom seating is in rows, sit in the second row, in the centre of the classroom. If it is in groups, sit facing the teacher (the board) in the closest group. In a circle or arc, sit in the middle, facing the teacher. In these places, you will be the most attentive and the teacher will pay you the most positive attention.
When you study, make sure you move and stretch every 20 minutes. Movement brings oxygen to your brain, increases your blood flow and helps you perform better.
From time to time, take a few deep breathes. Again, this brings lots of oxygen to your brain, helps you relax and lets you concentrate and remember more of what you learn.
Eat brain food. Nuts, fresh fruit, vegetables, seeds and raisins help you think clearly. The food you eat can have a great effect on your thinking abilities. Eat smart!
Find your best time of day to learn and use it to study hard things. Most people either learn better in the morning or late in the evening. The hardest time to learn is in the middle of the day from 2 to 4. If you want to be focused, pick the best time for you and stick with it.
Find the "golden nuggets". Be clear about the most important thing about every new chunk of information. Finding the important points in everything you learn will help you remember more with less effort. Sometimes, you go through a whole hour of learning that you can summarise in one sentence, so always look for ways to distill your learning into one sentence – this is called focus.
Find out your best way to learn and use this way to help yourself remember things. Do you need pictures or graphs? Do you prefer to listen to tapes or write notes? Do you like using a highlighter, making a mind map, discussing and asking questions? Remember, there is no universal best way to learn, only your best way to learn and you know what is best for you.
Teach someone else. Research suggests that when you teach someone else something you need to learn, you remember 90% of it. 90% is a lot! If you have a chance, teach someone else what you want to know well.
When you study for a test, make your own test up and get someone to ask you the questions or check your answers. Studying for a test is a very important skill. You can get better and better at it with practice. Always study for a test and do not count on your memory to save you in your final exam.
Homework is your best friend for learning. It is not meant to make life hard. There are different types of memory, and when you practice at home what you have studied in class, you shift your learning from your short term memory to your medium term memory. To remember things after weeks or months, you need to reinforce the new learning and shift them into your long term memory. Homework is the best ways to do it. If you do not get homework from your teacher, make up your own homework or ask your parents to help.
Be proud of your achievements and be happy to achieve things you want in school. Tell your friends and parents and family that you are proud of yourself every chance you get.
Watching TV is a good way to learn things but it can be addictive and make you think that the real world is just like what you see on TV. Choose your TV shows and make sure you watch no more than 7 hours a week. Why? Because life is beautiful and there are so many great things you can do to develop your brain. One hour a day is a lot of time.
Be active. Do any kind of sport you like – basketball, trampoline, running, swimming, hula hoop, soccer or any kind of sport that keeps you active. When you are in shape, you are in shape for everything in life, including learning.
Learn music. If you do not find any musical instrument attractive, sing, dance or listen to music. Music has been found to be a great way to help students improve their performance at school.
Get enough sleep. Sleeping is very important for our ability to learn. People who do not sleep enough cannot concentrate and learning takes a lot of energy. Young children need 10 hours of sleep. Pay attention to your body. If you are tired, go to sleep.
Stay away from computer screens in the evening. They disturb your sleep pattern. Computer screens are like daylight, making your brain think it is daytime, so it keeps you awake past your bedtime.
Find a club to join. Belonging to any group of kids with similar interests will help your social skills and improve your confidence.
Read a lot. There is an ever-growing body of text in books and on the Internet. Go to the library on a regular basis and take as many books as you can. Read stories, read information books, read magazines, read comics or anything that will stimulate your brain. Practice getting the essence of the text quickly.
Play challenging games. Find games that make you think: Chess, Scrabble, Sudoku or any card game that requires thinking.
Drink plenty of water. The brain requires water to function well. Some health researchers claim that many of the diseases can be healed with sufficient drinking of water. Drink 1 litre (1 quart) of water for every 22 kg (48 lbs) of body weight. Easy to remember!
[For older kids] Alcohol makes people feel depressed. They have a good feeling for a short time only and after that they feel down. When you need to perform, stay away from alcohol.
From my experience, it is definitely possible, and also a good idea, to kids to take responsibility for their own learning.
Give your kids the power to make smart choices with this list and see them shine. They will know who has taught them well and thank you later.
Happy parenting,
Ronit