Last week, after posting Self Esteem Mini-Course (part 6), I got this comment from Chuck Bluestein referring to his post called What Causes a Lack of Self-Esteem in Americans. According to Chuck, the lack of physical touch in infants is the source of the problem. In short, we are not hugging babies enough.
Well, Chuck, I agree with you that physical touch is essential for kids' physical and emotional growth. I even think that parents who think they are "spoiling" their babies by holding them in their hands are being unreasonable.
Yes, babies need hugging and touching. But the real problem in our society starts when they grow a bit and Mom and Dad think it is inappropriate to touch them anymore. It reached a stage where grown-ups who lived together in the same house for years shake hands when they see each other.
From time to time, I try to imagine my kids as grown-ups. I have changed their diapers! I cannot imagine myself shaking their hands when they become parents.
Since they were babies, I have hugged them and said, "I can hug you and love you as much as I want".
It all starts with … parents
However, Chuck, I do not believe that "hearing" about something can convince people to behave in any way. People have heard everything there is to hear, they have all the knowledge in the world but it just does not sink in, because of the many filters they have added to their identity over the years.
This is neither right nor wrong. It is just a fact. We go through life and come up with filters that help us survive.
And I still think there is no such a thing as "the right way" (I think Special Education professionals are "programmed" to react like this to the terms "right" and "wrong"). People always choose what seems to be the right way at the time. Not one ever says, "Well, here are 7 options for raising kids, let me pick the wrong one"…
I love Mr. Miyagi from "Karate Kid" and I think I would have said, "When the student cannot understand something, it is only because the teacher did not present it properly", but bad teachers? I do not think there are any.
No teacher on Earth ever becomes a teacher in order to damage kids. No teacher ever says, "Well, I have 7 ways (I love the number 7) to teach, let me choose the lousiest one".
Teachers (and parents are teachers too) teach the best way they can. We need to give them more strength, more confidence, more support and no judgment.
Chuck says, "This lack of self-esteem is not because American parents do not love their kids. It is because they never learned how to raise infants. The way that kids are raised now is described in the book, Revolution from Within: A Book of Self-Esteem by Gloria Steinem (1992). This tells how children are alive to serve the parents and the parents are perfect and always right and it goes on and on".
The world is changing
I agree with Gloria Steinem that most parents have never learned how to raise infants. But they have never learned how to raise toddlers or teens either. Nor have they ever learned how to establish a relationship with a partner, take care of their finances or do home maintenance, although they have to do it all their life. What is new about that?
I would like to suggest that you take all the Amer-Indians, put them in the middle of a busy city and see how much self-esteem they will have there. Kids who grow in a small community with a different dynamic can continue to raise their kids the same way for over 100,000 years.
The kids we have today, the kids whose parents have Internet connections and go on the computer to read the great posts you and I write, live in a super fast world with changes every day, all day. Even if they wanted to keep their life the same way for a week, they could not do it.
When you say 100,000 years, it is funny. My 6-year-old just came back from school. She was excited that she had learned how to change the colour of text in Microsoft Word. My husband then told her he had met his first computer at university and we had our first computer at home when he was 26.
In just a short time, life has changed for all of us. Do you think that, if we wanted, we could say, "Nah, I do not like this life. Too many changes. I want to go back to living like 100,000 years ago"?
Hug all your children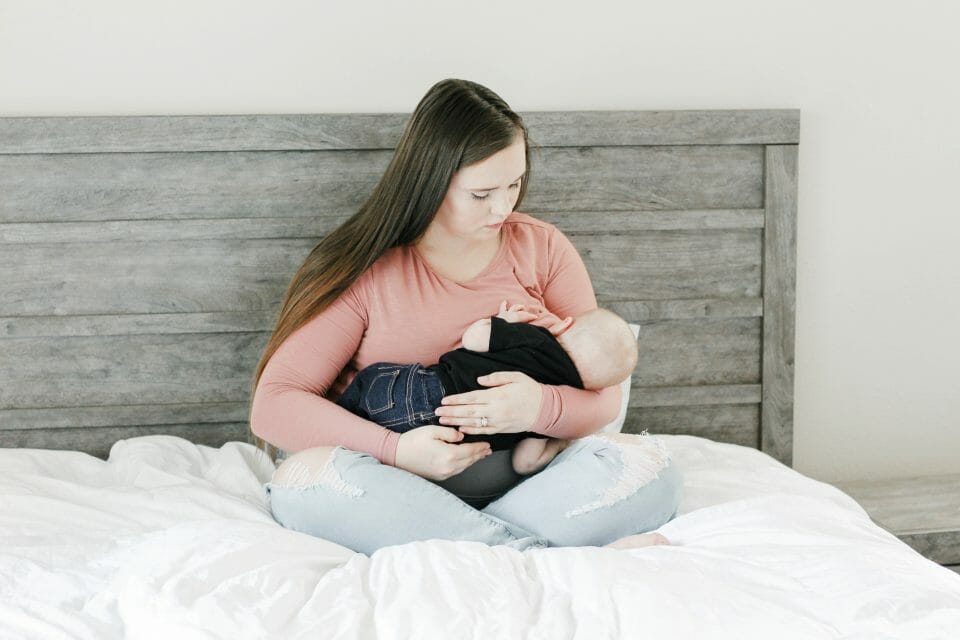 As much as I believe that touch is important, I want you to know there are kids who cannot stand the feeling of being touched all the time (and Chuck, there is nothing wrong with these kids). You are describing a community of people who are kinesthetic and benefit from physical touch, but this does not mean that everyone does.
Some kids who will cry if you put them in a sling, because they will feel limited, whereas others will feel warm and safe. I have three kids and each is different in their need for touch. I find that natural. Yes, physical touch contributes to people's self-esteem, but I wish they could have remembered the hugging they got as babies.
I wish there was a tank of hugs and touch that they could carry with them to adulthood. It is wishful thinking but far from being real. People need hugs and physical touch all the time – infants, toddlers, teens, parents, growth-ups, old folks – everybody. There is magic in the infant years, but hugging babies is not that magic.
If you believe that whenever the baby cries it is because he is in pain, you might find it hard and painful to raise kids. Kids cry as a form of expression. This is what they know and it is very good that they cry.
Life is beautiful, but not if we immediately give them their desires all the time. They are just babies learning about life. Kids are not servants, nor are their parents. Everyone in this life wants to satisfy their needs and sometimes, there are conflicts of interest.
For example, kids want to sleep in your bed and you want to make love to your partner tonight. Oops, what is more important now, your feeling of love, your partner's feeling of love or your kids' feeling of love? In every conflict of interest, parents are just a little bit more experienced than their babies are.
"Put on your mask first…"
On planes, they tell you to put your mask on first when there is an emergency. It only makes sense that we do the same with self-esteem. Your kids will certainly learn to live by doing what you do. So teach them to take care of themselves by taking care of yourself.
If you teach kids that when they are not being held, they are not loved, you are teaching them the most horrible thing. The best thing is to tell them that they are loved, no matter what. Tell them there are many ways to express love and physical touch is only one of them.
I hope no kid in the world will adopt this way of thinking, because we are not held most of our life. Therefore, life would be miserable if touch was the only way to express love.
Teen depression is not caused by not being hugged and touched when they were babies. It happens because parents think it is valuable to touch their kids when they are cute babies, but when the cuteness disappears, the hugging and the physical affection disappear with it. Many teens do not get touch from anyone close to them.
So Chuck, as much as I think that touch is essential for people's growth and wellbeing, and as much as I think the early years are crucial, I do not agree that this alone is the source of self-esteem in people, although I wish you were right!
Happy ongoing parenting is the answer,
Ronit