If you wonder how to give your kids the best life possible, do not buy them things. Instead, give them great, exciting experiences. Research shows they will remember special events and adventures longer and relive the joy and excitement again and again.
We live in a world of abundance. To understand how much you have today, just think of how your life would have been 50 years ago. I like asking myself, "What did my parents not have 50 years ago that I (or my kids) have today?" It is a good lesson in perspective.
Unfortunately, not every person who asks this question reaches the same conclusion. Some people feel grateful and other feel fear. Grateful people, who feel that they are fortunate, tend to appreciate what they have and care for it. Fearful people panic and start to accumulate things. No matter how much they accumulate, they are never happy. Fear takes away the joy of what they already have.
Do children really need more things?
When I ask people about goals and desires, many of them want to accumulate things. It is funny that kids want this even more. They believe that if they have that game or that gadget, it will make them happy, but it never does. They play with it for a short time and keep thinking of what they do not have.
Recently, I spent some time with my nephew, who loves Lego. He has amazing Lego creations that cost a fortune, but he has the "I want more" disease. A couple of days after he received a new Lego creation pack (mostly from his other loving aunt, not me), he thinks about the next one he still "needs".
There is nothing special about my nephew. He is quite normal, because most kids are the same. It does not matter how many times you buy them things, clothes or gadgets, their happiness and joy decrease quickly and they forget how this works by the next time.
Of course, it is hard to explain it to kids when their own parents do not understand it either and just keep trying to make them happy with things.
Experiences last longer than things
So what is the best way to spend money on your kids? Always choose to get them an experience, rather than possessions. In the battle between possession and experience, experience always wins!
Researchers Tom Gilovich and Travis Carter conducted several studies over two years. They concluded that purchasing experiences brings more long-term enjoyment than buying material possessions. They claim that memories are more valuable than our purchases.
This is true for us as parents and as the people in charge of teaching our kids happiness. If we go to a concert, a fair, a restaurant, a holiday resort, a road trip, a party, a movie at the cinema, build a balcony together or paint the walls in your house, we will be significantly happier than if we spend the same amount of money to buy clothes, a TV, a car, jewelry, decorations, furniture, gadgets, shoes, a new computer or someone else's painting services.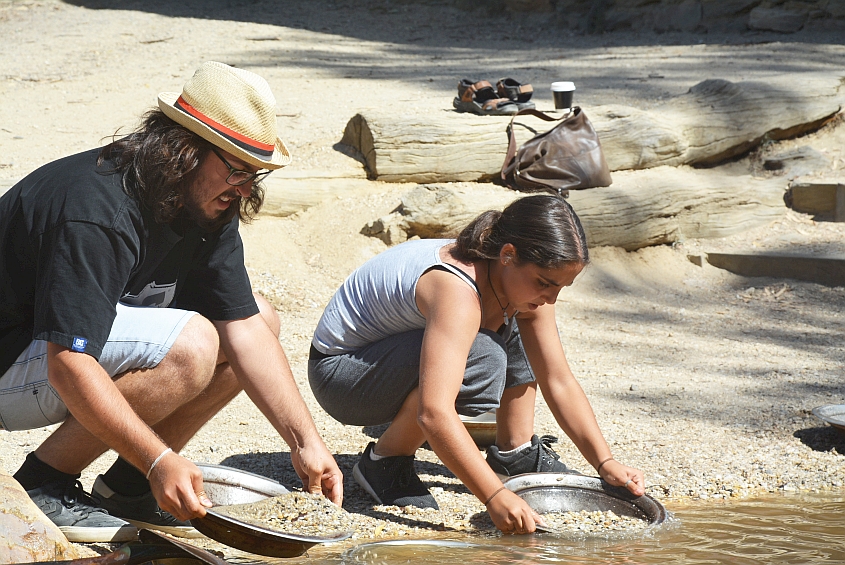 Researchers believe that the joy and happiness from possessions fades away faster than an experience. In my workshops, I create an experience that evokes emotions in my audience, which makes the workshops harder to forget.
The reason people find it harder to prefer possessions is because they think it will last longer. The problem is that after a very short time, we take the possession for granted. Think of the last time you have purchased a mobile phone. How many times since then have you felt about it the way you did when you first bought it?
On the other hand, our brain recalls good experiences many times afterwards. The experience sits in the brain as a memory, including all senses involved, and is connected to many other events. Every time you hear a song by the singer you went to see in concert, you relive that experience and increase the intensity of the memory (unfortunately, the same happens with negative experiences too).
Many parents ask me about taking kids out of school for a trip, going away with them on a six-month road trip or letting them spend a long time with their grandparents who have come for a long holiday. My answer is, "Seriously?!"
Special experiences are way better than school
How on earth can you compare two weeks with your parents in the most beautiful places in the world with school? How can you compare six months away on a road trip abroad, or even around your own country, to sitting in a classroom?
That's it. You can't!
School is an experience as well, so the brain will weigh the different experiences and the experience that stimulates more will always win. I know people who still share memories of trips with their families that were quantum moments in their lives, sometimes 50 or 60 years later. With an observant eye, you can see how their body language changes when they relive these good memories.
No one has ever told me about a game they had, or even the room they had (and their parents must have worked hard to pay for that room) being so significant in their life. People will remember the fun they had riding their bike, but not relive the excitement of having that bike.
At every place we have lived (and we have lived in many places), Gal and I have tried to provide our kids separate rooms, yet they did everything they could to "sleep over" with one another. We thought privacy would be important to them, especially during their teenage years, and they preferred to share their time and their experiences.
We have traveled with our kids for many years to many exciting places. Our kids have "missed" several years of school during that time, collectively. We have memories of long road trips. We lived in Thailand for 18 months and traveled for six months out of that. Together with the time we spent eating out, swimming in the pool, going to special markets and attending various festivals and celebrations, I could easily say that 90% of the time we spent in Thailand is stored as series of good experiences.
Do it yourself
Once, we calculated that we could have bought four more houses with the money we had spent traveling. If you ask the kids what made them happy, none of the houses we have bought has given them happiness. On the other hand, 8 years ago, my son, who was 12 years old at the time, helped me pave the entrance to our house. It took us a whole weekend and cost nothing at all, because we collected the pavers from all around the house, but it makes us both happy every time we enter or leave the house. We do not feel the same about the rest of the house, which cost a lot, and took us years to work and accumulate the money to purchase.
As a parent, you probably work very hard to provide for your children and want the best for them. Regardless of how much money you have, do not kill yourself over another room, a better, more expensive car, a larger house or more furniture. Focus on giving your kids the best possible experiences in life. Make it your life's mission to give them as many exciting events and adventures as you can. The more enjoyable these experiences are, the longer your kids will carry them into their adult life and the happier their lives will be.
Start by thinking about experiences in your own life and aim to provide your kids with more of them. We can carry memories forever, while accumulating possessions will burden us and make it harder for us to travel.
To infinity and beyond!
Ronit