We often focus so much on what kids do not do well that we do not give them any chance to excel, to shine and to be heroes. This is the story of how a class of special education "troublemakers" proved that everyone can be a hero.
Last month, I traveled to North QLD to work with over 1,000 students on a special project I run here in Australia, called Together for Humanity, with my colleague, Imam Ahmad Abu Ghazaleh. We worked 14 hours each day and saw many different groups of high school students and teachers, but I want to share with you my experience with one class in particular.
It was the middle of the day and we were getting ready to run our "Community Building", in which "Making a Difference" is a key message. A group of 28 Grade-8 students arrived with 5 teachers (two men) and their head-of-department herself.
At first, we did not know why so many teachers were needed. On the previous day at that school, only one teacher arrived with each group. Ahmad and I thought the teachers might have asked to take part in the program, because many of the teachers had been to our professional development for teachers two days earlier and written on their feedback forms, "I would like to see this in action with students".
While the students were settling down, the teachers looked worried and one of them approached us and said, "This is the worst class in the school".
Ahmad and I smiled. The head-of-department, who had organized those two full days of workshops and seemed an amazingly relaxed person, told us, "I've brought all the teachers to help you out. This is our special education class. They are challenging".
Mission impossible
We started with a game and needed the kids to be in groups. Usually, when splitting a class into groups, there are many problems, especially related to mixing boys and girls. With the "worst" class in the whole school, we expected even more problems.
I told the kids we needed them to be in groups. "Can we trust you to form groups in 2 minutes?" I asked.
"Yes", said the kids. Their teachers smiled uncomfortably, but we had no choice – we needed them in groups.
"OK", I said, "I trust you to form groups in 2 minutes. Ready? Set? Go!"
It took just a bit longer than 2 minutes. Ahmad and I were both relieved. The teachers looked surprised.
We gave each group an assignment that at first seemed impossible to solve, aimed at getting the kids to think outside the box. For about 10 minutes, the kids were not allowed to communicate with one another, only with us. They raised their hands and said, "But Ronit, it's impossible to do this" or "Ahmad, how can you expect us to do something like that?" At one stage, when the frustration level was too high, Ahmad said, "I will give you a clue. It is solvable! There is a solution, just think!"
Suddenly, two students from two different groups found the solution. Shortly after, all the groups implemented the solution in total silence, while their teachers were shocked to see their participation and cooperation. The first two students were the agents of change and we used them to start the discussion on making a difference by sharing, by helping, by contributing and by taking risks.
We told the kids about our personal lives, our fears and our challenges and that heroes are not the strong kids with the muscles but those who are creative, take risks, stand up for justice and dare to be kind in spite of fear, in spite of risk, in spite of challenges. There is a hero in each of us and heroes can make a difference regardless of their age, culture, academic success, body features, religion, wealth or social status. Being a hero is a mindset that everyone can adopt.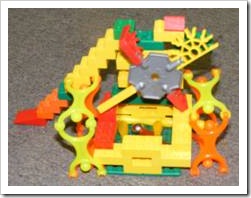 During the discussion, the kids kept playing with the game pieces we had given them. Their teachers were hushing them, but it was obvious they could not concentrate on the discussion, so I asked them to sit back in their chairs.
"We want to talk to you about something and we think you can listen and participate while playing with the game pieces. Do you think you can do that?" I asked.
"Yes", the students said. Their teachers smiled in disbelief.
"OK, you can sit on the carpet and keep playing while you participate. We trust you can manage to do both", I said. All the kids rushed to the floor and started playing with the game pieces.
The game led to a discussion about people around cultures, languages, religions and about judging people based on their clothes, appearance, accent or customs. We talked about what make us Australian. The kids were surprised to discover that both Ahmad and myself were Australian, although we were not born in Australia, we have foreign accents, we look different, we have unusual names and we were wearing strange clothes.
My beautiful Mexican poncho led everyone (including the teachers) to think I was from South America. Ahmad and I told the students about our religions, our cultures and gradually, the discussion shifted to what is happening around the world, especially poverty and war, and how we can lead change, just like the two students in the class had taken a risk and found the solution. Ahmad told the kids that change and making a difference spreads like a ripple and they were intrigued.
"Who is the person you need to be most kind to?" I asked.
The students looked at each other. Some were mumbling quietly (generally, they were very shy). Until Ahmad and I started telling them personal stories about ourselves, they were afraid to participate, and kept looking at their teachers for guidance.
One of the students said tentatively, "To your teachers?"
"Well, it's a great idea to be kind to your teachers, but there is one person, only one person in the world, that you must be very kind to if you want to make a difference and do kind things. Who is that?"
The mumbling started again. One student who had not spoken much, said quietly, "To yourself".
"Yes, right", said Ahmad, "Come on, say it out loud".
"To yourself", the student said aloud with a beaming smile and a sense of relief. Their teachers were sitting around, not participating in the discussion, and looked at them surprised.
"Can you give me examples of not being kind to yourself?" I asked.
"When you kill yourself".
"When you take drugs".
"When you don't sleep enough".
"When you eat junk".
"When you cut your wrist".
Ahmad and I looked at each other and wondered what these kids were going through.
"When you smoke".
Each of the kids said something. We reassured them that every example they gave was an excellent example of not being kind to yourself.
"How can you be kind to yourself, then?" Ahmad asked. The kids gave many ways to be kind to yourself and everyone participated. The teachers raised their eyebrows in surprise.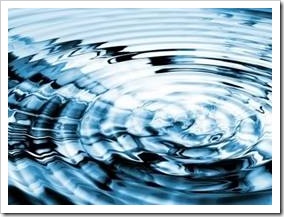 We drew a ripple on the board. If we start with ourselves and practice kindness in growing circles of our close family, our extended family, our friends, our classmates, our school and our community, we can change the world eventually.
The bell rang, but the kids did not get up.
"We need you to put the game pieces in their bags. Can we trust you to do this in 2 minutes?" I asked.
"Yes", the students said and had the game packed in no time.
We thanked them for the wonderful time we'd had with them and gave each of them a piece of paper with the question "What are you taking from today's workshop?"
It was break time, yet all the kids sat at a desk and wrote something. Being special kids, they needed their teachers to help them spell the answers.
"How do you write 'respectful'?"
"How to you write 'sharing is caring'?"
Ahmad and I looked at them with pride. They were awesome. One of the heroes of the class, the kid who had found the solution first, came to give us his feedback and said, "Thank you very much!"
We smiled back and said, "Thank you very much for showing the whole class there is a hero in each of us and how heroes make a difference".
We collected all the forms and the students left. Four of the five teachers sat in the room during their break and filled in the teachers' feedback form. Then, two of them came to us and said.
"I have never ever seen these kids like that. The kid who found the solution has been expelled many times for severe behavior problems. I reckon it was the best day of his school life. He is never a hero. He is always considered a troublemaker, but today he was so engaged".
It happens to us a lot that we focus on what kids do not do well that we do not give them a chance to excel, to shine and to be heroes. Ahmad and I felt very proud to prove once again (and both of us have worked with over 10,000 students in this project) that everyone can be a hero.
We were with a group of special education students, "the worst class in the whole school", and 5 teachers, who were there to protect us from the students' behavior, for an hour and 15 minutes and we felt we had made a huge difference.
Here just some of their feedback forms, with spelling mistakes, no capital letters and very low literacy level (not to mention the different size of letters you cannot see), all very unusual for Grade 8 students, as well as their teachers' feedback forms. I hope reading them will inspire you to be kind and give everyone around you a chance to be a hero too.
"Don't judge people by their look. Sharing is caring"
"I got to learan't to be respectful for what I god and what other's don't"
"I learned about different coultor and be kind and other people will be nice back"
"Give what your getting"
"don't judge people who they are friendly"
"Information about religions and what you can do in life. How many kids die"
"that you don't have to be older than 20 to change the world. Sharing is caring"
"all of it. sharing is caring"
"Don't judge people by their looks. Everybody's welcome to Australia. Sharing's caring"
"I learned all about their cultures and that we aren't so different"
"don't judge people by their looks. Sharing is caring, be kind. Treat people how you like to be treated. Everyone is welcome to Australia"
"I learned what 1 kid did and then started to make a be difference to children that need help more than us. Care for yourself and others"
"sharing and caering n the riple efect"
"to be kind to my brothers and sisters"
"Sharing is one of the most important thing to do for someone"
"I learned to Be more respectful to others and to care"
"you can do anything if you put your mind to it"
"Sharing and caring and about the rip effect"
"That you can do anethying"
"I learned to be respectful. I learned to be nice, I learned to be kind"
"This is the most engaged that I have ever seen this class – HONESTLY. This was amazing! It was quite inspiring for me to watch this particular class respond to this workshop. I would most definitely recommend this workshop to other teachers. It is challenging (to our thoughts) but done in a way that is culturally safe to our students … the presenters were excellent …"
– High school teacher, Townsville
"It was a very valuable experience … students had a chance to be heroes. The benefit I have received as a teacher was to see the students in a different way … it is a very important program for building student's character … the presenters were fabulous and very human. Because they were so open, the students felt comfortable …
– Rochelle, High school teacher, Townsville
"It was an outstanding experience … the hands on activities allowed real student's success + depth understanding. I learned real ways to promote this in the classroom … this is life changing experience for staff/students … the presenters were wonderful!!"
– Kate, Head of department, Townsville
"It was great and informative for the students … I most liked getting students to review the way the look at different people in our community … there is nothing you can do to improve this presentation. It was good as it is, full of humor and engaging at the same time. It is an introspective session for both the teachers and students… the presenters were relaxed and prepared to share personal experience …"
– High school teacher, Townsville
We finished a whole week of non-stop workshop and meetings. Physically, we were exhausted. Ahmad was sick and I could hardly speak. What kept us going until the last session of the week was the great feeling that we were heroes too.
And so can you, at least to your own kids,
Ronit