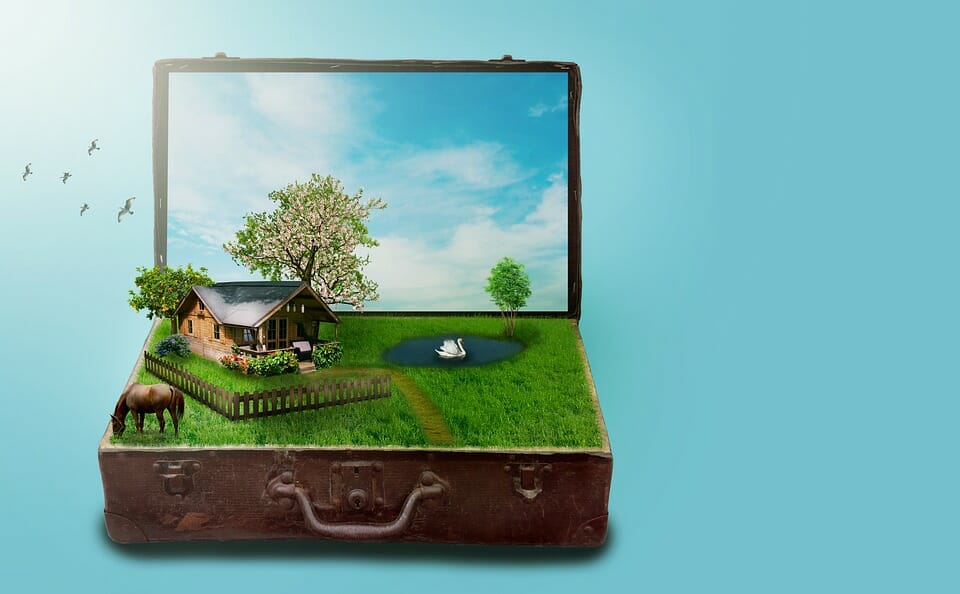 The holidays are coming and this year, 2020, isn't a normal year. We can't go on vacation the way we did in previous years. So, what can we do? We can have a staycation. But first, we need some staycation ideas.
With COVID-19 looming, limited money, closed attractions, and restricted events and restaurants, a proper holiday seems difficult, even impossible. So, we either have a staycation or go nuts.
A staycation (or "holistay") isn't staying at home. It's having a vacation, and enjoying our time, at home, or close to home. But how do we do it? I hope the staycation ideas below will help.
Talk to your kids with no guilt
Guilt is to the spirit what pain is to the body

Elder David A. Bendar
A big problem for many parents now is finding a way to tell their kids that this year, they won't be travelling. Telling kids that the holidays will be different, and less exciting, this year feels like admitting failure.
It's important to remember that you haven't chosen the travel restrictions and financial burden. So, there's no reason to apologize to your kids or feel guilty for them. Kids are little mirrors and your insecurity will only make them feel insecure, when you're really doing the best you can.
Guilt is a kind of burden. We can't hide it. Especially not from our children. When parents carry guilt with them, it doesn't matter what they say or do to cover it. Children almost always try to carry it too, in the hope of easing their parents' pain. Guilty feelings are like lead. They're heavy and stay in the system for years and years.
I still remember my mom telling us we had to eat food we didn't like because it cost a lot of money (and we were poor). She hasn't said that to me in 40 years, but I still remember how guilty I felt about it.
This talk about the coming holidays is hard, but it's important. We can use it as an opportunity to teach children that in life, we might not control the circumstances, but we can always control how we choose to respond.
When life gives you lemons, make lemonade

Adapted from Elbert Hubbard via Dale Carnegie
Why do we need vacations?
Vacations are a way to recharge your batteries. Think of yourself as a cell phone. You need to recharge your phone it if you want it to keep working, right? How often do you need to charge it? Depends on the apps you use.
Humans can run "apps" that don't take away any charge, and even ones that charge us, like having fun with friends or having sex. But we often run "apps" that take a lot of charge and drain our "battery", like work or doing your taxes.
Recharging can be done in two ways:
Stop using draining apps (reduce stress)
Use apps that charge your batteries (relax and have more fun)
Charging is essential to our health and wellbeing. It's no secret that when people work more hours than their body can handle, they start to face health issues.
The body says, "Hey, you need to stop, take a break and recharge. I can't function like this. I need to shut some things down and switch to emergency mode". And when we don't listen, we get sick and must stop to recover.
Sleep is a short vacation we take every day to recharge. It is absolutely essential for our health. If we skip it even for a day, our stress levels spike and some systems stop working properly.
But even with enough sleep, it helps to do fun things throughout the day sometimes to recharge other parts of ourselves. Activities like meditation, mindfulness exercises or engaging with a hobby can do the trick.
Although we have a mini-vacation every weekend, it's wise to take a few extra days off every month or so for a sort of battery cleanse. Fortunately, we have school holidays and long weekends to make that happen.
Still, it's good to take a long vacation, beyond two or three days, because our mind only settles fully after 5-7 days. When Gal and I took the kids on vacations, we always felt something relax in all of us after 3 days. And after 7 days, our minds had completely shifted from "normal life" to "recharge mode".
So, a vacation isn't just a break. It's a full tune-up and recharge service.
The school holidays are a great time to go on vacation, relax and recharge, and travelling overseas is a popular way of doing it. It's fantastic because everything is new. The scenery is different, the smells are different, even the language is different sometimes. And we have exciting experiences that are very different from our normal life.
This year, it might be a little bit of a challenging.
Christmas time is a school holiday for many families. In some countries, like Australia, it's also the summer break, so the holiday stretches for 7-10 weeks.
It's a good time to take a break. There's less stress. No one has to get up in the morning to drive the kids to school. There's no homework to do and no lunches to prepare. Normally, the entire family can take time off together.
If you combine this long break with fun, and recharge everyone's batteries, you can really help your kids build up reserves for when everything goes back. As I said in 100 Easy Ways of Entertaining Kids During COVID-19, stimulation and variety are the name of the game!
The fun incentive is not only for children
As adults, we often resist the idea of having fun, because we think it's a luxury, and don't have time for it in our busy day-to-day lives. The problem with that idea is we tend to pass it on to our children and continue the cycle.
So, children go to school and hate it, parents go to work and hate it, we clean the house and hate it, and we don't think we deserve better.
But we do!
Having fun – doing things you enjoy – is a group of "cell phone apps" labelled "charging", so give them some attention and remember that sometimes, you deserve to have some fun!
Staycation ideas: how to have a great time close to home
If you have no choice and you must stay home these holidays, make sure to still take some time off. Even though you're home and have time to do some more last-minute work, focus on yourself and your loved ones instead. Work will still be there when the holidays are over. Now is vacation time!
Talk to your kids about any challenges you have – lower budget, not enough holiday time, travel restrictions, quarantine regulations, limited entertainment options, etc. Reassure them that you understand the importance of taking time off, and be honest, but don't apologize. Saying that you're disappointed too will make sure your kids won't think of it as guilt, but a shared experience. Remind them again that some things are out of our control, but we can always control how we respond to them. It's good for children to understand and be aware that mom and dad can't control everything. It's a good lesson, so use this holiday period as an opportunity to show them that. It will be helpful in the future.
Ask your kids to list things they would like to do around the house or in your area that would make them happy. Write their staycation ideas down, as well as your own. Find activities that most people want. Call your friends for their staycation ideas too.
You don't have to do all the activities together. It's not like a regular vacation, where everyone is at the same place at the same time. When you're home, it's okay split sometimes. For example, Mom and Dad can go to the movies and the kids can have a sleepover.
Be flexible. Just like a regular vacation, you don't need to plan every second. Plan something special for every day and flow the rest of the time. Some days, sleep in and have a slow, late breakfast.
Think what you would do on a regular vacation and do what you can on the staycation. If take 2 books to read on your vacations, get everyone to prepare 2 books to read these holidays. If you go out to eat once a day when you're on vacation, do the same on your staycation. If you would go swimming during a regular vacation, go the local swimming pool. If you sit on the balcony and eat fruit or have coffee, do the same at home. If you take special games on your regular vacation, like card games or Monopoly, use them too and have a games night. If you watch a movie every night on vacation, pick movies and schedule time to get together with your family and watch a movie.
Allow things you don't allow at home on your staycation, like you would on a regular vacation, and even more. Remember, it's a break from your routine – a shift from doing the same thing all year. We don't usually drink soft drinks, but on vacations, we do. So, you can buy soft drinks on staycation. At home, we encourage our kids to go to sleep on time to be ready for school, but on vacations, we stay flexible with the timetable and allow them to sleep whenever they want. Eating junk on vacation is more acceptable then on regular days. Let your kids eat differently on your staycation as well.
Unlike a vacation, no one comes to clean your house and do the beds for you during a staycation. Try to ease the load as much as you can. Chores need to be done, but it's okay to delay them for a little bit if they're not time sensitive. It's okay to leave things not looking perfect. If you want, try using disposable plates occasionally to avoid having to wash the dishes. Or prepare meals in advance for the whole week, so you don't spend time cooking during your staycation. Pile laundry, as you would on a regular vacation, and clean the house before, so you don't have to do much while you're recharging. Cleaning and chores aren't fun, so avoid them as much as possible.
Plan special things to do at home that would make the day memorable. For example, put up a tent outside and sleep under the stars. Have a special meal by candlelight. Have an "indulgence meal" and eat only desserts. Shower with a hose outside (if the weather permits). Build something as a family (balcony, patio, bed, shed, kennel for the dog), paint a wall, start a mural, or a garden patch. Watch old videos, cook, or bake something special together (like a cake with special decorations, or a gingerbread house). Having a project to complete together creates shared positive memories. And if you focus on enjoyment and not on precision, it will be remembered that way. Capture everything with your camera(s). All you have to do in years to come is remember how you felt to be together, having fun with everyone, and it will recharge your batteries again.
Remember a staycation isn't free. Ask yourself how much you would have invested in a real vacation if there were no restrictions. Remember that whatever you spend during your staycation will only be a fraction of it. Not free, but definitely less than a trip away. So, if you go bowling with the kids, then the zoo, and then the movies, and you feel like money is oozing out of your pocket, remind yourself it's still cheaper than flying somewhere and paying for accommodations and restaurant meals.
Use your staycation to teach your kids to dream about the future. This is something my family does on every vacation. We dream! It's easier to dream when you're on holiday, away from home and away from your routine, when your mind is relaxed, open and creative. The aim is for each family member to write 100 things they would like to achieve next year, or in their life. Yes, 100. The more you write, the more you will benefit. I used to ask my clients to write as many dreams and desires as the current year. So, for 2021, they would need 2,021 things they would like to achieve in their lifetime. Every year, close to Christmas, I sit with my kids and we make a list. We write everything down, put it in an envelope, seal it and I keep it for everyone for the following year. Every year, I give them their envelope from the previous year, and we start again. We're always amazed to see how many things from our list we've actually achieved. This activity won't be finished in one go, so schedule it at the beginning of the staycation so everyone can add items to their list of goals and desires in their free time. Seal it at the end of the staycation and keep for next year.
Finish the staycation day with a summary of what was fun throughout the day and rate it. When we summarize the day and we remember what made us happy, our happiness grows. Teach your kids (and yourself) to find at least 3 things that happened each day that made you happy and rate them from 1-10 (1 = OK and 10 = Super Awesome).
One big problem of having fun is that we tend to take things for granted. It happens to children a lot that they stop appreciating things around them and consider themselves deserving, rather than appreciating. This is true on vacation and extremely important on staycation. At the end of every day, get them to share 3 things they're very grateful for. They can be grateful for what they have, for someone who was kind to them, for their abilities, for their luck, for their fortune… Children who learn to be grateful for what they have in life can make the staycation an amazing experience. Make sure to take part as well. Use this opportunity to bond. One beautiful game we play is to say one good thing about a person in the room or thank someone for something.
Plan breaks during every staycation day. Family fun is great, but we all need some time and space to relax, do nothing, or just do whatever we want in the moment. So, block out some "free time" between activities. This is when everyone can get on their phones, use social media, do their own things, listen to music, and only think about themselves! We all need breaks sometimes, even from good things.
It's important to treat the staycation as a project, as you would have treated a real vacation. You check what is available in the area, you know the attractions in the area, you know what you do every day… Take all plans and idea and schedule all activities in your staycation calendar. Estimate time for each of them and leave gaps between activities. If you go as a family to the movies, estimate driving time, eating time, movie time, and leave an hour or two spares around it for doing nothing at all or for taking a bit longer to do things or change of plan. The fuller the calendar will be, the more enjoyable the staycation will be.
Every evening, go over the plans for tomorrow and make sure everyone is aware of the plan. We do that on regular vacation as well. We tell everyone that tomorrow we're going sailing and we need to leave at 6am and everyone has to have their bag and swimming gear ready. Staycation is no different!
Have the staycation plan printed and visible. This way, everyone knows at any point in time where they're going to be, what they're doing and who they're doing it with. It's OK to print one for everyone in the house (if they can read it) and it's OK to print a new one when things are changing.
I hope you now have lots of good staycation ideas and are ready to plan your staycation.
Happy holiday and a happy new year!
Hugs,
Ronit