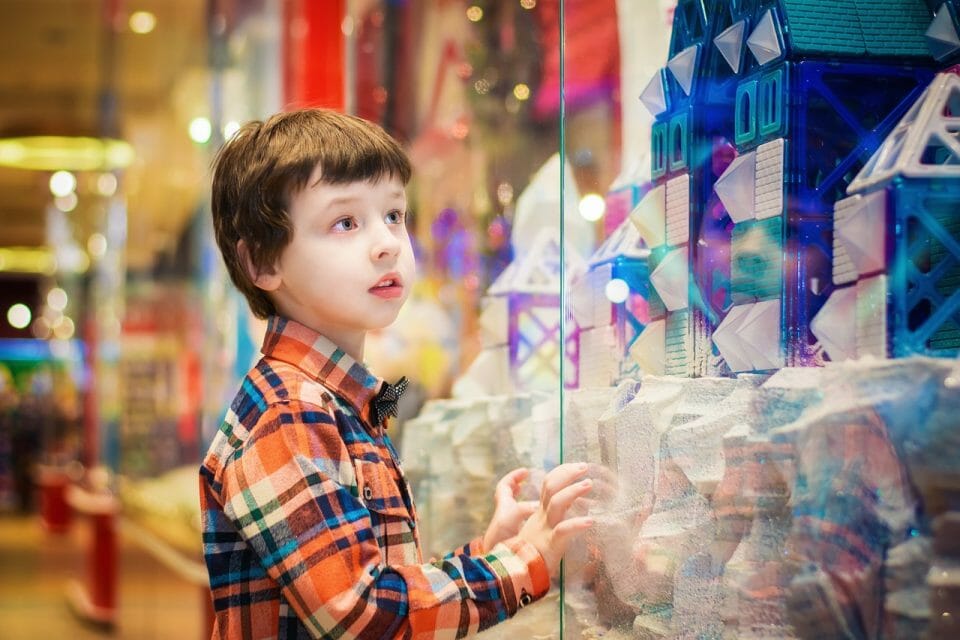 Among the roles of a parent, the one role that parents do not like very much is being a bank. How many times have you heard yourself say, "Do I look like a bank?" or "Money does not grow on trees"? At one point, every parent wishes they could give their children everything they desire, until they realize that not everything their kids want is what they actually want to give them.
The "Daddy, buy me!" syndrome is a modern disease of our materialistic world. Once upon a time, everyone was poor and the heroes of our old stories were of a time when people always shared their last remaining bits of food with animals and people who "needed it more".
Nowadays, in our world of abundance, there are advertisements everywhere, encouraging people to buy things they really do not need. Those ads treat everyone as if they had an enormous budget and try to convince you that you cannot possibly live without this <whatever it is> and that even your "Daddy bank" cannot stand in your way.
Materialism, in our world of abundance, has turned into a method of showing affection. Presents, once used as surprises and a way to express affection, are now used as a substitute for love. But is it really a good substitute?
The transition from a values-based world to a materialistic world was a slow one. The various systems that facilitated the process were the media (mostly television and magazines), politics and the education system, and many people pointed fingers towards these mediums in protest.
But the blame did not stop the process, and our values continue to gradually decline as we progress towards abundance. But is it really abundance?
Children, in this equation, are nothing but a reflection of the world in which they grow up. The search for new toys, new shoes and another computer is a skill they have learned from the time they were separated from their mothers and came to realize that they were separate entities.
Their mother and father worked long and hard so they could have money, so they could pay the bills, buy food and even enjoy themselves once in a while. The children watched and learned, for better and for worse. But did they learn the right thing?
Ever since money has become a tool for obtaining a feeling, somehow, the word "more" seems to give people a good feeling, but there is a catch. You may have seen this email circulated via the Internet that says:
We have more money, but fewer values.
We have more medicine, but less health.
We have more security, but less safety.
The word "more" is an illusion of the modern world. Even in a world of plenty, preservation of matter still applies. If there is more of one thing, there is less of another.
"In the game of life, what must I sacrifice to get what I want?" This is the question that can bring us peace, yet everyone would rather avoid it. Our newspapers are filled with stories of overnight successes and we all want to believe that they really happen overnight without any sacrifices.
To understand how we got ourselves into this terrible mess, go to the nearest shopping center, sit on a bench and watch people walking from one store to another to buy a feeling with their hard-earned money.
Clothes are no longer bought to be worn, for with 3 pairs of jeans, 3 shirts and 3 jumpers one can be adequately dressed in most types of weather. People buy clothes for:
Variety
To be special
To exercise choice
To be the same as everyone else (or someone else in particular)
To be different from everyone else (or someone else in particular)
So they can hide
So they can stand out
So they can express themselves
Even clothes are a tool to get a feeling.
Look at people near food stalls and ask yourself, "Are they eating because they are hungry?" Notice that even food is eaten to get a feeling – a feeling of security, a feeling of plenty, a feeling of choice and control, a feeling of variety and or a feeling of individuality.
If they were eating in order to be full, a bag of vegetables and fruit, or bread and potatoes would suffice. Look at everyone "buying" feelings and ask yourself, "What are they actually buying?"
Children are born into a world that buys feelings. When they turn to you as if you were a bank, they are really trying to buy a feeling that they lack, a feeling that they think they can get from the thing they want you to buy for them. They are asking you for money as a symbol of your love.

Ronit Baras
Metaphorically, if you give them money, it is like giving them a "fish". They will be satisfied, but only for the moment. If you find out what feeling they are looking for, you can "teach them to fish" by showing them their emotional needs and possible ways to fulfil them on their own.
At the same time, you will learn "how to fish" yourself and can start giving your kids what they need emotionally as you go along to keep them happy.
Every purchase is an exchange of something that is important to one person for something that is important to the other. The "Daddy buy me" syndrome can be controlled if we look at it instead as the exchange of a feeling for another feeling.
For kids and adults alike, it is hard to identify the missing feeling and find a way to fulfil their needs in a way other than buying things. Here are some ideas.
Instead of buying clothes in order to be the same as everyone or someone else, you can obtain this feeling from the understanding that everyone sleeps, everyone eats and everyone uses the toilet, so you already have a lot in common with everyone. This understanding is absolutely free!
Instead of buying special things to feel unique and different, you can get the feeling of individuality by understanding that there is no other human being on this planet that has the same name as you, was born on the same day, to the same parents, with the same fingerprints and the same thoughts as you, so you are one-of-a-kind without having to do anything. This understanding is also absolutely free!
So, in order not to have to work from sunrise to sunset and give up time with the kids and family dinners, in order to prevent the requests for things from increasing in value and frequency, when your kids say to you, "Daddy, buy me!", ask yourself, "What do I truly have to give up in order to pay for this?" and "What feeling is my child actually looking for?" and then ask, "How can I give both of us the feelings we want, absolutely free?"
Happy parenting,
Ronit