33 years ago, when I studied special education, I learned that our thoughts manifest themselves into our life. I had amazing teachers and mentors. One of them, who was a psychologist, taught me the importance of our emotional hygiene as teachers. He said that what we think of ourselves reflects on the children and the people that work with us.
Watch your thoughts, they become words.
Watch your words, they become actions.
Watch your actions, they become habits.
Watch your habits, they become character.
Watch your character, for it becomes your destiny
Scientists have examined the power of what we think for years. Many philosophers and spiritual leaders have covered it extensively. Our life is a reflection of what we think. In most spiritual beliefs, there is much focus on thoughts and intention. As a life coach, I work with my clients on the power of thought and I share with them how powerful thoughts are.
About 20 years ago, Gal and I traveled with the kids to France and went to a train station. On the walls was an exhibition of Dr Masaru Emoto's water experiments. Emoto exposed water to music, spoken words, written words, videos and pictures. He then froze the water until it crystallized, sliced it and took photos of the ice. What he found was amazing!
First, he discovered that the crystals looked different depending on the place where he got the water. Then, he found that exposure to music created beautiful, symmetrical crystals.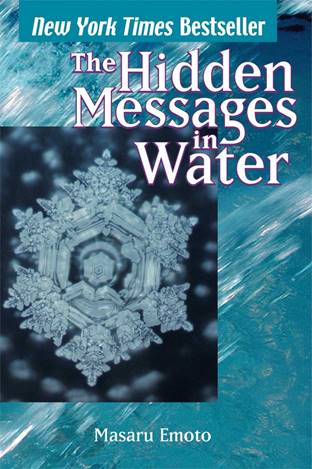 Later, Emoto took water jars, wrote different words on them and checked how they crystallized. He ran a double-blind experiment, where the researchers did not know what he had written on the bottles. He discovered that happy, positive words formed beautiful crystals, while negative words formed distorted, unclear and abnormal crystals.
Seeing the effect of thoughts and emotions on water led Emoto to believe that because humans are mostly fluid, our thoughts affect us and those around us.
When I came back from France, I went to buy Emoto's book and even got a calendar that showed crystals formed by exposure to recitations of different religious texts. It was stunning!
For years, I'd talked about thoughts as things that nourish us or poison us. I'd talked to my own children about it, too. So, I decided they probably needed to witness this effect themselves. I had only seen other people's experiments and realized that it was time for me to see how it works for myself.
Emoto's Rice Experiment
Emoto's experiment with the crystals required sophisticated equipment, so everyday people could not recreate it easily. However, one of the ways he demonstrated the effect of thoughts on water was through an experiment with rice.
Below are the steps:
Fill 3 identical jars with the same quantity of rice (raw or cooked together)
Cover the rice in all three jars with the same amount of water
Close the lids
On jar #1, write "love" or "I love you"
On jar #2, write "hate" or "I hate you"
On jar #3, write nothing at all
Place the jars in the same place
Every day, go to each of jars #1 and #2 and read what you've written on them. Ignore jar #3. Some people cover jar #3 or put it in a cupboard, because it's easier to ignore it that way.
Do this for 3 months and see the results.
With the kids and Gal around me, I did the experiment. Same jars, same rice, same quantities, in the same place, right next to each other on the window sill above the kitchen sink. I chose raw rice, because I guessed that cooked rice would make the experiment shorter.

3 months later, we checked the results of our experiment. The "Love" jar looked clean and smelled like vinegar. The rice grains were still white.
The water in the "Hate" jar was murky with a green film on the surface, and the rice was a bit green.
The jar we ignored was dark brown and slimy, and the rice grains were black with mold growing on them.
Emoto claimed that ignoring is the worst thing we can do, because it causes the most emotional damage. Below is a better picture of the jars.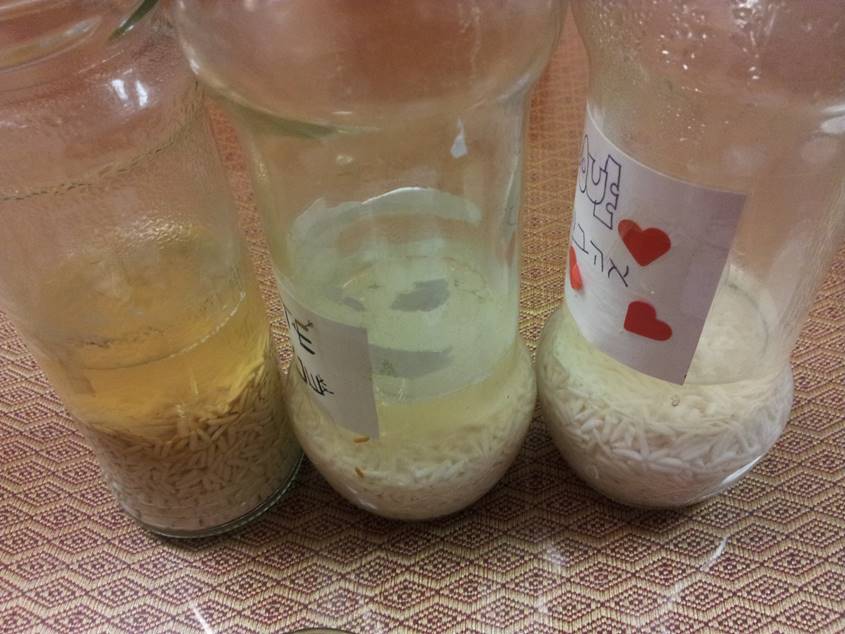 I remind you that these were the same jars, same batch of rice, same quantities of water and rice, located in the same place. Although I kind of knew what would happen, it was mind blowing.
The same week I went to see a naturopath and we talked about thoughts and intention. He told me that during his studies, they had done the same experiment with milk in the fridge. The only difference was that they'd finished it within a week, instead of 3 months.
In the same week, my son told me about the solfeggio frequencies – sounds that vibrate and affect various things in our bodies. This was similar to what Emoto found when he experimented with music.
In his experiments, classical or soothing music, with loving words and ideas, formed beautiful and symmetrical crystals. When he exposed the water to heavy metal music that was full of hate, frustration and angry words, crystals didn't form at all.
I didn't think it was a coincidence.
Change Your Thoughts, Change Your World
So, here is my message to you:
We are what we think
The thoughts we have influence every drop of liquid in our body and the bodies of the people around us.
If we have good, happy thoughts and kindness in our heart, it will show in our body.
If we have sad, angry, negative thoughts and feel hatred and fear, they will poison us and show in our body too.
Examine your thoughts and avoid thinking of who and what is the reason of your negative feelings and thoughts. Change them! Optimism, hope, prayer, mediation, compliments, encouragement, understanding and kindness are just examples of saying to your inner jar "I love you".
Pessimism, doom, anger, judgment, complaints, blame, aggression, selfishness and fear are just examples of saying to your inner jar "I hate you".
What you think is your choice.
If you are like me and need to see if for yourself, do the rice experiment, raw or cooked, and realize that what you think vibrates and what you say vibrates even harder.
Wishing you love and happiness,
Ronit