I bet that if you compare the amount of love you feel for someone, it will correlate well with the amount of hurt you get from them sometimes and possibly with the number of things they do, which trigger a strong emotional response from you.
What do I mean by this? Here are some examples.
Say you went to see friends and one of them made a comment about your clothes or your hair. More than likely, you would make a joke of it, attribute it to your difference in taste or the person's lack of tact, but no big drama. Now, what if you mother made that same comment when you were a teenager? A student? A grownup with kids?
Say you noticed a stranger leaving dishes in the sink and walking away. More than likely, you would shrug it off as their problem, or maybe someone else's. Now, what if this were your spouse or one of your kids doing the same at home, when it was their turn to wash the dishes ("Again")?
Say you walked into your workplace and noticed some people looking down with a frown and ignoring you as you pass them by. More than likely, you would assume they have something on their mind and figure it is their business, so nothing to it, especially on a Monday. Now, imagine the same thing happening on that same day as you walk in the door of your home and your family is doing the same. Would you be so calm and composed about it then?
Finally, say you have had a conversation with a friend about the best way for him or her to handle a certain situation, and later on, you realized they had gone and acted in a different way and even gotten bad results. More than likely, you would label them with some unbecoming name (no need to spell those out here), but let them deal with the consequences. Now, what if this were your brother, your spouse or one of your children? Could you just let it slide?
So why do we get so upset so often with the people who are most important in our life? Why is it we allow them less freedom to make their own choices than we do complete strangers?
I believe it is because we care and because we develop anchors.
Why do we care?
This may be the opposite of how you were brought up to think, but when it matters to us what people do, it is because it affects us in some way. Caring is not about them, it is about us.
If something bad happens to one of your kids, that gives you a lot to deal with, doesn't it? Hassles, money, worries and feeling of failure as a parent are just some of the things you may face should your offspring fail at school or get hurt. When your partner is sad, who needs to assume support position? You, right?
Intuitively, you might feel you care about the people you love, but in some subconscious way, their behavior and results reflect on you and affect your life, sometimes in very significant ways.
So the intensity of our responses to various situations has to do with how likely they are to impact our life.
Should we not care, then? Should we just let our loved ones do whatever they choose and stand by idly?
Of course not. However, when we examine their actions and their choices, we must remember they are all for them, not for us. The people we care about will always prefer their own considerations to ours and that is perfectly OK. When we communicate with them, we should therefore do it from their point of view and not from ours. For example, our teen kids should not do their homework for us, they should do it for them.
In much the same way, when the people we care about do things "the wrong way" and perhaps get "the wrong results", instead of being upset with them, as if they have hurt us in some way, we should look for the best way to help them move forward and do better next time. For example, we can suggest to our teens that their "D" score in Math might have something to do with not having done their homework and offer our help to get a better score next time.
Because fighting for the way we see things usually causes the other person to defend their own position and repeat their choices "against" our "better" judgment, there is no point presenting your case. Presenting the other person's benefits from taking your advice should help greatly.
Anchors away!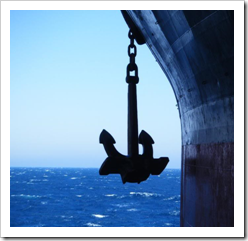 As we all know, anchors are those heavy things sailors drop in the water to stop their boat or ship. It may be tied to the vessel with a long cable, but at some stage, the anchor prevents progress and movement.
Emotionally, the very same thing happens with scenes that are repeated enough times. Initially, these scenes may be functional, but as people and circumstances change, they no longer fit. Yet, having been rehearsed so many times, the outcomes of these scenes are predictable, because we no longer think what to do or say next. We just do or say it.
The ultimate cliché example is riding a bike. At first, you need to keep the balance with your mind, but over time, your body gets the hang of it and you stop thinking about balancing yourself and just ride. Once you stop thinking about it, though, you never think about it again.
Similarly, if you come home and your son is on the computer, and you have had countless arguments with him about this, you may get instantly upset. You may start talking to him not as if this is a new situation, but as if this is an accumulation of countless situations, stacked together with the word "again".
But what if your son is using the computer for an urgent homework assignment and has worked on it diligently for the last 3 hours? What if he has not played a game or watched a video clip in days? You do not know and you do not ask. This looks familiar and therefore, it is the same to you.
This gets worse by often meeting the people we love the most when we are least attractive (first thing in the morning), most tired and stressed (at the end of a long working day) and during times of trouble (when they are sick, when we are sick and so on). Unfortunately, there are lots of opportunities for us during these times to get into unnecessary arguments and create unhealthy anchors, which we then strengthen every morning, every time we walk in the door, etc.
This is unfair, I know, but such is life.
So what can we do about it?
The first thing is always to notice and recognize what happens to us.
Do you get into fights when you are hungry? Do you argue when you are tired? Are you bugged by someone watching TV or playing on the computer? Do you feel upset when you have not brushed your teeth or done your hair and you "look like a mess"?
Your body is very clever at trying to tell you when you are about to step onto an anchor and enter a dysfunctional scene. You may get a sinking feeling in your stomach, you may suddenly feel tired, your neck may stiffen or your mouth may become dry. Whatever it is, pay attention to it and keep a clear head whatever happens next. Keep paying attention to every word being said and every feeling it arouses in you and keep asking yourself, "What is happening RIGHT NOW?"
Whenever you get the urge to bring up things from the past, this is a good sign you have an anchor. If something seems familiar, it may still be different this time around, but your anchors will blind you to any other option and drive you straight to your conditioned response, so pay attention to any references to similar events in the past and make a deliberate change.
Why not wait until you have eaten before starting to discuss things and stick to hugs and small talk in the meantime? Why not stop talking about important stuff after dinner and make a time to do it when you are refreshed – in the morning or over the weekend? How about taking a deep breath and asking the other person, "Hey, what are you watching/doing on the computer?" How about dealing with your morning self-consciousness or simply saying, "I'd like to brush my teeth and get ready first".
After noticing your miscommunication anchors for a while, it will be a good idea to take some time to notice changes in your life on a larger scale and consciously adapt your mental attitude towards the important people in your life.
When I was growing up, my parents continued to treat me in much the same way, despite the many changes in my abilities and preferences. I did my best to draw their attention to those changes, but was not happy with their response. Over time, our arguments over the same things got worse, until I preferred to live in another country to being next to them.
Today, as a parent, I sometimes stop and reflect on my communication with Ronit and the kids and align my approach with the changes I can spot – Eden getting her driver's license, Tsoof starting high school, Noff starting school or Ronit deciding to become a world-famous author. When conversations heat up, some part of me disengages and looks at the situation from the side, asking, "Hang on a minute. What's going on here?" after which I often relax and change direction.
Have a go at this and let me know what you have come up with, OK?
Happy communication,
Gal