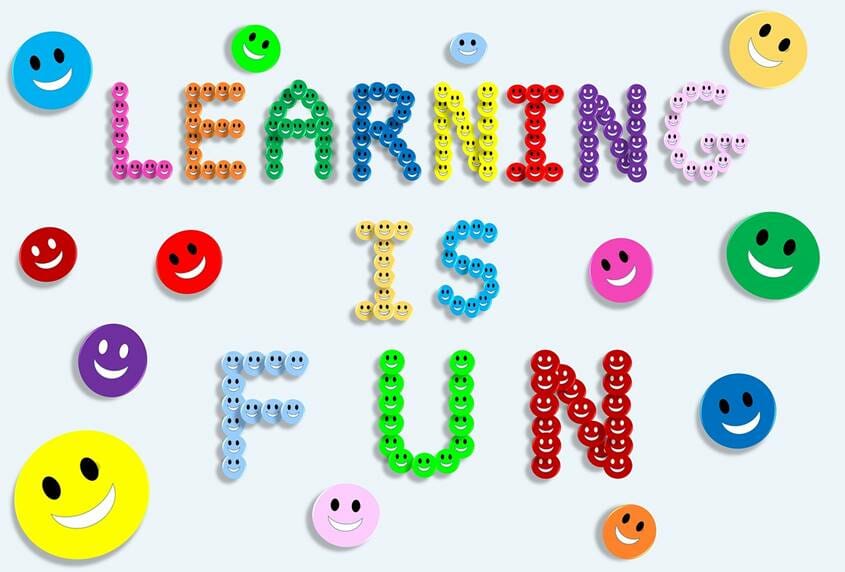 Learning takes a big part of our life. As babies, we learn all the time. I can look at my granddaughter after not seeing her for 3 days and see she's learned new things. And she has a lot of fun learning.
Later in life, we go to school to learn in a structured, controlled environment that doesn't take into consideration that the brain needs to be open to absorb new knowledge. Sadly, I think that in the format it is now, school destroys a big part of our ability to learn.
I work with many children and the system has failed to instill the love for learning in them. I also work with grownups that consider school a traumatic period of their life.
One year, I was teaching math to primary age students. We played the whole time, the kids progressed very well and waited for our lessons.
During the term, some parents told me they were concerned, because when they asked their kids what they did in math, the answer was "We play games". I had to explain to them that playing games was the most wonderful teaching tool and they could not argue with their children's success.
Years later, I met some of these parents and they told me that my work with their children also damaged their own perception. After that year, during which their kids did well at math while having fun, they were upset when the teachers in their children's classes did not consider games as a learning tool.
Play reaches the habits most needed for intellectual growth

Bruno Bettelheim
Fun improves memory
Learning is the acquisition of knowledge and requires good memory. Memory is the process of collecting, sorting, retaining, storing and recalling experiences. There are different types of memory – short-term, medium-term and long-term.
Playing games can turn experiences stored in the short-term memory into long-term memory through focused attention, associated ideas and repetition. An activity that seems to focus on enjoyment turns out to be an efficient learning experience that remains registered in young children's minds as fun.
Children in game-based learning environments have been shown to develop a positive attitude towards learning and to be more successful in their schooling.
The fun incentive
I've written a lot about the fun incentive. When learners are having fun, they absorb information better and faster, because the state they are in helps store the information effectively. When I say learners, I mean babies, children and grownups. When I teach, I play games with the students of every age, even university students.
Researchers discovered that pre-teen children who called their learning activities "play" were more successful, happier in school and more socially content at the end of adolescence than those who considered their learning activities "work". In other words, when you give your students homework, tell them they have a game to take home.
Learning in a state of flow
Kids and grownups learn from every experience when they are in a state of Flow. In his book Flow, The Psychology of Optimal Experience (1990), psychologist Mihaly Csikszentmihalyi said that Flow is a state where attention, motivation and the situation interact, resulting in a kind of productive harmony.
This means that Play is a state of flow that requires just "the right balance" of challenge and opportunity. I always say it must be the right combination of comfort and challenge. If it is too easy, too predictable or too comfortable, it becomes boring. On the other hand, if it is too hard or too new, it turns us off and we give it up.
Kids are very attuned to this fine balance. This is why they can watch a movie repeatedly and then suddenly tell you it's too childish. When the balance tips to one side, it's "game over".
The challenge in every educational plan or program is to introduce small challenges that will never tip over the balance. As teachers and parents, it's our job to keep this balance and make learning fun. Even fun activities become boring eventually and difficulty needs to increase gradually enough so the fun to help children push through.
When I run professional development for teachers, I am very surprised to hear that most of the participants didn't have a unit in their teaching degree about games. Games are great contributors to learning, because they supports memorizing of information, yet many teaching course never mention them.
I have met very creative teachers over the years who made learning a happy, wonderful game. Coming to their class was a total joy and kids went to school excited, with matching academic results.
An active class is the sound of learning
To me, the term "class action" is the buzz of working students, eagerly engaged in their group or individual activities. When a class is buzzing, this is the sound of learning.
Many people think that playing is easier to do with young children and that's true, but it is easy enough to play games with teens and even grownups.
When I was teaching a university course, I planned the whole lesson to include games. The students played by themselves, in pairs or in groups and the class was buzzing and active.
Come back next week for a list of 50 ways to make learning fun.
See you then,
Ronit
50 Ways to Make Learning Fun: Introduction