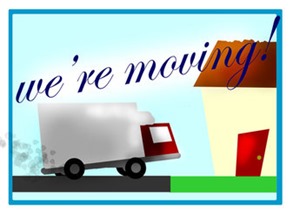 Moving house has been a big part of my life. I have already moved 25 times, sometimes to another country on the other side of the world.
My first move was when I was 15. I do not remember anything since my mom and dad were in charge of moving. In the following 2 years, we moved again twice, to a rented apartment and then to a house, in which I lived for another 5 years.
From the 4th house to the 25th, in which I live today, I moved as a grownup. Some of the moves were as a student and in others I was already a parent. During one move, I was pregnant. Some house moving was to a different countries and even continent. I guess you can say I am a very experienced mover.
Many people ask me "What's your moving secret? How did move so many times, and so successfully?" The answer is this:
I focus on the emotional side of the move. If that is sorted, the rest will be easy
Over the years, I have collected many moving tips to help myself and my family make it easy to move. After all, every move is an opportunity for growth. It takes us out of our comfort zone to a strange place, which we later make our own. Gradually, our comfort zone grows so much that we feel more "in the zone" everywhere we go.
In the coming weeks, I will share with you some of my top moving tips. The list includes some emotional tips and some technical ones. I hope you will make the best of it.
Before Moving, Lighten the Load
Every move is a fantastic opportunity to get rid of unnecessary things and allow yourself to start fresh. Go over the items in the house and sort out your belongings.
Sell the things that are in good condition. Give away things you may not need. Schedule a garage sale. Dispose of things you do not need. Let them go! They clear the space for new energy.
Put items in storage if you want to keep them, but do not need them immediately. Just make sure to write a full list of the contents of each storage box.
You can always give things to charity, friends and family. No need to throw them away. Items in good condition can have a new home too and being kind to someone else is a great way to feel good about yourself.
By the way, if you do this once a year, you will feel as if you have moved to a new house, without actually moving.
Join me next time for some packing tips for moving.
Happy moving,
Ronit
Moving House Made Easy: Spring Cleaning