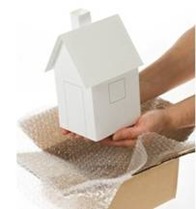 Now that your are done with cleaning, today's tip is about packing. Packing your house is one of the things that make moving so hard. After moving house more than 25 times, I have collected a few tips to make packing a little bit easier.
How to make house packing easy
Make a packing schedule. If you think it won't take too long, you are probably wrong. Yes, it is possible to pack an entire house in 3 days, but you will regret it when you get to the unpacking end. Leave one week at the end for the small things. They take the most time.
Start your packing from the garage, basement, or attic – the places that you don't use as often. That way, when you move into your new house, you won't have to open these boxes. They can stay closed until you need them. Note: make sure to leave a tool box, ropes, tape, fixing and packaging material handy.
If you are packing by yourself, try to use same sized boxes. This will make for easy storage. Make sure not to pick boxes that are too big. They tend to bend once stacked. Some removal companies provide you with boxes which they come to collect when you finish unpacking. Most of them do not charge extra for it and it saves you the hassle of getting rid of the boxes once you finish unpacking.
Write the contents of each box on 5 sides (all 4 sides and the top). Do not give yourself discounts. It saves lots of hassle when you unpack. You can see what is inside each box, no matter which way they are stacked.
Make a decision about whether to write the name of the room you took the item from, or the room the item is going into and stick to it throughout the packing. For example: Zac's bedroom, closet, toys, master bedroom. Writing which room the items came from makes it easier for you but if you write where the items are going, the removal company can distribute the boxes straight into the right room (saves you lugging boxes up stairs and through corridors).
Do not be tempted to pack things from different rooms in the same box just to fill up the box. It becomes very complicated when unpacking.
Clean and fix things before you pack them. You think, "I will do it after the move" but you probably won't. Most importantly, wash the blankets before you pack them. When the house is an unpacking mess, having to do tons of laundry is not fun at all.
Pick padding for fragile objects, like bubble wrap, paper, fabric. I personally liked padding them with clothes. Make sure to write "Fragile" on things that are at risk of breaking. You can buy colored tape with the sign "Fragile" to make it easy.
Keep all the bolts, screws and brackets from disassembled beds, cabinets and other furniture in clear, labeled Ziploc bags. Tape each Ziploc bag to a larger part of the item it belongs to.
Join me next week for the next tip about telling the kids about the move.
Easy moving,
Ronit
Moving House Made Easy: Packing