My eldest daughter Eden wanted a body piercing in her belly button when she as 15. She was already in 11th Grade and some of her friends had them. When she said that it would be beautiful, I could not disagree. It would be beautiful, but the thought of her damaging her body was very unattractive to me.
At first, I felt a bit hypocritical. I had my ears pierced when I was young. In my neighborhood, kids had their ears pierced when they were one to two years old. I was "old" (6 or 7) and did it at my neighbor's house. At the time, it was not a choice but a social obligation. Back then, this defined me as a girl.
I got my second piercing when I was 21. This was my choice. It was a compromise, because having seven earrings in one ear was the norm at the time. Still, I did it due to peer pressure. It was accepted, it was common, it was cool and it was pretty.
How could I blame my daughter for wanting to do the same 25 years later?
Lucky me, I could use the law to my advantage. The law claims that body piercing of children can happen only with written consent from their parents, so I told Eden that when she turned 18, she could do whatever she wanted, but until then, I would not give anyone permission to hurt her body.
Not all parents were so lucky!
A body piercing tale
My friend Tina found out that although she holds full responsibility for her 12-year-old daughter Morgan, the law does not protect her rights as a mother.
Morgan is just another teenage girl who loves music and goes to the most strict school in town (only because it has one of the best music programs in town). When I say strict, I mean as strict as can be. The hair must be a certain length and one kid who participated in "Shave for a cure" (which is a charity event to help cancer survivor) had to stay at home until his hair grew back, and even media exposure could do no nothing to force the school to take him back. The length of the hair ribbons for girls must be the same for everyone and the teachers measure it randomly. The hair must be tied back and they are very strict about the length of the socks…
One day, when Tina dropped Morgan and her younger brother Luke at the mall to watch a movie, the kids took a bus to the city and went to a body piercing shop. Morgan pierced her ears and installed a huge metal bar from the top to the bottom of her ears. The whole operation took a lot of energy, because Morgan had to bribe her brother not to tell and for two weeks, she covered her ears with her long curly hair.
At school, she had to sneak into the toilet in the morning, tie her hair back and put huge band aids on her ears, because those were the school requirements. At the end of the day, she covered her ears with her hair again, so that her mom and dad would not notice.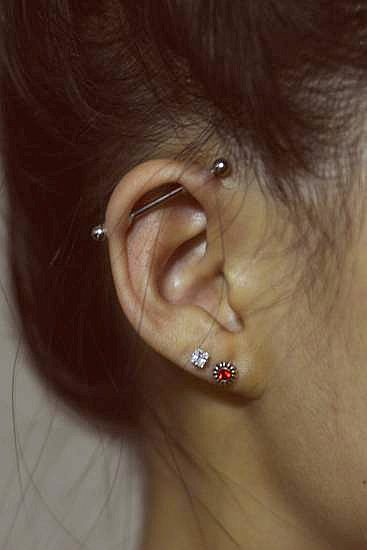 Tina would not have noticed that something was wrong unless Morgan's ear developed an infection. One day, she came to her mother crying and said, "Mom, I did something you will not like", and without another word, she lifted the hair and showed her Tina an infected ear with a huge metal bar screwed from the top to the bottom. It looked like she had made holes with a screwdriver. Morgan's problem was that she could not take it out, because it was too infected, and it took her a while to realize she needed to get her mom's help.
Tina was furious and when she told her husband that evening, he lost it. A visit to the doctor discovered she needed to take antibiotics and wait for a week until the doctor could perform a small operation to take the metal bar out.
The morning after, Morgan's dad went to the piercing shop at the mall, ready to kill the lady in the shop. The nice lady told him his daughter never did it at their shop and they only did piercings with a driver's license.
After finding the shop in the city where his daughter got her piercing, Morgan's dad paid them a visit. When he asked them if they conducted the piercing on his daughter, they checked their details and said, "Yes, we did".
"Do you know how old she is?" Morgan's dad asked.
"We don't care", the owner of the shop said.
"What do you mean you don't care? She's minor. She's only 12 years old!"
"If she can climb the stairs to our shop and pay, we will do anything she asks", he said.
"What if a 6-year-old walked in here?" Morgan's dad asked.
"If she can pay, we pierce".
"What if she asked you to pierce her nipples or tongue?"
"No problem!" said the man.
"Do you know her ears were infected and she needed medication and surgery?"
"We do not take any responsibility. She signed that we do not take any responsibility", the owner said confidently.
"But she is minor, so her signature means nothing", Morgan's dad said, "What about the law that requires written consent?"
"Kids can bring any letter they write on their own. We don't have any way of checking if it's genuine, so we don't bother".
Morgan's dad felt helpless. Morgan had a saga with her piercing for over six months after the infection. It was so traumatic that it scared her ears.
When Tina told me about it, I felt helpless and scared to discover that theoretically, any child, at any age, can go to a shop and there will always be shops that will pierce their bodies, as long as they pay.
Harmless alternatives
My youngest daughter Noff is not into body piercing. She is more into drawing all over her body. Fortunately, she needs variety so much that tattoos are too permanent for her and there is not enough body to draw them on. So, we encourage her to do as much body art as she likes. You can see some of her beautiful artistic expression.
Her teachers are not as accepting of this and I wish they were. As parents, and as a society, we should encourage our kids and teens to express themselves in harmless ways, like body art. This will give them alternatives to body piercing and tattoos they will regret later in life.
The law needs to change
I am very concerned that the law is too easy on tattoo and body piercing shops. Creating a law with loopholes that no one can check is useless. If children are not responsible by law, how can they sign a waiver that they take responsibility for their own actions?
Sadly, I know of young people who pierced their tongues, which ended really badly for them and I would not want this to happen to my children, or anyone else's.
Eden is now 27 years old. She never got that belly button piercing. Sometimes, just waiting a couple of years and/or changing their social group can change kids' mind. As soon as she left school (at the age of 16) and went into the workforce, and later to higher education, the idea of body piercing was not as attractive anymore.
This is a big deal, because teens do not know what they will think in 5 or 10 years and because they are still kids, so they are not responsible enough. In my opinion, much like drinking or smoking, piercing needs to be allowed from the age of 18. No consent form. No confusion. No loopholes.
Have your say on this matter when you have a chance!
Happy day,
Ronit