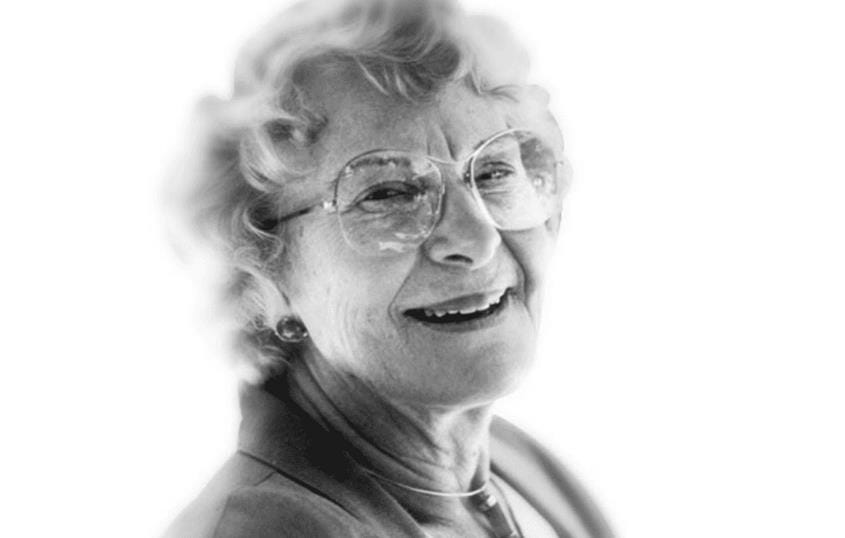 The family quotes below were written by Virginia Satir, the mother of Family Therapy. I appreciate her and have learned a lot from her over the years, and some of her best quotes hang where I can read them again and again.
Virginia Satir's quotes about family and her philosophy about family relationships have become a great compass for me. I would like to share them with you and inspire you to consider and adopt her ideas about family.
One of the reasons I enjoyed Virginia Satir's work was that she started as an educator, and so did I. I have a soft spot for people who are educators as, because I think their spin on their work is different and more effective.
As a psychotherapist, Virginia Satir came to the conclusion that it is best to treat the patient's whole family. Her philosophy in the 40's was very new, claimed that often, people's problems come from their original family. She believed that many mental challenges are, in fact, ways to cope with the pain of negative family experiences during childhood.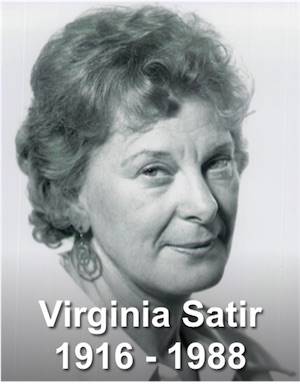 She worked during a period that considered people as healthy or sick and treated sickness, rather than promoting health. In that environment, Virginia Satir's strategies were unusually holistic.
She thought that addressing the patient's challenge was like treating the symptoms of an illness, not the problem itself. She claimed we could heal the world, if we focused on healing the family.
Her universal mantra was: Peace within, peace between, peace among.
Lots of Satir's work relates to families and self-worth. She encouraged her clients to mediate, used breathing techniques and visualization of positive outcomes, and believed in positive affirmations.
She might not be the first person to promote these strategies, but she was a pioneer in the way she brought those ideas into homes, to moms, dads and children.
When I studied special education, our motto was that children are like flowers. If they suffer, we don't treat the flower, but its surroundings – the ground, the sun, the air and the water – and bring them into balance. Every child needs these things, and without them, he or she will not grow to be a healthy, beautiful flower.
Virginia Satir believed in the same thing.
Virgina Satir's Family Quotes
Here are some of her best family quotes. I hope you will find as much encouragement in them as I have, and they will inspire you to view people's challenges in a different way.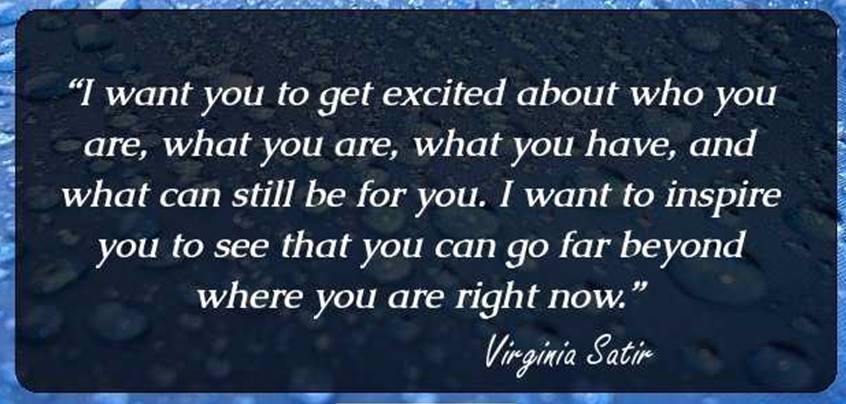 Feelings of worth can flourish only in an atmosphere where individual differences are appreciated, mistakes are tolerated, communication is open, and rules are flexible — the kind of atmosphere that is found in a nurturing family.

Virginia Satir
Every word, facial expression, gesture, or action on the part of a parent gives the child some message about self-worth. It is sad that so many parents don't realize what messages they are sending.

Virginia Satir
Families and societies are small and large versions of one another. Both are made up of people who have to work together, whose destinies are tied up with one another. Each features the components of a relationship: leaders perform roles relative to the led, the young to the old, and male to female; and each is involved with the process of decision-making, use of authority, and the seeking of common goals.

Virginia Satir
It is now clear to me that the family is a microcosm of the world. To understand the world, we can study the family: issues such as power, intimacy, autonomy, trust, and communication skills are vital parts underlying how we live in the world. To change the world is to change the family.

Virginia Satir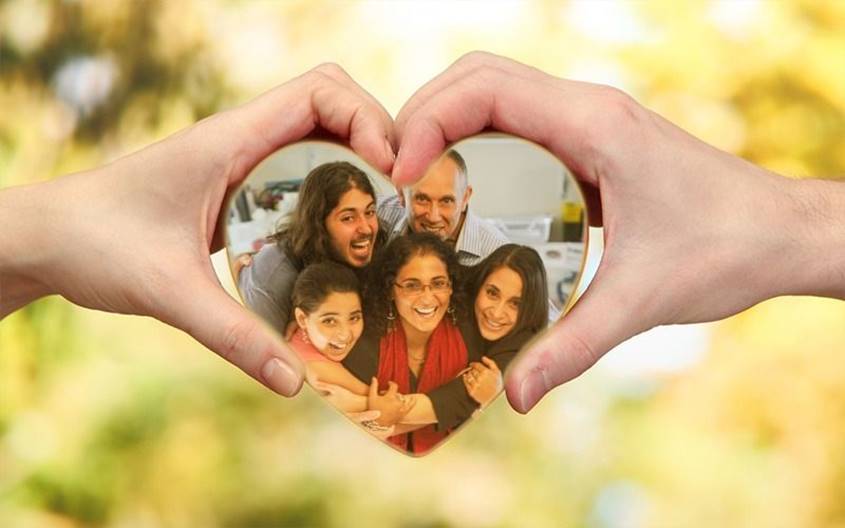 I regard parenting as the hardest, most complicated, anxiety-ridden, sweat-and-blood-producing job in the world. Succeeding requires the ultimate in patience, common sense, commitment, humor, tact, love, wisdom, awareness, and knowledge.

At the same time, it holds the possibility for the most rewarding, joyous experience of a lifetime, namely, that of being successful guides to a new and unique human being.

Virginia Satir
Parents teach in the toughest school in the world – The School for Making People. You are the board of education, the principal, the classroom teacher, and the janitor.

Virginia Satir
Put together all the existing families and you have society. It is as simple as that. Whatever kind of training took place in the individual family will be reflected in the kind of society that these families create.

Virginia Satir
It's sad that children cannot know their parents when they were younger; when they were loving, courting, and being nice to one another. By the time children are old enough to observe, the romance has all too often faded or gone underground.

Virginia Satir
We need 4 hugs a day for survival. We need 8 hugs a day for maintenance. We need 12 hugs a day for growth.

Virginia Satir
There are five freedoms:

The freedom to see and hear what is;

The freedom to say what you feel and think;

The freedom to feel what you actually feel;

The freedom to ask for what you want;

The freedom to take risks on your own behalf.

Virginia Satir
We must not allow other people's limited perceptions to define us.

Virginia Satir
The Problem is never the problem! It is only a symptom of something much deeper.

Virginia Satir
The symbol in Chinese for crisis is made up of two ideographs: one means danger, the other means opportunity. This symbol is a reminder that we can choose to turn a crisis into an opportunity or into a negative experience.

Virginia Satir
Many people are living in an emotional jail without realizing it.

Virginia Satir
Our biggest problem as human beings is not knowing that we don't know.

Virginia Satir
Adolescents are not monsters. They are just people trying to learn how to make it among the adults in the world, who are probably not so sure themselves.

Virginia Satir
I hope you've enjoyed these Virginia Satir quotes. She's inspired me to do what I believe is right for families. I hope she's inspired you too.
Family matters!
Ronit