Up to 6 years ago, Gal was the person who worked outside of home while I stayed home with the kids. Being around kids has been a great joy for me. I think it allowed me to borrow some strength from my work and use it at home and vice versa. When I need an idea of what to do with the kids, I only need a couple of seconds and I can come up with heaps of ideas. Usually, the parent who stays at home with the kids is the one with most of the ideas. They have the task of spending time with the kids, taking care of them. It makes them very creative, flexible and preferably efficient.
One of my clients complained that her husband had to spend one evening with the kids, while she had to go studying, and that she was very stressed about it. Her husband said he had no idea what to do with them. When she gave him some entertainment suggestions he said, "No, I want to do something with them that will be meaningful". This made me think that some parents do not understand that for kids, everything can be meaningful if it is in the form of play.
Play reaches the habits most needed for intellectual growth
– Bruno Bettelheim
Tip #1 – The fun incentive
The first tip I have for you is to present everything you do with kids as a game. Over the last 4 years, I have worked with 20,000 students from grades 4 to 12 and the first question we ask the kids in our presentation is, "Would you like to play a game?". I play games with my university students and the impact of it is magical. Researchers discovered that pre-teen children who called their learning activities "play" were more successful, happier in school and more socially content at the end of adolescence than those who considered their learning activities "work".
Tip #2 – Motivation is internal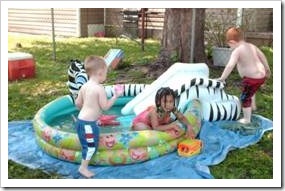 The second tip is to make sure the activity is not presented as punishment or as a way to please others. Even not, "Let's do it before dad comes so he won't be angry". Or "Let's do it because mum left me clear instruction for us to do it". Kids need to want to do things and if you were not able to turn on their internal motivation, never, never try using external motivation because it will have the opposite effect (it will be demotivating).
Tip # 3 – Learning requires a state of flow
Kids learn from every experience that is in a state of flow. Psychologist Mihaly Csikszentmihalyi in his book "Flow, The Psychology of Optimal Experience" (1990) said that flow is a state where attention, motivation and the situation interact, resulting in a kind of productive harmony, which means Play is a state of flow that requires just "the right balance" of challenge and opportunity. I always say it must be the right combination of comfort and challenge. If it is too easy, too predictable, too comfortable, if it is boring, if it is too hard, too new, it turns us off and we give it up.
Kids are very attuned to this fine balance. This is why they can watch a movie repeatedly before they suddenly tell you it is too childish. When the balance tips to one side, they seek to balance it.
The success in every educational plan or program is to introduce small challenges that will never, ever tip over the balance.
After my talk with this client, I had a discussion in my parenting workshop about what we can do with kids that will teach them something but won't be boring. I have decided to make a list of ideas to do with kids. Remember, it needs to be fun, it needs to have internal motivation and be in a state of flow.
I hope this list will be great help for parents who are sometimes stuck for ideas.
Fun Activities for Kids
Blow bubbles
Blow candles
Play cotton ball soccer with strews on a dining table.
Whistle
Blink with one eye
Sprout seeds
Plant seed in the garden patch
Bounce a ball
Throw a ball into a ring(or a bucket)
Throw a ball to a wall and catch it
Tie shoe laces
Make a plait from thread, paper, dough
Make creatures from Plasticine (with younger kids just focus on making simpler things like a sun, a flower, a person)
Bake a cake
Decorate your cake. If it is too hard to make icing, buy icing in a tube that only requires squeezing
Crack an egg
Play with shaving cream in the shower
Play with toothpaste on the shower walls
Teach them to tie a necktie
Play paper scissors rock
Play a guessing game (21 questions, 4 clues and 4 attempts to guess)
Do push ups
Do sit ups
Jump rope
Gallop (pretend to be a horse – "horse around")
Ride a bicycle
Throw a Frisbee
Do cartwheels
Play with a hoola hoop
Juggle with three balls
Play hopscotch
Throw a rubber band as far as you can
Make your own bow and arrow
Hit a baseball (or any other ball)
Hop (on one leg)
Play with marbles
Walk on beams (if you don't have some walk on the sidewalk as a beam)
Make a mini golf course at home with furniture
Face painting
Paint nails (regardless of the gender). If the kids are not allowed at school, you can paint toe nails
Dive into a pool
Swim
Stand up in the pool
Hold your breath in water for as long as you can
Go to the library
Experiment with floating toys in the bath (suggestion: add food colors to the water from time to time to make it more interesting. 1 drop of food coloring will change the color of the water but will not affect the skin)
Teach them cool ways to fold napkins (Eden and I bought a book in Thailand about origami and it is so much fun)
Have a picnic outside on the lawn
Play with a water hose. If you have a sloping lawn, put down a tarp with water and soap to turn it into a water slide
Teach kids to take photos
Teach kids to count in another language (and say hello and thank you)
Play discovery games using the globe. Spin and point to a county. Ask the kids to say which country it is or to name a neighboring country
Teach them to send a post card to someone and how the post office works
Fold origami
Bake bread
Make a dip (you could even cut up some vegetable sticks and eat it!)
Eat without using cutlery (use only your fingers)
Eat in the dark
Shower in the dark
Play hide and seek in the house when it is dark (I had hours of entertainments with my siblings doing this. There is so much light coming in from outside)
Build a bird feeder
Make a treasure box from shoe boxes
Make a hat from magazines
Make a collage of things they want to achieve
Play with finger paint
Make play dough at home (make sure you keep it in the refrigerator and make it colorful. Add some oil before you put it in a container in the fridge)
Paint on canvas with acrylic paint (it is not too messy and not very expensive)
Search for small insects in nature
Blow on dandelions
Make a crown out of flowers
Whistle with a blade of grass
Invent a family hand shake
Eat with chopsticks (this is good for the development of fine motor skills)
Talk in Gibberish for a day, it helps kids notice how much information passes without words
Use a hammer
Drill with a real drill
Cut wood with a saw
Play a card game
Play chess
Teach them to shuffle cards like in Vegas
Teach them to snap their fingers
Beat box into a microphone
Sing karaoke
Dance as a family to fun upbeat music
Do Jigsaw puzzles as a family together (if you do it on a piece of cloth, you can always roll it up and put it away for easy storage until the next time you want to continue)
Tell a joke
Play family story telling together. One starts a story, after 30 seconds another person continues
Teach them to do crossword puzzles
Do word searches
Solve Sudoku puzzles (with young kids, I take the solutions at the end and erase some of the digits, copy it out and give it to them. Gradually, I erase more and more digits from it)
Make milkshakes – experiment with different fruits and flavors
Play spelling games
Make shadow shapes with flash lights
Make each other's silhouettes with a big pieces of paper
Make your own gifts
Make your own cards
Wrap presents nicely
Have a thumb war
Do some hand wrestling
Make 3D shapes and letters
Learn a magic trick
Give a "random act of kindness"
Watch a movie together
Make a movie together
Make a stop-animation movie (take single shots and put them together on video maker)
Make jewelry together
Have a computer game competition on two computers when both of you start at the same time
Make food decorations
Try chewing 18 times before swallowing your food
Skip a pebble across the water (try as many skips as possible)
Search for shapes in the clouds
Find constellations in the stars during a clear night
Make sand castles (generally, sand is a very cheap and easy way to teach sculpturing, have fun!)
Make a campfire
Build a tent from fabric and thread (using pebbles and nature)
Make a bubble with a piece of gum
Tell the time on an analogue clock
Wash the car together
Make flower arrangements
Learn to make different kinds of knots (very useful)
Play with a yo-yo
Make up the alphabet by taking photos of each letter from different places you see in your neighborhood. E.g. the sign for the grocery store, street signs, etc. Find different fonts, sizes, shapes and formats and make up an alphabet chart.
Tie dye a shirt
Make a water spitting competition
Build a piggy bank
Have a BBQ
Play in the mud (it's dirty but totally fun)
Play with flour in the bath tub (no water). It is hilarious and you can always wash it
Do imaginary interviews. Ask them to imagine being someone and interview him/her. You can pretend to be someone as well and allow your kid to interview you
Do orienteering and teach them to use a compass
Play a musical instrument
Make simple and easy musical instruments
Teach them to use a sewing machine. Again, regardless of gender, kids can make their own pillows. All my kids had an opportunity to make their own pajamas
Fly a kite
Have a pillow fight
Blow up some balloons
Make funny noises when taking out the air from a balloon
Have a water balloon fight
Play catch with water balloons
Practice some tongue twisters
Find acronyms for the names of every member of the family
Sing songs and pronounce each word using only one vowel ("I like to oot ooples and boonoonoos")
Sing songs in different accents
Play heads or tails
Play grocery store
Play with makeup (again, regardless of gender)
Play "If I could do anything I wanted, I would…"
Play "If I had all the money in the world, I would…"
Make music using glasses filled with water by rubbing a wet finger on the edge of the glass
Play silence. Who can keep quite the longest
Go berry picking
Write a letter to your younger self. Send your younger self support, encouragement and insight to help him/her deal with a challenge in the past
Make a pasta necklace
Make decorations with modeling ice
Play with chalk on the side walk or on the street in a safe place
Go on a treasure hunt
Make a bridge out of straws
Have a small boat competition down the stream of a river (you can make the boats out of paper)
Play Simon says
Make a time capsule and hide it somewhere
Make a sand or salt jar. You can use any sort of powdered paint or powdered food color. Mix it with sand, sugar or salt. This will give it a color. Pour it into bottles. You can even use glue and paper to create other sand/salt/sugar art pieces
Play in the rain
Jump into puddles
Play bowling in the house
Paint on rocks
Press flowers/leaves into the middle of big, heavy books. If you are worried about your book, put a tissue either side of the flower/leaf to protect the paper
Invent a family secret language
Have a cleaning/organizing competition. We used to travel a lot and we would often get home after a day/two days/a week trip. Everyone would be totally exhausted and would fall asleep in the car. We used to have a competition with ourselves to check how long it would take us to put everything back in place. The great thing is we got faster and faster at it
Throw imaginary tea parties
Play with popcorn. Teach them to make popcorn in the microwave, which is easy and not so risky. Use the popped corn as a ball to throw to a target (or even into your mouth)
Make paper cutouts (like snowflakes)
Have a family talent show
Make a sundial
Make a gingerbread house
Make a house made of sweets. This is great fun. Eden had to do this as a project once
Play "Things I like about myself/my siblings/parents/teachers/friends…"
Make a wish list for their birthday/New Year (things they would like to achieve in the next year)
Make a play house
Make your own comic book
Make banana chocolate Popsicle (freeze banana on a Popsicle stick, drizzle chocolate)
Make your own pizza on a piece of bread or pita bread
Play with Lego
Watch albums together
Make inspirational writing cards to hang around the hose
Play recognizing car models while driving
Make each other laugh (do the family laughter therapy (Laughing for no reason)
Play ping pong on the dining table (no need for a net)
Draw sentences on each other's back and try to recognize it
Play musical chairs
Pick a family song
Play volleyball with a balloon (it helps if you are on your knees so the height differences are not so big)
Play pass the parcel
Have an egg & Spoon race
Make paper-mache art
Bake marshmallow on top of a candle
Make slime (you can even make it glow in the dark)
Make paper planes and have a flying competition
Melt crayons
Candle making
Reading marathon
There are a lot more activities but I am sure this will give you some ideas. Print out this list, so that next time you are stuck, you will find something to do straight away.
If you are adventurous, let the kids choose 3 things out of the list and you get to pick one. Or you can choose 3 and get them to pick one, this way everyone is happy.
Have fun!
Ronit