Life seems to be stressful and overwhelming to most people. The more we are on "automatic pilot", the more we feel out of control. When people are stressed, they think life is very complicated, so it is easy to see that if you simplify your life, you can reduce stress and overwhelm.
All around the world, stress is increasing. It affects mental and physical health, with severe challenges to cognitive abilities, behavior, sleep, academic achievement and health. Some say it is the number one cause of illness and death in our society. Unfortunately, the magnitude of stress is increasing as our lifestyle is not simple and more and more children are affected by it, directly or indirectly.
The Catch 22 of stress
The Australian Psychological Society 2014 Stress & Wellbeing Survey found that the main causes of stress are finances, health, family, the desire to be healthy and the health of loved ones. You can see the results in this infographic, which shows how the Australian society reacts to stress.
When you see the causes of stress, you can realize how we create a loop, a Catch 22, in our mind, which leads to stress. For example, financial problems causes stress and stress causes more financial problems. It is a never-ending cycle, which we must stop.
Stress is reduced by age, by education and by employment. It reaches its lowest point with retirement. Single parents have more stress than single, and those living with a partner have the lowest stress. So age, employment and partners add to our emotional smarts and increase our wellbeing. Ideally, we want to be married, well educated and retired :)
The sad bit is that 51% of people under significant stress do not seek help and continue the cycle of stress that feeds itself.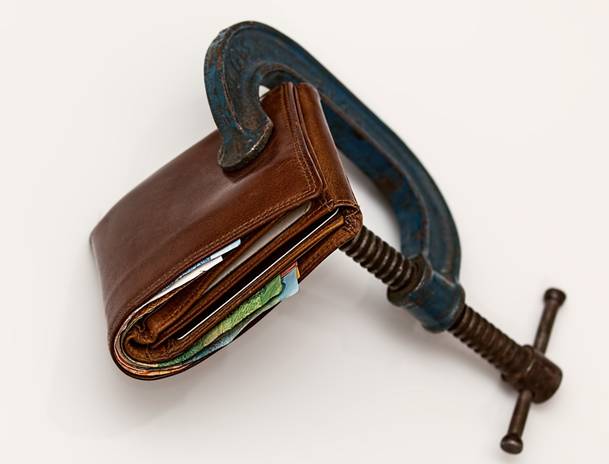 20 Tips to Simplify Your Life
I know that being a parent is not simple, because we expect ourselves to be Superman and Superwomen when something's gotta to give. In this blog, you can find some family tips to simplify your life. There are 23 posts there, so just read them all to find handy tips that will help you simplify your life and make it a lot less stressful.
Since there is a 51% change you will not seek help for your stress, here are 20 quick tips for a simple lifestyle:
If you spend too much time on what to wear in the morning, get 5 outfits and mark them with the day of the week you want to wear them. This will take the stress out of choosing in the morning. Alternatively, choose your clothes in the evening, when you have more time.
When changing your wardrobe for a new season, donate clothes you did not wear during the last season. If you have doubt, put them in a "maybe" area of your closet and if you still do not wear or a whole season, give them away. If you wear something from your "maybe" area, move it back to your main area.
If making decision about what to eat is your issue, make a list of meal ideas and put it where you can find it when you have no ideas. Simply go to your list and pick the one that is most attractive to you at the time.
Put your mobile phone on silent from time to time, so you do not hear it beeping. This prevents the disease called Beepilepsy, which is appearing to have an epileptic fit when our phone beeps…
If you are bored easily (or your kids are), make a list of activities and fun things to do when you have no idea what to do. When you are stuck, go to your list, pick one item and just do it. No excuses!
Declare a "no electronics during dinnertime" policy.
If emails take too much of your time, answer in short sentences. If you cannot answer immediately, create a follow up reminder, so the email will not disappear and you can let it go and relax.
Have a "read later" folder, where you store emails from friends, family and other non-urgent sources. Once a week, spend some time watching videos and looking at emails that you could not open before.
If someone asks you to do something and you feel overwhelmed, say simply, "Give me time to think about it", "I will get back to you about this", or, " Let me check my timetable". This will give you time to think things through away from the pressure.
Make sure you have time for rest in your schedule. Have an unplanned evening every week and use it as a buffer (you can do the same with an unplanned "spare" hour every day).
When buying something new, take two things out of the house. This will make sure you do not create clutter. A cluttered house and a cluttered workspace create clutter in the head.
Schedule some "de-cluttering time" every day. It can be as little as 20 minutes when you focus only on sorting, putting back and throwing away. Think of it like going to pee. Can you go for a whole day without going to the toilet? No! De-cluttering works the same. It clears toxicity out of your life. You should do it at home and at work, because when it is done regularly, the overwhelm does not build up.
Be goal-oriented and do not focus on too many goals at once. Goals help you set your priorities, so pick the 3 most important things for you and let the rest wait for the next round.
Be task-list oriented. Make a to-do list every day and work use it to take action. Nothing helps you relax like ticking a completed task off your list.
Start the day with something fun, happy, fulfilling and joyful. Why? Because it sets you up for a fun, happy, fulfilling and joyful day. Avoid fighting, avoid serious talks and postpone serious decision-making in the morning. Let your systems get used to the day gradually.
Whenever you feel stressed, stay away from TV, computer and news for a week. TV programs are there to stress you out so you want to buy something, and most of social media is sarcasm and nit picking. Take a break from them and relax.
Whenever your kids ask for something big, tell them to sleep on it for a week. If they come back to you after a week and still want it, consider it. Some of their requests will simply disappear this way without effort.
If you are stressed or overwhelmed, limit your coffee, tea and energy drink intake. Many people mistake green tea for "herbal", but it is actually twice as strong as black tea. Also, read the labels of those lovely tea blends, as they may contain tea.
Take a shopping list to the supermarket and only buy things from the list. If you go to the supermarket and find out you forgot to write something, do not buy it. This way, you force yourself to shop mindfully, rather than being an impulsive shopper and then beating yourself up over it.
Try these tips and you will be able to simplify your life and overcome stress. If the tips here are too much for you, get help. You can talk to a family member or a friend, you can read an inspiring self-help book or find a therapist.
If life coaching is attractive to you, check out my program on Be Happy in LIFE.
Be happy,
Ronit