Recently, our daughter Noff celebrated her 12th birthday. When the kids were little, we decided that we would celebrate their birthdays every year, with as many kids as possible. Often, we extended the celebration over a month. We think our kids are such a gift that one day of partying to celebrate their births is just not enough.
Every year, we invite kids over to our house. We prefer celebrating at home to the MacDonald's parties. We have found that at MacDonald's, the birthday boy or girl is usually anonymous. Everyone is mostly there for the ice-cream cake. We want our kids to feel special and make a huge effort to make their parties fun and happy. Everyone in the family helps and each year we try to do something different and age appropriate. Our parties have become such a hit that the kids are excited to come every year.
This year, Noff invited 13 girls (she is at the "boys have cooties" stage). After much deliberation and exclusion of our ideas from previous years (crazy hair party, fashion party, slumber party, make up party) Noff suggested we do a "Ready, Steady, Bake!" party. In previous yes, we tried to play lots of games so the kids could win sweets to put in their goodie bag. They take the bags home at the end, with a challenge to see whose bag can last the longest, and the recommendation to share with siblings. This year, we thought we would make aprons for them to take home instead of sweets. We figured cupcakes, cookies and lots of sugar and food coloring was quite enough junk food for the day. In between baking and decorating, the girls went to play with some nail polish under Eden's watchful eye.
The day after the party, we had a discussion about how lucky Noff is. Noff's party highlighted many things she can appreciate and be grateful for, and things we can be proud that we have changed from our own childhoods.
Half of the girls at the party had been friends with Noff since before first grade. The other half were girls she met in the last two or three years. There was even one brand new friend in the mix.
Birthday party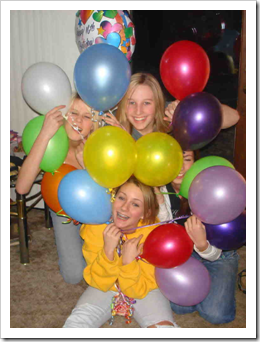 We encourage Noff to have two parties every year: one birthday party and one other party every year, just for the fun of it. Meanwhile, some of the girls she invites have never had a birthday party, some are only allowed to invite two friends and one take turns with her siblings such that she only has a party once every three years. I myself never had a party as a kid. My first party was at the age of 17 when Gal (my now-husband) came back from an exchange year overseas and I threw him a party at my house. It was my first and last party.
One of the things I realized about parties is that kids who have parties at home are more popular. It was like that when I was a kid and it is the same now. It was common for kids to have birthday parties when I was young, but the popular kids were those who had other parties too (New Year's Eve, Holiday, End of year… any excuse will do). I wanted to make sure my kids did not miss out on parties and friends, so I came up with the idea to have a birthday party and a fun party every year.
Go to other's parties
Noff is allowed (and is in fact encouraged) to go to any party she is invited to. Unfortunately, many of the girls she invited had to do extra chores to be allowed to come. I myself was not a very popular kid and was not allowed to go to all the parties I was invited to. My parents often used it as a way to punish me for my behavior. Sadly, it did not make me behave differently. It just made me isolated and unpopular. Learning from experience, we decided to make every effort so that our kids could attend parties. The family timetable is flexible and we want to ensure they have a social life.
No sweets allowed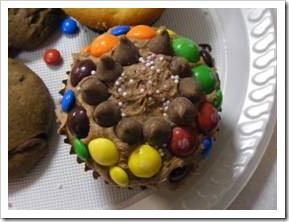 For Noff, parties are an opportunity to eat sweets and junk food. We keep a healthy diet throughout the year, and this is her opportunity to really go crazy with the sweets. Some of the girls her "Read, Steady, Bake!" party ate cupcakes as if they had never eaten sweets in their lives. I was a bit shocked until I realized they looked just like me when I was their age. I grew up in a very poor family and we did not have ice cream, hard cheeses or tropical fruits at home. These things were expensive. Not having these things only made me crave them more. I imagine I looked exactly the same as these girls when I went to someone else's party who served ice cream.
We are very health conscious and most of our diet consists of a lot of fruits and vegetables. But parties are for going outside the norm, for having fun with things that are not regular. We think this is the best way to get over cravings for sugary things. By the end of the party, they had eaten so many sweets that when we offered them more cupcakes, they all said "No, thank you".
Nail polish
Another thing that stood out to us at the party was the nail polish. Noff has her own box full of nail polish. She can put it on whenever she wants, as long as she follows the rules at school and takes it off during school days. About 4 of the girls at the party said they were not allowed to put nail polish on.
When I was young, my school did not allow nail polish either. I hated it. I remember the first time I did it and the shame and guilt that I felt. My mum was so angry with me, I wanted to die. It took me a long time to get over her anger and disappointment and realize it is not permanent, it can be cleaned in 2 minutes. When I was 17, a friend came over to my house to play with my nail polish. I had about 4 different colors. She used to put on all the colors, leave them on for one hour and take them off before she went back home. Her parents did not allow her to use nail polish. When she came over, she said her dad did not even allow her mum to put make-up on.
These days, I hardly use nail polish, but I made a conscious choice never to make my kids feel guilty for doing things that are reversible. When I was young, my mum had a saying when a haircut did not turn out right: "it will grow back, it is not like I chopped off your hand or leg". Ever since Noff was two years old, she would ask for us to help her put nail polish on. If she was at school, I would put some on her toe nails so she would not get into trouble. I just make sure I buy the non-acetone base nail polish remover to minimize the risk. Noff is a very artistic girl and she treats her nail polish as a form of art. For her birthday party, she learned how to draw cup cakes on nails to match the theme of the party.
I was born at a different time to Noff, and I cannot blame my parents for what they did. That was just what people did back then. But if I could not forgive myself if I blindly treated my daughter the way I hated my parents treating me.
During our gratitude session, we found out Noff was lucky in many other ways as well. We also realized that that we were pretty lucky too!
Treat your kids the way you wish your parents had treated you. Be the parent you wish you had.
Happy parenting,
Ronit