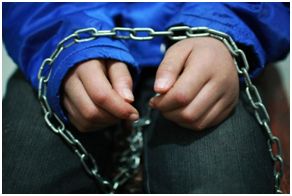 One of the biggest dilemmas in parenting is how to teach your kids to respond to authority. Should you teach them obedience?
The reason this is a dilemma is because you are the first authority figure they will ever meet and you want them to obey you. After all, you have their best interests at heart. But not every authority in their life will be the same, and if they learn blind obedience, they may simply obey other authorities and lose their way.
Kids are born completely helpless. They look up to their parents and their lives are highly dependent on them. Parents become authority figures. They have so much power during this time, a bit like gods, deciding their children's fate.
Whether you like it or not, as part of your job description as a parent, you must decide what your stance is on the question of authority.
Is it good or bad to teach kids obedience?
Disobedience is the true foundation of liberty. The obedient must be slaves

– Henry David Thoreau
Many parents think that obedient kids are the reward for good parenting because they don't argue, they are not stubborn, they do what they are told and slowly learn what is best for them. I have met many parents through my parenting workshops who claim their main purpose is to raise kids that obey authority. The problem is that that they often confuse between obedience and respect. Unfortunately, this "respect" through obedience blocks basic intuitive instincts.
In coaching kids, I have found that those who are obedient are weaker, more fearful and not as confident. While their parents think that parenting them is easy, these kids' emotional state is very frail and unfortunately, easy to manipulate by authority. Parents who raise such children often have similar challenges with authority.
Punishment may make us obey the orders we are given, but at best it will only teach an obedience to authority, not a self-control which enhances our self-respect.

– Bruno Bettelheim
The risk of being so obedient is that these kids may grow up to follow every person in a position of authority, even if it means not standing up for what they believe. They will be willing to compromise a lot more to be approved by the authority.
Generations ago, kingship and power were so strong that disobedience cost people their lives. Back then, it was not really much of a choice. Some cultures today still obey authority even under penalty of death.
But in the first world, authorities do not have that kind of power any more. And sometimes, they do not make the best choices on our behalf. But many people today lack the skills to question authority and stand up to it. This skill can only be developed at an early age, with parents who are confident enough to allow their kids to questions their own parenting style.
Many people think that as soon as you leave your parents' home, and live on your own, you can make choices for yourself. However, as we grow older, we meet more and more figures of authority – our boss, the company CEO, the Council Member, the president. By the time we meet these people, we have already formed a habit of obedience, supported by many examples that "it is better to obey!". It is very hard to develop independent critical thinking like this.
In order to develop this ability in children, you have to let them challenge you as a parent. It sounds counter intuitive, but the end result will be worth it. If a kid argues, it means they are developing critical thinking. If they are stubborn, it means they are developing their persistence skill. If they do not do exactly what they are told, they develop some independent thinking. Maybe, just maybe they will not follow authority blindly.
Press the button of obedience
The smart way to keep people passive and obedient is to strictly limit the spectrum of acceptable opinion, but allow very lively debate within that spectrum…

― Noam Chomsky
A famous research study on obedience and authority was done by Stanley Milgram in the 1960s. It gave amazing insight into how humans react to authority. You can watch it here:
Those who follow blindly are slaves to their authority figure. It is those who question who become famous. Millions of books and hundreds of movies were written about those who chose to doubt authority and stop blind obedience. They inspired people to question their values and free their minds from slavery and fear. Most of these people were inspired by some authority figure to be different. You can be that inspiring authority figure!
If you want one of those books to be written about your kids, if you want your kids to be the ones who did not press the button of obedience, work on your confidence as a parent. Allow your kids to question your authority. This does not mean you need to let them get away with everything. It just means you need to be open to what they have to say.
Be clear on why you set rules in the first place, and be willing to negotiate if they have something worthwhile to add. This will give them the courage for the future, to question every other authority figure that tries to use its power to manipulate them into doing things they would have never done otherwise.
Happy parenting,
Ronit