About three months ago, I told you about a new game we have while driving in the car, our Kiss Buggy game. It is funny how things evolve. Our 8-year-old daughter Noff, who made this game a family tradition, still likes to play this game with me every morning.
Every morning, we can drop her off at one of three different spots around her school, but she asks to be dropped off at the school car park, because this is where Miss Weidman, one of the teachers, parks her white Beetle.
As soon as we turn into the car park, both of us try to be the first to spot the car, which of course depends on the where Miss Weidman parks it. Noff usually wins, because I am more focused on getting into the narrow car park during peak school traffic time without bumping into the cars coming out.
As you may suspect, after a while, I started feeling frustrated, because I was "losing" the game, so one day, we drove the whole family, it was a night time and I saw a car that looked a little bit curvy and small (and red) and shouted in triumph "Kiss Buggy! Ha, ha! At last!"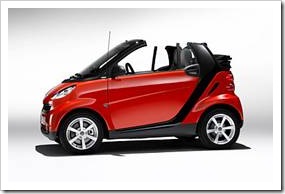 Gal and the kids looked at the car and burst out laughing. It was a small Toyota with a curved top (sure looked like a buggy to me…). So now, every time I am the car with them and they want to make fun of me, they wait until they can spot a small Toyota and then call out, "Kiss Toyota".
Oh, well, at least I get to be kissed a lot. It is as sweet as winning.
Happy parenting,
Ronit